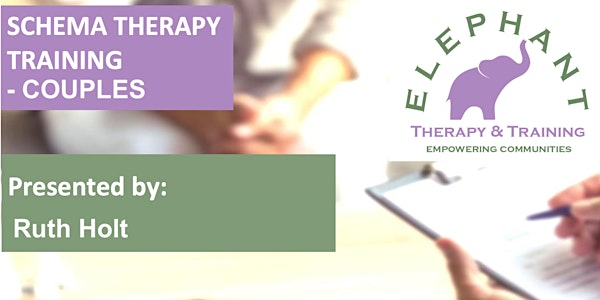 Accredited Couples Schema Therapy Training
Schema Couples Therapists work from a Schema Therapy formulation that is useful for personality disorders and chronic issues
Refund Policy
Contact the organiser to request a refund.
About this event
FOCUS OF WORKSHOP
Schema Therapy provides a unique model for formulating complex couple dynamics and evidence based strategies for change. Schema Couples Therapists work from a Schema Therapy formulation that is useful for personality disorders and chronic issues, including childhood trauma.
Participants can achieve Schema Couple Therapist certification if they sign up to this workshop and then another 2 day advanced workshop in the future (more details available on request).
Workshop: Starting Schema Couples Therapy
Understanding the Schema Therapy model as applied to couple presentations
Assessment techniques and measures
Schema Therapy conceptualisation of couples issues, linking childhood wounds and current couple conflict
Understanding and applying imagery re-scripting and mode work to de-escalate conflict and increase connection
Couples clash cards and schema healing interventions.
The workshop will be interactive, with input, demonstrations and opportunity to practice skills in a supportive environment. ​
Aimed at: Therapists wanting to expand their Schema Therapy skills with couples and therapists who already work with couples and would like to have greater impact when working with complex presentations.
FREQUENTLY ASKED QUESTIONS
​What if I haven't done any Schema Therapy training before?
A pre-workshop training package, providing an overview of Schema Therapy, will be a requirement, completed prior to the Schema Couple Therapy training. This will give you a grounding in Schema Therapy. 
What if I haven't had much experience with couples?
The training will provide options for those with less couples experience and those with more, aiming to meet your individual learning needs.
Can I use my Gottman Method, Emotion Focused or other couples therapy skills?
Yes, Schema therapy is an integrative therapy that can build on your existing skills.
Cancellation policy
Please note that if you wish to cancel your registration, the following rules will be applied:
Cancellations notified more than 3 months before the start of the event - 100% refund of the amount paid for the ticket (less administrative costs).
Cancellations notified 2 to 3 months before the start of the event - 50% refund of the amount paid for the ticket (less administrative costs).
No refund applies for cancellations with less than 2 months' notice.