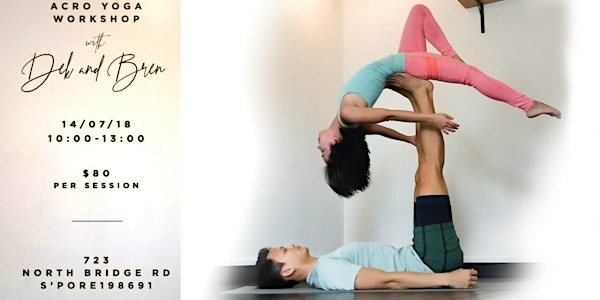 Acroyoga Workshop
When and where
Location
The Yoga Co. 723 North Bridge Road Singapore, 198691 Singapore
Description
Acroyoga (Acro), as the name implies, is a combination of Acrobatics and Yoga.
The 2 elements covered are Solar & Lunar practice. Solar is the acrobatics practice that cultivate trust and communication between partners whereas Lunar is the therapeutic practice that cultivates healing and intuition.
---
The Solar practice involves 3 roles(base, flyer, spotter) performing various poses. You will learn how to build strength, increase spatial awareness and improve communication skills during the session.
In the Lunar practice, we will explore intuitive & restorative elements through breathwork, Thai massage and flying therapeutics. This is a slower and more meditative aspect of Acroyoga.
Be prepared to take home a gold mine of knowledge that will boost your physical techiniques and insights on how to approach learning new moves.
---
All levels welcome
Join us and experience the wonders of this beautiful practice for yourself!
---
YOU SHOULD TRY ACROYOGA IF YOU ARE:
- Looking for new challenges in your practice
- Interested in movements / dance / gymnastics.
- Love to have fun
- Couples looking for activities that helps foster better connection.
---
THINGS TO KNOW BEFORE YOU START
- You don't need to be a yogi / acrobat/ gymnast
- Anyone can join. Size does not matter
- You do not need a partner (we will pair you up)
---
OTHER PAYMENT METHOD
1. Bank Transfer /PayNow to 90670556
2. Direct payment to The Yoga Co