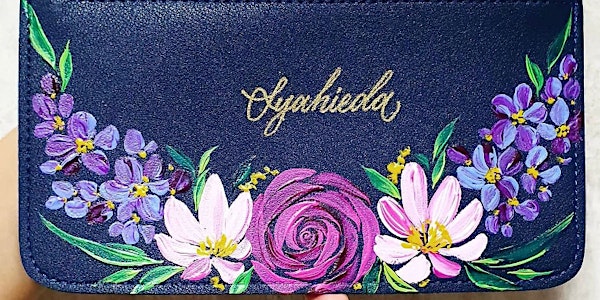 Acrylic Painting Course by Kathleen - SM20230606APC
Creating your own exclusive designs on canvases and leather items.
Date and time
Tue, 6 Jun 2023 10:00 - 12:00 +08
Location
Brahm Centre @ Simei 148 148 Simei Street 1 #01-121 Singapore, 520148 Singapore
About this event
WHAT?
A fun and relaxing acrylic painting course that allows you to explore the use of acrylic painting on different surfaces apart from canvases! You will be guided on the basic acrylic painting techniques and slowly move on to creating your own exclusive designs. No prior experience required as this is a beginner friendly class.
Description:
Introduction on materials used such as canvas, canvas paper, brushes used for Acrylic painting and painting techniques. Explore Colour Mixing Chart, Colour Theory for blending, different colour blending techniques. Combine techniques in creating an abstract piece. Learn to paint different foliage and flower varieties with different brushes. Mixing paint colours when recreating the florals and foliage. Understand composition of flower arrangements. Create florals pieces on the other materials. Drawings shown are only for illustration purpose.
WHEN?
Tuesday, 6 June - 10 am – 12 Noon
Tuesday, 13 June - 10 am – 12 Noon
Tuesday, 20 June - 10 am – 12 Noon
Tuesday, 27 June - 10 am – 12 Noon
Tuesday, 4 July - 10 am – 12 Noon
Tuesday, 11 July - 10 am – 12 Noon
Tuesday, 18 July - 10 am – 12 Noon
Tuesday, 25 July - 10 am – 12 Noon
DashboardTotal of 8 sessions.
WHERE?
Brahm Centre @ Simei 148
**Minimum 13 students to start class
Materials provided: 
Acrylic paint, brushes, canvas paper, leather pouches
Participants to bring the following materials to class :
- Container for washing the paint brushes
- Used cloth or tissue (For washing of brushes)
COURSE FEE:
$320 |$64 for seniors eligible for National Silver Academy (NSA) subsidy*
*NSA subsidy is for Singaporeans and Permanent Residents aged 50 and above.
In addition to NSA subsidy, course fee may be offset by SkillsFuture Credit (SFC).
Payment Procedure:
1) Upon registration, course participants are to make payment for the course through Brahm Centre's Eventbrite page.
2) Participants have to claim with SFC before the course start date through the SkillsFuture portal, https://www.myskillsfuture.gov.sg/content/portal/en/index.html
3) Brahm Centre will reimburse the amount that is successfully claimed upon receipt of the funds from SFC. This procedure can take up to 12 weeks from the course start date.
Notes:
• Please note that payments for courses are non-refundable.
• There are no make-up lessons if you miss any session.
• If you miss the first session, you are allowed to proceed with the course. However, the trainer is not obligated to do a recap during the second session.
• Brahm Centre reserves the right to replace a trainer, should the trainer be unable to conduct the class due to unforeseen circumstances.
Trainer Bio
Kathleen is a talented artist whom work mainly on watercolour as a medium. She loves to explore all kinds of colourful mediums and found herself to have great interest in painting florals. Recreating what she observes in nature and transforming those inspirations into watercolour art pieces.
Her works include designing cards, notebooks, bookmarks, painting on wallet, pouches and bags using acrylics and also explored into resin art. Not only does she combine both watercolour and calligraphy into her art pieces, she also explores different techniques such as foiling and embossing.
She holds private classes/workshops with various students across different ages as she believes that in arts, there are no limits.
About the organiser
Brahm Centre is a leading course provider of a wide range of science-based mindfulness programs to reduce stress and enhance well-being in today's fast paced world. We have worked with healthcare agencies, schools and corporations to equip employees, parents and students with mindfulness tools to help them stay physically and mentally well. 
Course graduates may enhance their practice by joining our weekly mindfulness clubs. Furthermore there are free regular health talks conducted by healthcare professionals and qualified speakers open to the public.
Launched in 2012 as a charity that aims to promote happier and healthier living, Brahm Centre is a full member of the National Council of Social Services and an Institution of Public Character.
Come begin your mindfulness journey with us. 
Please note that all course registrations are NON-refundable. Transfer of selected mindfulness courses is subject to a $30 transfer fee and a $10 admin fee for a mindfulness make-up class. There are NO transfers or make-up classes available for all other courses.