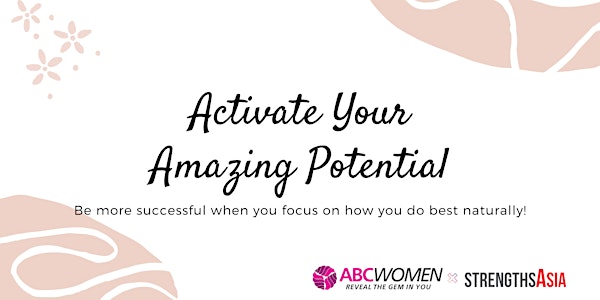 Activate your AMAZING Potential
You can be more Successful when you focus on how you do Best naturally! This workshop is based on Gallup's CliftonStrengths.
About this event
YES! You can be successful and happy when you know your way, your natural best way where you can consistently produce successful results.
ACTIVATE YOUR AMAZING POTENTIAL is a workshop that aims to help participants recognise their amazing potential and learn how to consistently use it to do what they do best, and do what they love everyday. The webinar will be hosted by Candice Goh, a Gallup-certified Strengths Coach, and Author of two books "From Piece to Peace" and "Rise Above You".
According to The Gallup Organization, people who know their strengths and use their strengths everyday make better life and career choices; are more productive, perform better. They are 6X more engaged and 3X more likely to experience a higher quality of life. If you want to be happier, better, and more successful, focus on your amazing potential, your Talents. Knowing your talents and transforming them into strengths gives you clarity to see the very best of who you are and the very best of what you can be.
This 2.5 hours online workshop includes a CliftonStrengths assessment by Gallup to support engaged learning, well-being and development. You will learn how to identify your AMAZING POTENTIAL and manage your weaknesses. More than 23 million people around the world has used CliftonStrengths to thrive at work and everywhere else.
Attend our interactive virtual workshop and you will experience: -
• Discovering your true unique talents
• Changing your perspectives and achieve better communication with your family, friends and co-workers.
• Learning how you can maximize your strengths and manage your weaknesses.
In partnership with StrengthsAsia (https://www.strengthsasia.com)
*Proceeds from this workshop will be donated to charity to support underprivileged women