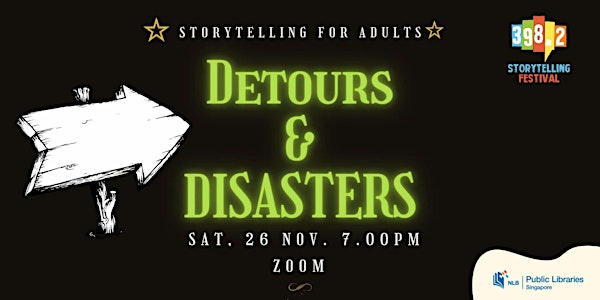 [Adults] [Online] 398.2 Storytelling Festival 2022: Detours and Disaster
This storytelling is exclusive for adults and will be looking at detours and disasters.
About this event
About the Programme/ Event
Theme: Detours and Disasters
Thrilling tales of how ordinary people faced extraordinary situations because they either took a detour or survived a disaster. Listen to their stories from the other side. Meet a young man who saved a princess, another one who met a beautiful spirit because he took a wrong turn and yet another who stayed married to prevent disaster from striking his home. If that's not exciting enough, listen to the recounting of how Ah Mui and her family survived the Japanese invasion of Singapore and how one of our storytellers jumped off a cliff because of a detour. Enjoy these stories for ages 16 years and up.
Please note that this programme will be livestreamed from an onsite programme at library@harbourfront programme zone. There will not be any storyteller conducting the programme on Zoom.
This storytelling is targeted towards adults. Children are not encouraged to attend due to mature themes. 
This programme is part of Love Our Libraries and Archives (LOLA) 2022 celebrations
About LOLA - Love Our Libraries and Archives:
LOLA invites you to (RE)CONNECT with the libraries and archives through a month-long suite of programmes and activities. Explore our spaces, be a part of our Celebrations and continue your reading journey with the Big Book Giveaway. Finally, immerse yourself in stories told by experts and everyday heroes, as they share personal narratives and experiences at Share Fest.
Let's meet, connect and be inspired this November! Sign up at https://go.gov.sg/lola22-collection.
Please note the following:
This programme is conducted entirely online. You may access Zoom via the app or using a web browser.
Please ensure that you enter a valid email address as you will receive an email with the link to the online programme/event near the day of the programme/event.
The link of the programme should not be shared with others.
Do ensure you have a strong internet connection. Using your mobile data is not recommended.
The National Library Board, Singapore (NLB) reserves the right in its absolute discretion to disqualify or refuse admission to any registrant without any reason and notice.