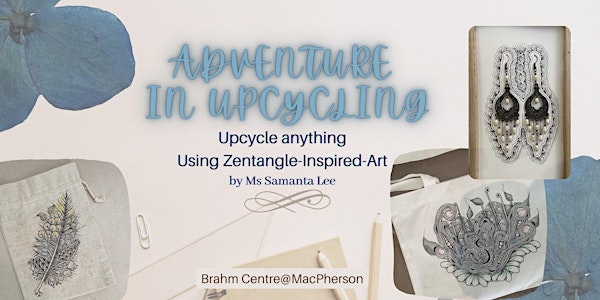 Adventure in Upcycling by Samantha Lee - MP20230201AIU
Upcycle things you have at home using Zentangle-Inspired-Art taught by Certified Zentangle Teacher, Ms Samantha Lee.
When and where
Location
Brahm Centre @ MacPherson 55 Pipit Road #01-01 Singapore, 370055 Singapore
About this event
WHAT?
While it's always easier to shop for new items, transforming your old household items can be an exciting experience as well. In this course, participants will be taught some key techniques in upcycling to turn their trash into treasures. By upcycling, you are also re-purposing materials that would otherwise go to landfills and doing your bit for the environment!
Course Objective :
Participants would be introduced to the art of upcycling and repurposing of items in their everyday lives. Participants can look forward to repurposing paper bags, old clothes or fabric shopping bags, and precious or memorable items.
Topics Covered
Lesson 1 & 2: Upcycling sticks and paper into lantern or lamp shade
Lesson 3: Upcycling your own memorable items into display art
Lesson 4: Upcycling your own clothing and bags into bespoke gifts
Learning Outcomes
Using the Zentangle method in upcycling items to create decorative pieces for home or as gifts
Participants will learn to create their own artwork and special gifts using existing items they have at home.
Participants will learn to reduce their carbon footprints by repurposing the existing items through the creation of art.
*Please note that this is not a Zentangle Art Course that offers systematic training on the Zentangle Method.
WHEN?
Wednesday, 1 February - 11am-1pm
Wednesday, 8 February - 11am-1pm
Wednesday, 15 February - 11am-1pm
Wednesday, 22 February - 11am-1pm
Total of 4 sessions of 2 hours each.
WHERE?
Brahm Centre @ MacPherson
*Minimum 12 students to start class
*Most art materials for the lessons are provided.
Things that participants need to bring from HOME :
Please bring a pair of scissors for cutting paper, a glue stick, and some wet wipes to clean fingers for 1st Lesson
Course Fee:
$150 |$30 for seniors eligible for National Silver Academy (NSA) subsidy*
*NSA subsidy is for Singaporeans and Permanent Residents aged 50 and above.
In addition to NSA subsidy, course fee may be offset by SkillsFuture Credit (SFC).
Payment Procedure:
1) Upon registration, course participants are to make payment for the course through Brahm Centre's Eventbrite page.
2) Participants have to claim with SFC before the course start date through the SkillsFuture portal, https://www.myskillsfuture.gov.sg/content/portal/en/index.html
3) Brahm Centre will reimburse the amount that is successfully claimed upon receipt of the funds from SFC. This procedure can take up to 8 weeks from the course start date.
Notes:
Please note that payments for courses are non-refundable.
There are no make-up lessons if you miss any session.
If you miss the first session, you are allowed to proceed with the course. However, the trainer is not obligated to do a recap during the second session.
Brahm Centre reserves the right to replace a trainer, should they be unavailable to conduct the class due to unforeseen circumstances.
Trainer Profile:
Samantha Lee is a Certified Zentangle Teacher TM(CZT®) | Japan Pastel Hope Art Association Instructor | Art4MeNU.轻彩绘Teacher . She started to learn this art then developed as hobby. As these art form promotes calmness and mindfulness as they are unplanned form of drawing, letting participant creating an art piece that reflect their peaceful state of mind during these courses. With this in mind, she hopes that these arts can benefit both children and adult as a reset in their hectic school work or work life.