AFCC 2017 FwL- "Di Manakah Fifi?": A Malay Book Dramatisation. "Di Manakah...
Event Information
Location
Clementi Public Library
Programme Zone
3155 Commonwealth Ave W, The Clementi Mall
129588
Description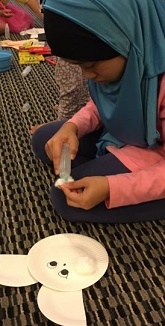 Di manakah Fifi? Marilah ikuti kisah Ibu Ayam yang kehilangan anaknya, Fifi. Dengan kraf dan permainan, adik-adik akan mengenali watak-watak, jalan cerita dan melakonkan semula kisah ini dengan cara yang menyeronokkan!
Where is Fifi? Let's join Mother Hen in a search for her missing chick, Fifi! With crafts and games, children will learn to identify characters, recognise the plot and role play the story in a fun way!
For 4-6 years old. Parents can bring their children to the session and fetch them after.
This Malay language session is part of the AFCC Fun with Languages programme.

Date and Time
Location
Clementi Public Library
Programme Zone
3155 Commonwealth Ave W, The Clementi Mall
129588