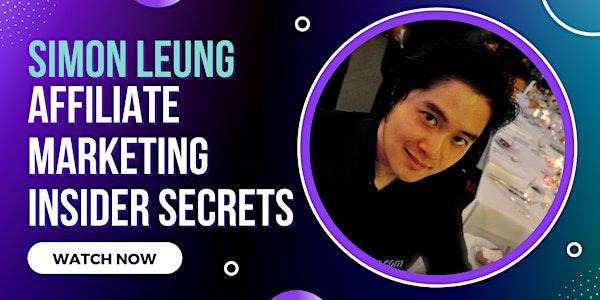 Affiliate Marketing 101: Affiliate Marketing for Beginners
Affiliate Marketing 101: Affiliate Marketing for Beginners
About this event
Simon Leung is an award-winning and world-renown motivational and keynote speaker in the topics of Internet Entrepreneurship, Living the Internet Lifestyle and Internet Marketing strategies including Google Marketing, Search Engine Marketing (SEM), Search Engine Optimization (SEO), Pay-Per-Click Advertising (PPC) and Social Media Marketing (SMM).
Originally from Hong Kong, having grown up in America and currently living in Malaysia, Simon Leung is effective in delivering his powerful messages across a multi-cultural platform, especially on the stage.
Ever since focusing on Internet entrepreneurship full-time in 2006, after attaining a university degree and working in a corporate environment at Google Headquarters in the Silicon Valley for 4.5 years, Simon Leung brings to the table much-needed valuable contributions to any company professionals or aspiring business owner, as well as tremendous experience through his years of sharing his secrets to millions of people worldwide.
Today, Simon Leung continues to enrich the lives of students, aspiring entrepreneurs and clients through a variety of skill-building courses inside and outside of the entrepreneurship sector that are designed to build up the skills of ambitious professionals.
For more information about Simon Leung, find out how you can meet him in person or participate in the many business or career opportunities within his community, please visit https://summitasia.com/