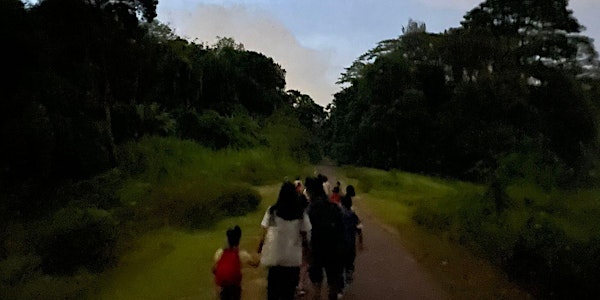 Affirmative School (Junior) - Evening Hike
Affirmative Junior Evening Hike is a four-hour exciting, fun-filled and exploratory experience for children as young as three years old.
When and where
Location
Bukit Timah Railway Station #1 Singapura, 599938 Singapore
About this event
Affirmative Junior Evening Hike is a four-hour exciting, fun-filled and exploratory experience for children as young as three years old.
What defines us is our interdisciplinary approach integrating social-emotional learning, nature-based learning, play therapy and neuroscience.
​
Intended Outcomes
The program is specially designed to build resilience within the family.
Parents can seize the opportunity to recharge and reconnect while the young ones immerse in an evening of interactive experience that cultivates multi-dimensional resilience and respect for the children's sense of agency.
We also recognise that they may have asynchronous development and we support them where they are at. We create open ended deep learning through play experiences designed to :
connect with nature
enhance the ability to listen to, build on, and contribute ideas
intellectual curiosity and engagement
foster independent thought and depth of ideas
creativity and flexibility in approach to problem solving
divergent and critical thinking
enhance emotional intelligence
growth mindset
build self-efficacy, resilience and courage
risk management and health awareness
This program is developed and run by the same team of heart-centred individuals that materialised The Facilitators' Project, a weekly empowerment program designed to bring about self mastery and elevated emotions of joy and love for abused and neglected children in shelters. Our lead coach, Dean Ng, is also a core coach under Forest School Singapore.
​
Affirmative School (Junior) Evening Hike Details
​Date: Every Friday, Starting 2nd September 2022
Time: 5pm to 9pm
Location: Bukit Timah Railway Station (Drop off @ King Albert Park MRT station Exit A, Pick up @ The Rail Mall)
Age Group: 3 to 6 years
Max Capacity: 12pax
Recommended Preparation: Gears & Attire
Fees Per Session: SGD90/pax
Please read the event's policies prior to registration.
Mindset & Communication
COMMUNICATION
Communication between parents, teachers, neighbours and children plays a key role in the development of a child's learning in the Forest School setting. Without open communication, messages can get misunderstood when passed on. Thus, we believe in and encourage frank and honest feedback among all stakeholders in order to improve as a community.
MINDSET
It is important for parents to align their mentality with the forest school community. Without this alignment and understanding, parents may find difficulties comprehending why we behave in certain ways during the sessions.
1. Parents have to respect the child, as much as they respect an adult. With that, we have to believe what a child says, no matter how ridiculous it may sound at times. This is done only when we trust them. This trust, will ripple down the years, into a greater self-belief in everything he/she participate in.
2. Quarrels have to be allowed. By allowing the young learners to resolve their disagreements and conflicts on their own, we are allowing them to learn how to navigate the real world emotionally and socially in the future. By interfering with their conflicts and disagreements, children will learn to grow reliance on the adult in resolving all issues, and could lead to undesirable outcomes when the child grows older and there comes a need to reduce the dependency on the parent. Hence, by allowing them to resolve their own disagreements and conflicts, we will have a more confident child, as they realise they can settle their own issues. (However, we will be present to ensure that safety is not compromised).
3. Never give negative judgments on a young learners' effort and sincerity, no matter what the outcome is. This is very important to us because we want our young learner to value their journey and their efforts, so that they can grow the resilience to keep trying. Negative judgments will teach them to do things to receive compliments from others, to do things that get into others' good books, and that other things are more important than how they feel – their own heart and soul.
4. Being open to making mistakes, and having an open mind. We all make mistakes, so in the forest school community, we will all keep an open mind. Always ask "Why did the person make the mistake? Is there something going on in his/her heart or mind, that is troubling them?" By having an open mind and showing concern for each other, we are giving our children a loving environment that they can learn much more from, to develop their own wholesome character and learning journey.
Terms and Conditions
(A) PAYMENT OF FEES: Payment is required to complete the registration process. The slot/s you registered for will only be allocated once you complete the payment.
(B) WITHDRAWALS: There will be no refund for any withdrawals.
(C) REQUESTS FOR CHANGE IN THE INITIAL BOOKING: Any request for change in the initial booking will be rejected. This includes no changes to the date and selection of the program, as well as the participant/s. In the event you are unable to honour the initial booking, no refunds will be made. Hence, please be sure of your/ your child's schedule before signing up for any of our programs.
(D) CHANGES IN SESSIONS: THE AFFIRMATIVE PEOPLE LLP reserves the right to vary, amend or cancel any of the programs or its contents or alter the composition of the relevant conducting team and venue for the program at any time at its discretion. THE AFFIRMATIVE PEOPLE LLP reserves the right to cancel or postpone the program where enrolment is insufficient.
(E) CONDUCT: We endeavour to create and maintain a positive and joyful environment. We do not condone any form of physical or verbal abuse or harmful action from any person towards any other person within the premises, including parents towards their own child. Should any incident come to our attention, which we feel does not adhere to our values, we reserve the right, if necessary, to step in to separate the participants of the incidents.
(F) MEDIA RELEASE: In the course of providing the programmes to your child by our schools, our operational and teaching activities may be recorded to be used for media and academic purposes. By registration, we assume that parents, or guardians (where applicable), grant permission for THE AFFIRMATIVE PEOPLE LLP to use their child's photograph(s), written work, art work and voice in any academic portfolio, video, printed collateral, online platform or any other promotional material or testimonials.
(G) PICK UP: All drop-off programs with pick up will happen at the Meeting Point. We will communicate the time to pick up the kids via a specific WhatsApp group. The latest time of pick up will be 9.00pm.
(H) PUNCTUALITY: Program starts at 5.00pm. The time between 5.00pm to 5.10pm is meant for participants to bond at the meeting point. We will start debrief at 5.10pm sharp. Participants who are late will affect the group dynamics, and miss key safety briefings. The time available for play, learning and development will also be reduced due to lateness.
(I) Testimonials: In the event that we receive any testimonial from you, during your child's attendance of a programme or following their withdrawal, we may use this, or part thereof, in various online and printed platforms for promotional purposes.
(J) Confidentiality Clause: THE AFFIRMATIVE PEOPLE LLP is committed to maintaining the confidentiality of the client personal information and undertakes not to divulge any of the client's personal information to any third party without the prior written consent of the client.
Subjected to the obligation of THE AFFIRMATIVE PEOPLE LLP to disclose to any Singapore government authority any information relating to the client in compliance with the law.
(K) Indemnity: Save for proven gross negligence, THE AFFIRMATIVE PEOPLE LLP which includes but is not limited to instructors, teachers, employees, agents and consultants shall not be held liable nor responsible for any injuries, accidents, loss of property, damage, claims, liabilities suffered or sustained by any child, parents, carer and individuals in connection with or howsoever arising in the course of the provision of services.
(L) Modification of Terms and Conditions: THE AFFIRMATIVE PEOPLE LLP reserves the right to amend any of the above Terms & Conditions from time to time as deemed appropriate.