Description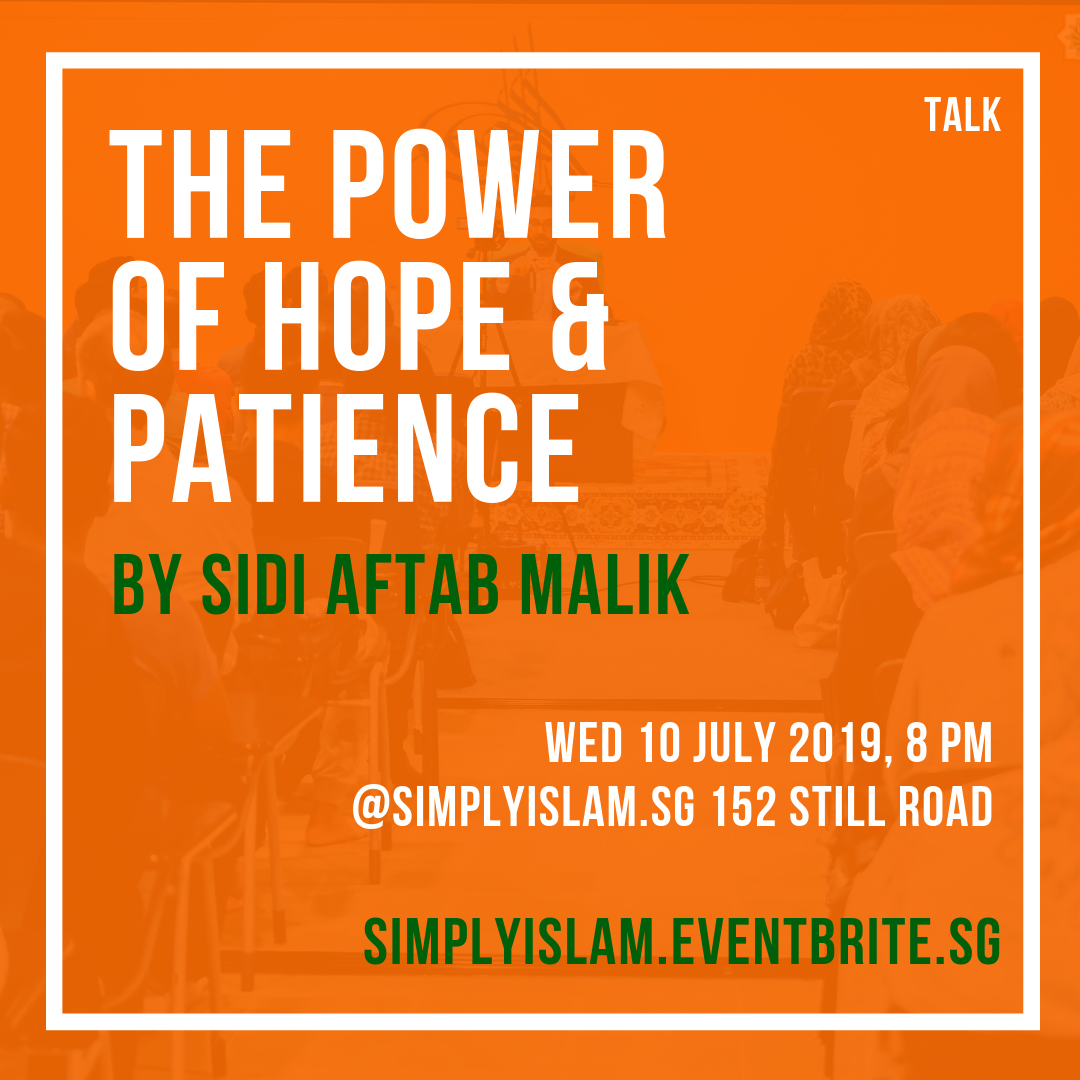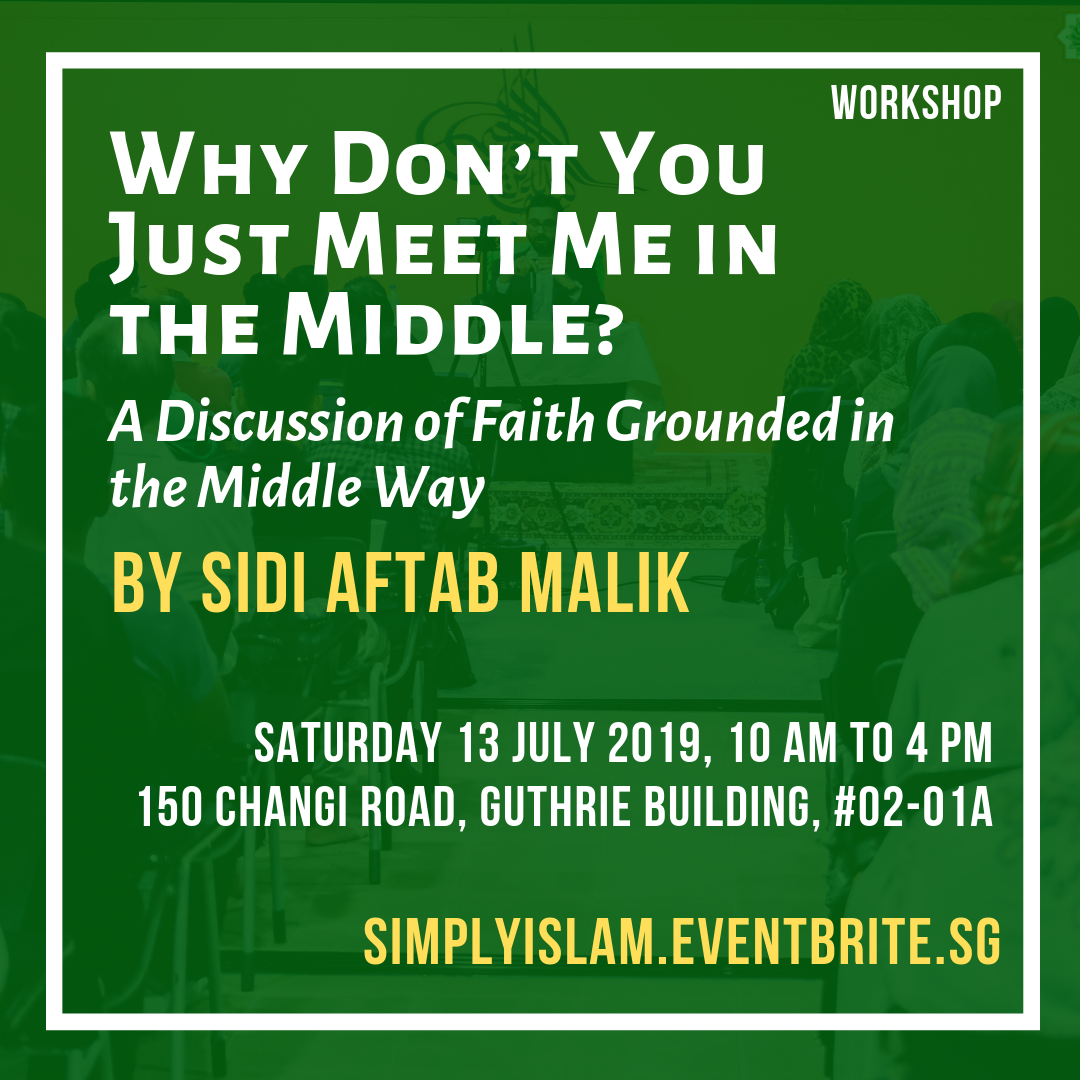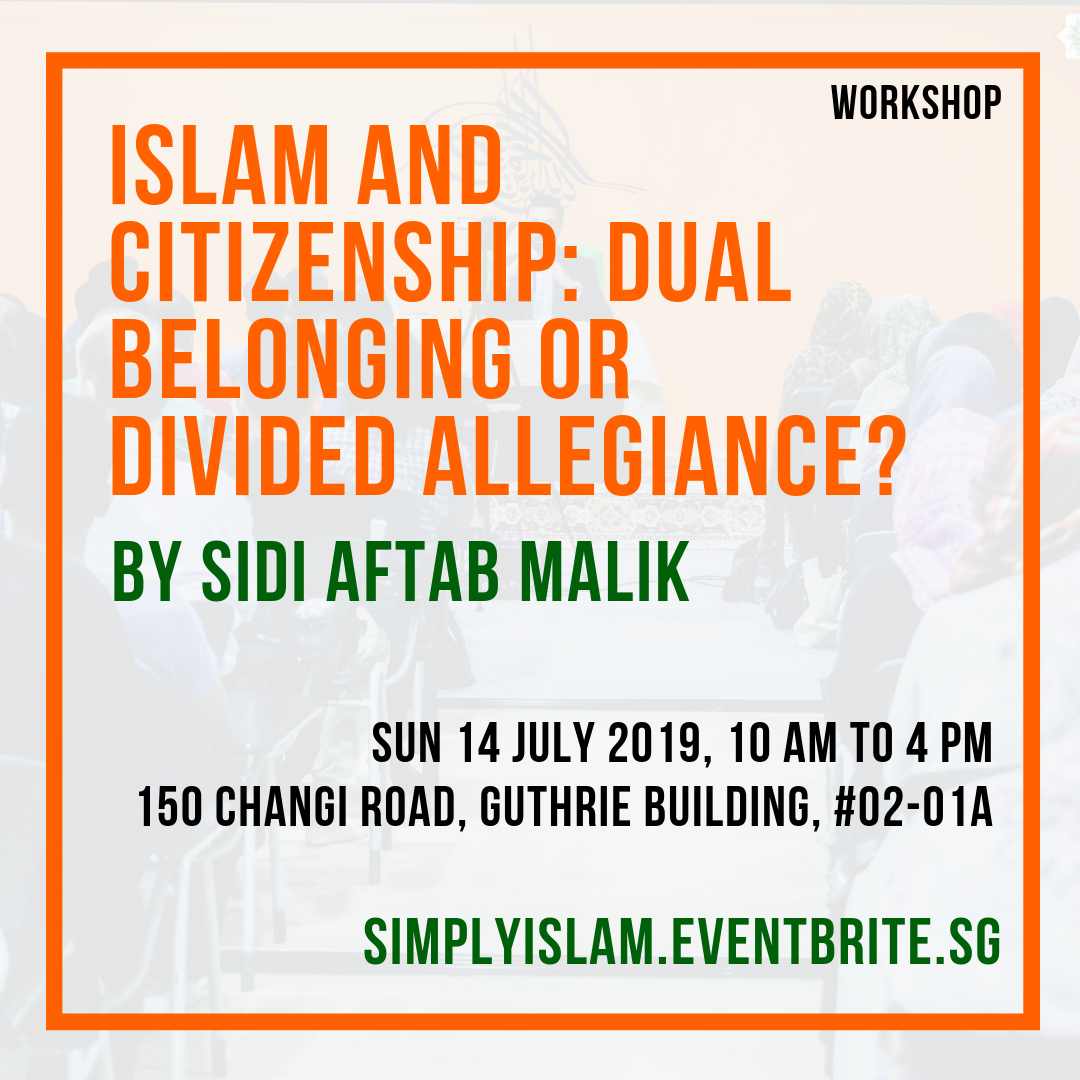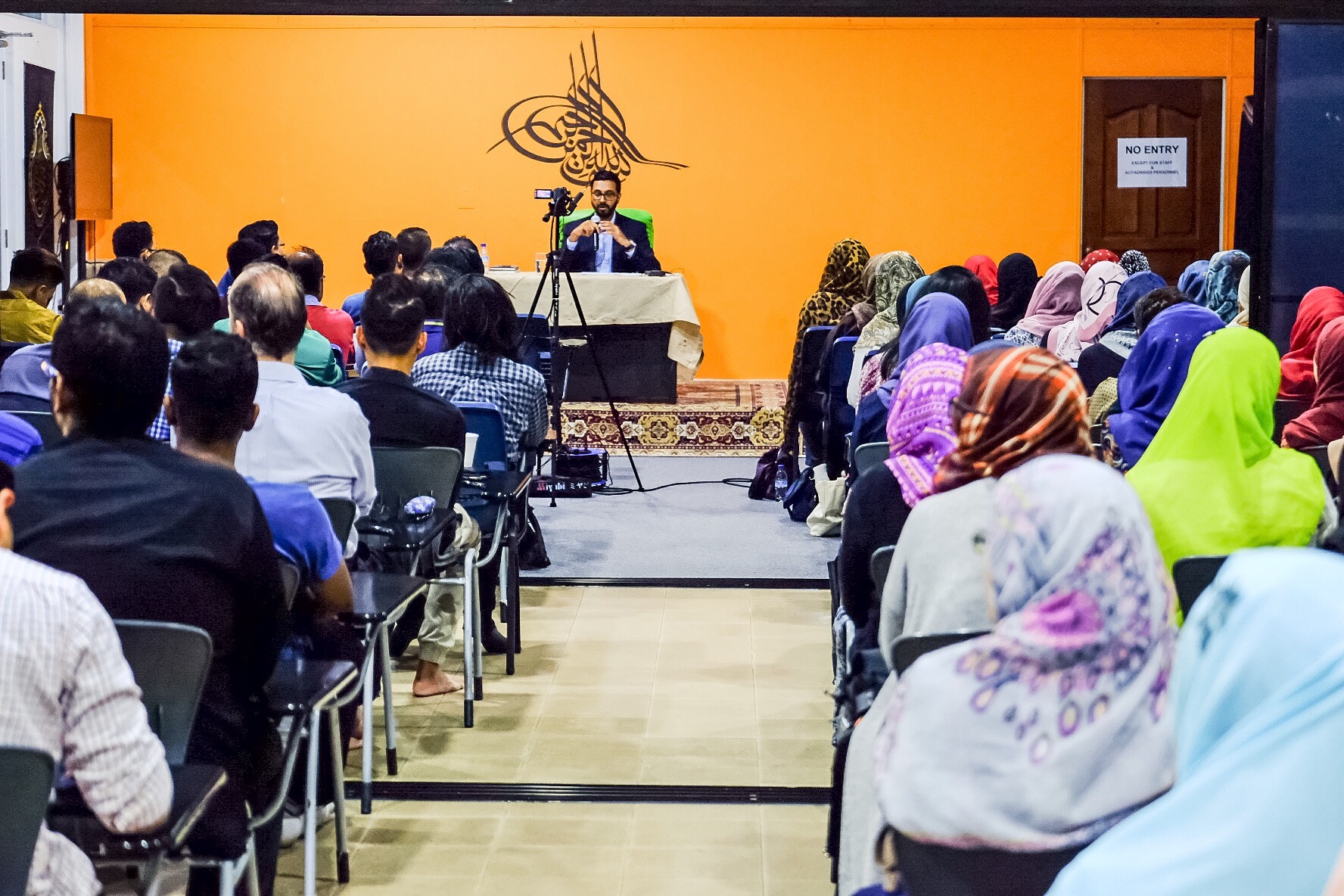 Alhamdulillah SimplyIslam.sg is once again honoured by the visit of Sidi Aftab Malik to Singapore for a series of programs. Sidi Aftab was formerly the Executive Director of Zaytuna Institute, reporting directly to Shaykh Hamza Yusuf. He is also an accomplished author and editor of several books, including The Broken Chain: Reflections upon the Neglect of a Tradition, With God on Our Side: Politics & Theology of the War on Terrorism, and others. He is currently the Community Engagement Manager at the Department of Premier and Cabinet, New South Wales (NSW) based in Canberra, Australia.
The following are the various talks and workshops happening in July 2019:
Event 1: In-House Lecture
The Power of Hope & Patience
Date/Time: Wednesday 10 July 2019
Venue: SimplyIslam (152 Still Road, Singapore 423991)

Event 2: Workshop
Why Don't You Just Meet Me in the Middle? A Discussion of Faith Grounded in the Middle Way
Date/Time: Saturday 13 July 2019, 10 am to 4 pm
Venue: 150 Changi Road, Guthrie Building, #02-01A, Singapore 419973

Event 3: In-House Lecture
Faith & Forgetfulness in an Age of Distraction
Date/Time: Saturday 13 July 2019, 8 pm
Venue: Singapore Post Auditorium
Fee: FREE (Register here: https://ageofdistraction.eventbrite.sg/)
Event 4: Workshop
Islam and Citizenship: Dual Belonging or Divided Allegiance?
Date/Time: Sunday 14 July 2019, 10 am to 4 pm
Venue:150 Changi Road, Guthrie Building, #02-01A, Singapore 419973

For synopsis of all lectures/workshops, see below.
---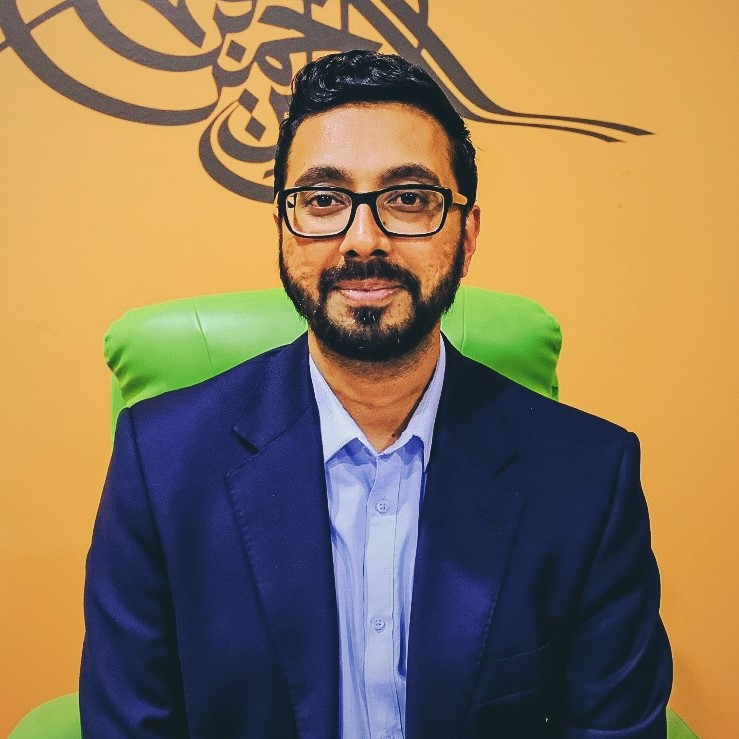 Aftab Malik is Guest Lecturer at the Department of Law, University of Sydney, where he co-teaches an Introduction to Shariah. He is a permanent designated "Global Expert" on Islam at the UN Alliance of Civilisations and has taught at the Summer Rihla retreats. Aftab has written a number of articles that have been translated into numerous languages. His written work has been commended by a range of academics and scholars, such as John L. Esposito, Khaled Abou El Fadl and Shaykh Hamza Yusuf.
Aftab's current research areas of interest include the Enlightenment, postmodernism, Islam and sixteenth century England, Sufism, Islamic and Western political philosophy, and the development of classical Islamic law.
/////
---
SYNOPSIS
////////////////////////////////////////////////////////
Topic: The Power of Hope & Patience
Date: Wednesday 10 July 2019
In this back to basics lecture, our guest speaker will examine the central role of patience in the believer's arsenal as an active, as opposed to a passive force for good, and how that developed as a basis for self-refinement. By drawing upon the sayings of the salaf and the khalaf , the speaker will aim to demonstrate how these leaders operationalised patience in the face of adversity. The lecture will conclude with five practical pieces of advice for the seeker of knowledge, traversing the well-trodden path to achieve piety and closeness to God.
////////////////////////////////////////////////////////
Workshop: Why Don't You Just Meet Me in the Middle? A Discussion of Faith Grounded in the Middle Way
Date: Saturday 13 July 2019
Thus We have appointed you a middle nation, that ye may be witnesses against mankind, and that the messenger may be a witness against you [Holy Qur'an 2:143]
The middle way, moderation or wasatiyyah is a highly important aspect of Islam, but is often a neglected one, and its disregard can have extensive and negative consequences. Being balanced and moderate is a virtue that helps to maintain social harmony and symmetry not only in personal affairs, but also within the society and community. In a Prophetic tradition, the Prophet Muhammad was with some companions and he drew a line (in the sand), then he drew two lines to its right and two to its left. Thereupon he put his hand on the middle line and said, "This is the path of Allah" and he recited the Qur'anic verse: "And verily, this is My straight path, so follow it and follow not (other) paths, for they will separate you from His path". It was a simple yet effective field lesson on moderation.
Allah reminds believers in the Holy Qur'an: They are those who, when they spend, are neither extravagant nor miserly, but follow a middle way between them. [Qur'an 25:67]
The middle way is related to balance (tawazun) and justice ('adl), as justice implies balancing rights and duties and setting everything in its rightful place, the middle ground. But to maintain our balance we need to understand the true nature of wasatiyyah in the context of the Qur'an and the teachings and practices of Prophet Muhammad. How did the Prophet and his companions embody this important moral principle of balance and moderation? Sidi Aftab will discuss the comprehensive principle of moderation in Islam, and how it guides the Muslim in all his/her daily activities.
////////////////////////////////////////////////////////
Topic: Faith & Forgetfulness in an Age of Distraction
Date: Saturday 13 July 2019
It's so easy to become overwhelmed by what we see around us, and by what we experience, that it can push us into the position where faith becomes relegated to ritual. It then becomes difficult for it to be anything more. Sometimes, we find ourselves in this position because we feel as though we are drowning, other times due to negligence, and others still, due to feeling alienated. Sidi Aftab will examine the current state of Muslims, from our addiction to social media to keeping abreast with scandals, and asks: "where are you?" How does the smart phone contribute to the distractions we face, and can Kierkegaard and Imam al-Juwayni speak to us with benefit today? Trapped by distractions and alienated by the moment, how can we change our condition when so many of us aren't even aware of our mental and spiritual state? How do we preserve our faith and remain engaged in just causes without burning out? How do we take care of our souls during times of confusion? The speaker will address these questions and concerns as he expounds on the topic.
////////////////////////////////////////////////////////
Workshop: Islam and Citizenship: Dual Belonging or Divided Allegiance?
Date: Sunday 14 July 2019

Are values of citizenship incompatible to Islam? What is citizenship and what does Islam have to say about it? Can Muslims live in a Western secular system and still be good Muslims and good citizens at the same time? What challenges could be there for Muslims? Sidi Aftab Malik will chart the history of the development of the idea of citizenship in the western consciousness and allow the Muslim audience to better understand why there is a split between religion and state. It will also examine the idea of citizenship from an Islamic perspective and then compare values from secular liberal democracies to that as embedded in the Islamic tradition.