Celebrate Lā Hoʻihoʻi Ea with ʻAha Mele Ea and a line-up of renowned musicians and leaders in the lāhui!
About this event
We are SOLD OUT! Mahalo nui to everyone who purchased tickets! Check out bit.ly/hoea2021 to register for HŌʻEA: A Kanaka Film Screening.
ʻAHA MELE EA is back! Join us on July 24 from 4pm - 8pm for a sovereignty restoration concert featuring a reggae and hip hop line-up of top award winning musicians and speakers in celebration of Lā Hoʻihoʻi Ea.
Featuring:
Opening Protocol with Lanakila Mangauil (4pm outdoors in the parking lot)
Kapu System ft. Kawika Aspili
Osorio Trio ft. Jon, Duncan, and Jamaica
Hui Mele Ea ft. Shawn Pimental, Uncle Moon Kauakahi, Kainani Kahaunaele, Dwight Kanae, Kalehua Krug, and Del Beazley
Big Mox
Punahele
Illnomadic
Kauwila and Inalihiila
Lethal Selecta
Spend this mana-ful evening with us as we educate and celebrate ka Lā Hoʻihoʻi Ea! E hoʻolauleʻa kākou!
Fresh Puʻu O Hoku Ranch ʻawa and ʻono meaʻai by NuiKealoha will be available for purchase.
*To comply with the City & County of Honolulu's Tier 5 restrictions, this event requires proof of vaccination or a negative COVID test taken within 48 hours of the event. This event is intended for guests 18+.*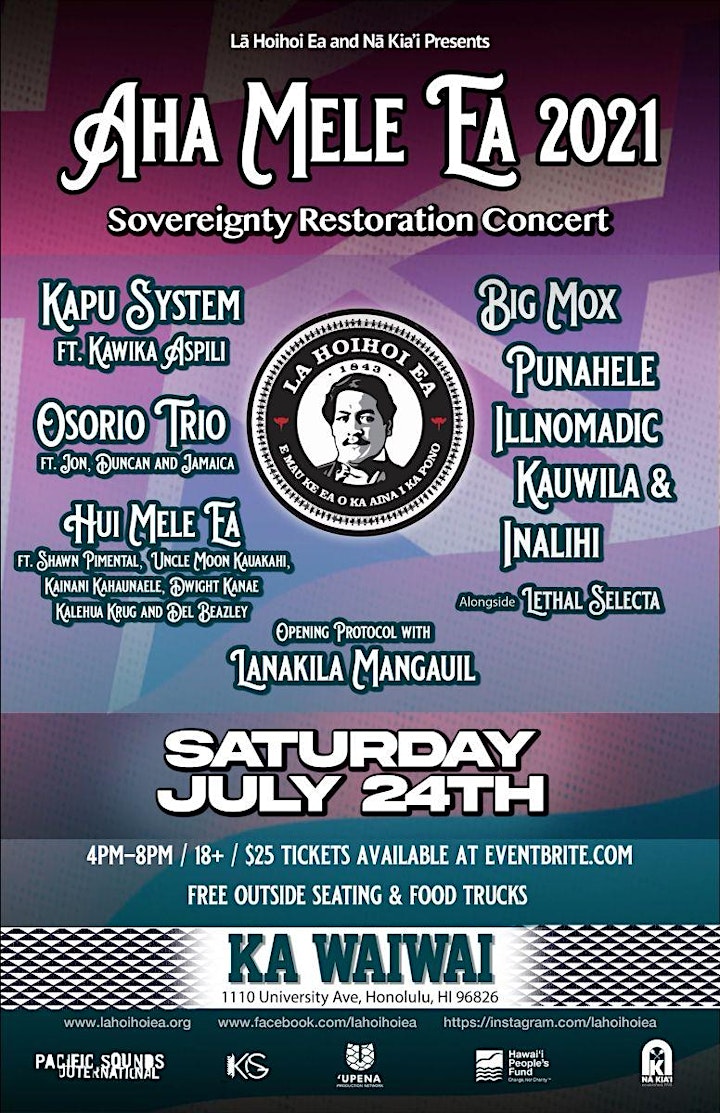 Organiser of ʻAha Mele Ea
Waiwai Collective is a group of Native Hawaiian entrepreneurs who share kuleana and a passion for uplifting the well-being of Hawai'i and its people. Their first project is Ka Waiwai, a beautifully designed and welcoming space in urban Honolulu that aims to form a community that prioritizes the quality of relationships and the balance between people and the ʻāina.