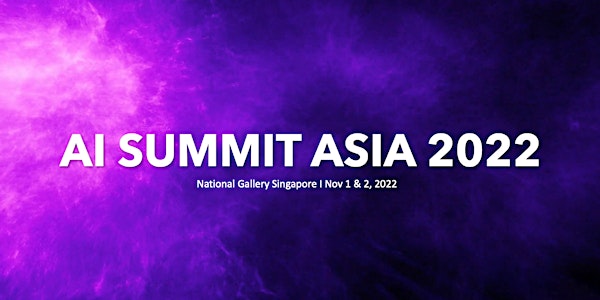 AI Summit Asia 2022- IDEAS (Forum Pass)
Forum PASS to visit the AI Exhibitions, AI Innovation Zone, Start Up Stages, forums & open evening networking parties on Nov 1st & 2, 2022
When and where
Location
National Gallery Singapore 1 Saint Andrew's Road ##01 – 01 Singapore, 178957 Singapore
About this event
Are you curious about AI and how it has impacted your life in the real world?
Are you keen to know what the latest AI-driven solutions are applied to different industries and interact with decision makers directly to learn more about them?
Are you looking for customised AI-driven solutions for your business needs?
Are you exploring new opportunities for your career while keen to know more about AI industries?
Are you looking for investors and potential business partners in AI?
The premier and largest AI Summit in Asia with unique experiences at the privileged historic landmark of Singapore @National Gallery Singapore.
Dedicated to AI, with the theme of Sustainability & Inclusion, Diversity & Equality, this expo has been sustainability-focused with event production and content development.
More than 50+ exhibitors and 60+ keynotes & panel discussions, and job fairs & workshops for AI talents, including the leading edge AI-driven solutions application & deployment, showcases across different industries, innovation zones with startup solutions, and gaining insights into the latest AI technology by attending the enriched programs during the two days summit, network with the senior management team, identify qualified leads and dialogue with industry leaders.
The ticket will give you full access:
- Exhibition Zones
- Main stages forums and all conferences
- Open Networking Parties on Day 1 on November 1, 2022 with cocktail catering
Please come and join us onsite during two days expo and network with leading-edge AI-driven solution providers, gaining insights into current and future technology trends, get inspired and foster new ideas to prepare yourself for the future!
We bring the future of AI to you!
More info: www.aisummitasia.com