Event Information
Refund policy
Contact the organiser to request a refund.
Eventbrite's fee is nonrefundable.
A global live tournament to learn and apply deep learning for renewable energy trading. No programming experience needed.
About this event
LEARN - BUILD - IMPACT
One area where deep learning can shine is in predicting the future.
Through this Live Tournament, you will LEARN basic to advanced deep learning techniques for forecasting, BUILD your own deep learning algorithm models and make an IMPACT by deploying your models into real world.
No previous programming experience is required.
What You Will Learn:
End-to-End Deep Learning Pipeline
Building Your Own Forecasting Models
Deploying Your Models in Real-World
Tips and Tricks from The AI Experts
Your Learning Journey:
LEARN ( 11 - 15 Aug ): 5 video and Lab sessions (self-paced learning) on building predictive applications using deep learning. All teams must submit a video for a forecasting project in order to proceed. Only teams that submit their video will qualify for the next round of the competition and receive Advanced topics.
ADVANCED TOPICS ( 16 - 18 Aug ): 4 video and lab sessions on advanced topics in deep learning for prediction.
BUILD (19 - 21 Aug): Participants build their own forecasting model using real-world datasets. ai4impact experts provide online mentorship.
IMPACT (22 - 26 Aug): Your team's model will be used to trigger wind energy trades over a period of 5 days. The top 10 teams with the highest profits will be invited to proceed to the Finale. Shortlisted teams must write an article detailing their work for judges to evaluate. The article needs to be submitted by 28 August 2020.
FINALE (29 Aug): The top 10 teams will present their solutions to a panel of expert judges who will evaluate their work. This will be done live using zoom. The event will also be broadcast live. The best teams will stand a chance to become AI4IMPACT TOURNAMENT champions!
Training Outline:
Session 1: Introduction to Forecasting
Session 2: Risk Minimization
Session 3: The Prediction Pipeline
Session 4: Defining the Network
Session 5: Application: Temperature Prediction
Session 6: Difference, Momentum and Force Inputs
Session 7: Input Scaling and Dimensional Reduction
Session 8: Squared Perceptrons / Momentum & Force Losses
Session 9: Clustering with Neural Networks
Prizes
The top 3 teams with the highest profits will be presented with championship certificates, signed by ai4impact.
All top 10 teams will be inducted into the ai4impact Hall of Fame.
Frequently Asked Question
Q: I have no knowledge about programming. Can I still participate? Yes! This competition is accessible to non-programmers. No prior programming experience is needed. Learn and apply the concepts taught and work hard to get a good solution.
Q: Do I have to setup / install anything for the competition? Everything will be accessible through your internet browser (Firefox or Chrome).
Q: I want to join the tournament on a part-time basis. Can I still participate? Yes! You can learn the materials and build the forecast models at your own convenient time and pace. You're only required to attend the Finale session if you are selected.
Q: Where is the datathon held? On the Internet :)
Q: What is the objective of LIVE AI TOURNAMENT? We want you to learn practical deep learning concepts and immediately apply them in building an end-to-end AI prediction application in the area of energy trading.
Q: Can I just join the training and not the competition? Certainly. But why stop there when you can make a difference?
Q: How large can my team be? You can compete alone or have up to five team members. This is an intense programme with lots to learn. We (highly) recommend you to sign up as a group.
Q: Can I submit multiple models for evaluation? Each team should submit just one model for this competition. However, you are encouraged to tweak your model as the competition progresses.
Q: Do I need to be at a university to join? This competition is open to anyone. Register to learn and compete.
Q: What should I do if I have any other questions? Email us at ai4impact@gmail.com.
About ai4impact
ai4impact's mission is to help everyone, regardless of age or background, learn AI and build applications. Since its launch in 2019, we have successfully helped 2000+ non-programmers develop useful AI solutions.
We believe AI can help change our lives for the better, and everyone -- yes, that includes you, dear reader! -- should be able to utilize this amazing technology for social good.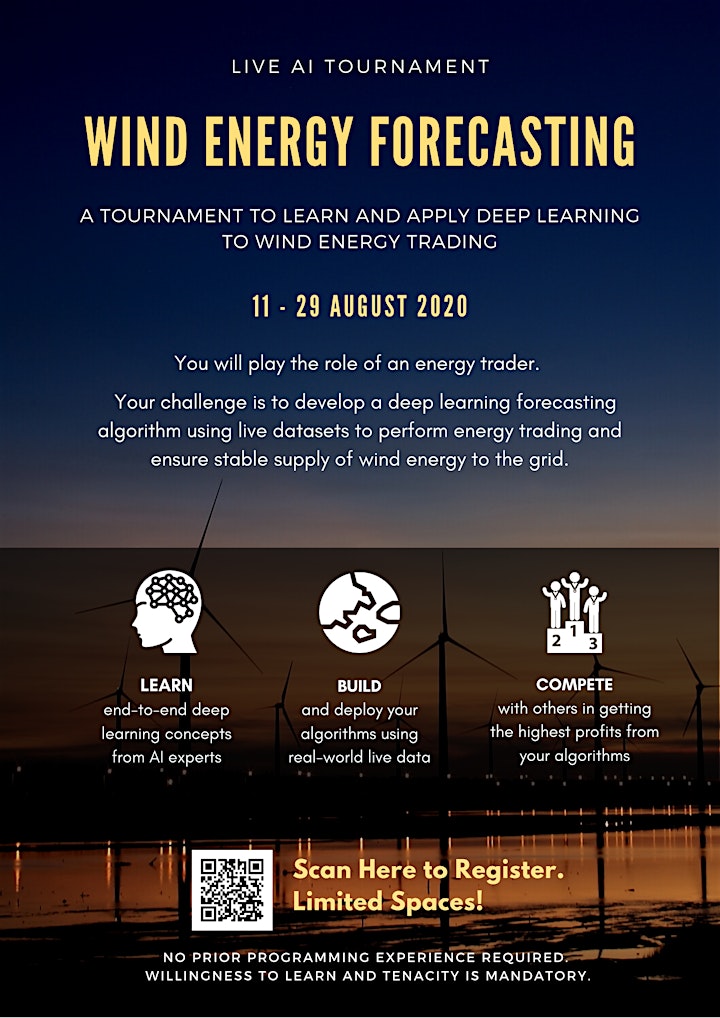 Date and time
Location
Refund policy
Contact the organiser to request a refund.
Eventbrite's fee is nonrefundable.