AiSP Ladies in Cyber Fireside Talk for IHL Female Students
Description
Our next Ladies in Cyber event will be on 5 Nov 19 (Tue).

The purpose of this event is two-fold :
1. Launch of AiSP Ladies in Cyber Mentorship Programme & Mentee Briefing Session
2. Student participation in an interactive Fireside Chat, with ladies in key Cyber-related leadership roles.

The event details are as follows.
Date: 5 Nov 19 (Tue)
Time: 6.30pm to 9.30pm
Venue: Ensign InfoSecurity Office Ace 1 & 2 located at 30A Kallang Pl, #08-01, Singapore 339213

Programme:
1830 to 1900: Dinner & Registration
1900 to 1910: Welcome Address by Dr Steven Wong, President of AiSP
1910 to 1920: Speech by GOH
1920 to 1930: Launch of AiSP Ladies in Cyber Female Mentorship
1930 to 1940: Introduction on the Ladies in Cyber Programme by
EXCO Lead for Ladies in Cyber
1940 to 2040: FireSide Chat with Cyber Leadership Ladies,
Moderated by AiSP EXCO Lead for Ladies in Cyber
2040 to 2050: Photo Taking
2050 to 2130: Mentees Briefing for the mentees & Networking
2130: End

The Fire Side Chat will be with some of our key females in Cyber related Leadership roles & Professionals who will share the war stories of their career in Cybersecurity. The talk will also incorporate some elements of cyberwellness. This is part of the career guidance programme for the female students that will be joining us for the session.

The list of Speakers for the Fire Side Chat are: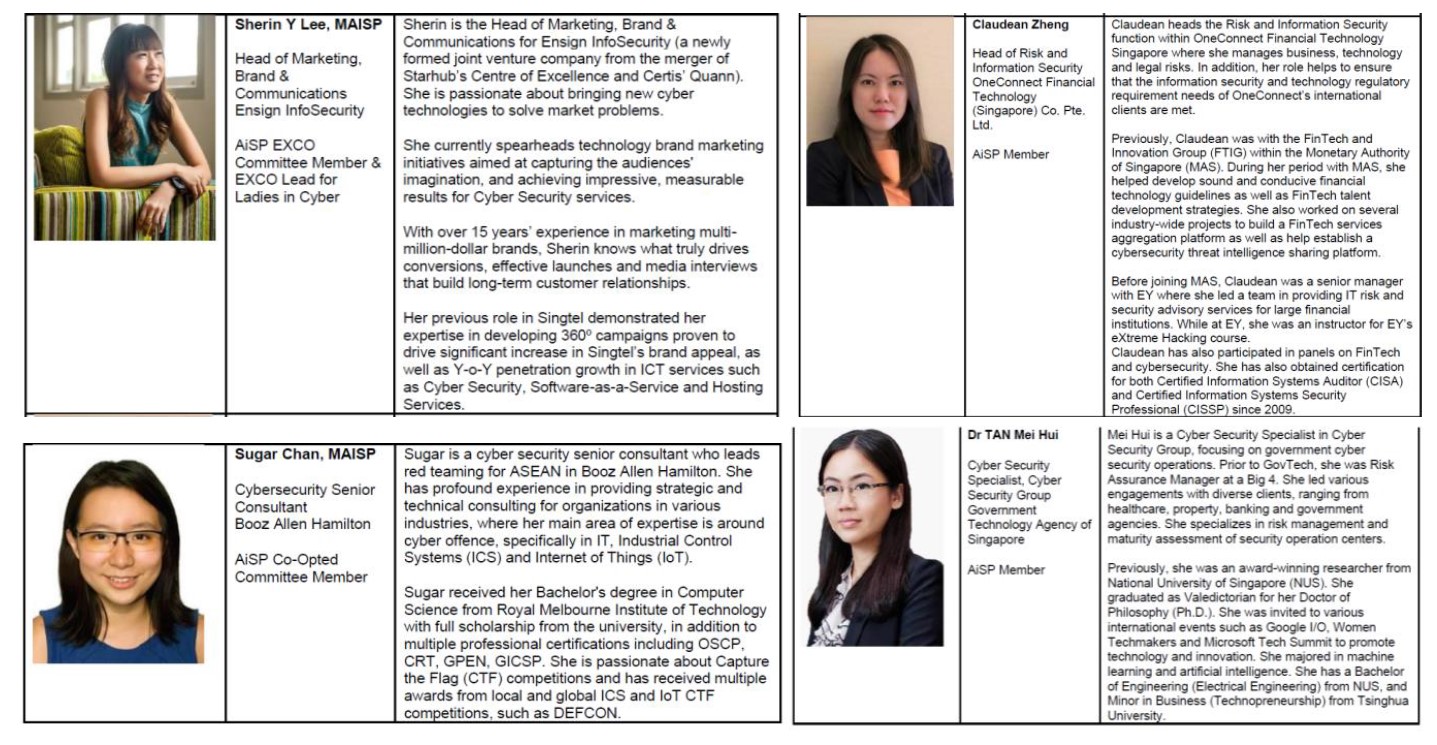 If you have any queries, please contact Vincent via email at vincent.toh@aisp.sg.
Only for Female Students with a Valid Student Pass currently studying in JCs / Polys / University / IHLs .

Please sign up by 25 Oct 19 (Fri). Slots are based on first come first-served basis.