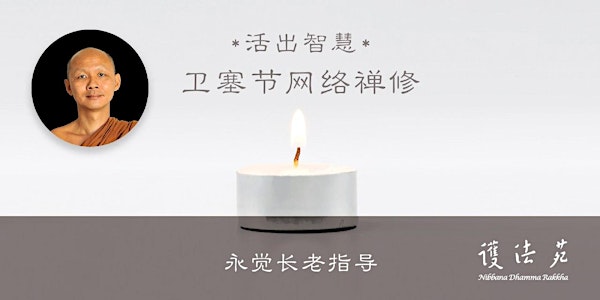 永觉长老 Ajahn Cagino: 网络禅修 Online Meditation
正念一日修 Online Mindfulness 1-day Retreat
About this event
2021年5月 May2021
劳动与卫塞节~线上禅修
Labour & Vesak Day~Online Retreat
Date: 1/5 (六Sat) & 26/5 (三 Wed)
Time : 9am-6pm (SG/MY time)
地点 Venue: 居家视频 或 护法苑共修 HOME ZOOM
媒介Medium: 华语 Mandarin
截止 Closing :  额满为止 Till the full
营费Retreat Fee: 随缘 by Donation
询问 Enquiry :  仁桓 Rehuan 90054983, 春莹 Choon Ying 9819 2365
电邮 Email: ndr.activity@gmail.com
【时间表Time Table】
08:00am - 08:30am 护法苑 报到 ZOOM 登入log in
08:30am - 08:45am
08:45am - 09:00am 视频简报 ZOOM Briefing
09:00am - 09:30am 早课 Chanting
09:30am - 09:45am 求授三皈依 与五戒/八戒 Requesting Three refuges and Five/Eight precepts
09:45am - 11:30am 禅修指导 Meditation Instructions
11:30am - 01:30pm 午餐 Lunch
01:30pm - 02:30pm 禅修指导与问答 Meditation Instruction and Q&A
02:30pm - 05:00pm 共修 (坐禅、行禅) Group Meditation (Sitting/walking)
05:00pm - 06:00pm 禅修问答与回向 Meditation Q&A and Dedicate Merits
FQA 常见问答
居家视频 HOME ZOOM
1. 我没有桌面式电脑,只能使用手机,是否仍能参加网络共修? I am only using mobile phone for this retreat and I don't have a desktop / laptop. Can I still join the retreat?​
要参加网络共修, 你需要获得 会议 ID 和密码 供你加入Zoom。你可以使用任何能够让您登入Zoom会议平台的电子器材
To access the retreat, you will be given a meeting ID and Password to join via Zoom, participants may use any device that supports your access to the Zoom video conferencing platform.​
2. 如果我登入Zoom时面对难题,如何寻求支援?If I have trouble with Zoom, how do I get help?​
请联络 https//wa.me/6596390867 。
Please contact to htpps://wa.me/6596390867.
3. 我不确定我是否成功报名,又找不到确认报名的电邮。 Have I received my registration? I cannot find the retreat confirmation email.​
请你检查你的电子邮件,包括垃圾箱,搜寻Eventbrite 发出的活动票根。主办当局会在接近活动日期时,电邮会议编号和密码给你。否则,请电邮至ndr.activity@gmail.com查明。
Kindly check your email's junk / spam folder for the confirmation Eventbrite ticket. We will email you the meeting ID and password when nearer to the retreat date. Otherwise, please drop an email to ndr.activity@gmail.com for clarifications. ​
4. 我是否可以不全程参加网络共修呢? Can I join the retreat as a part-time participant?​
由于这是线上共修,参加者促尽量全程跟随。一面参加共修,一面处理私人事务并不利于修持。
As this is a virtual retreat, participants are encouraged to follow the program to the best of their abilities. Participating part-time while engaging in personal activities may not be conducive to the practice.​
5. 请问参与网络共修,需要持守五戒或是八戒? Is this a 5 or 8 precepts virtual retreat?​
参加者受鼓励持守八戒,以在共修中得到最佳利益。带领比丘将会在早课之后正式传授八戒。
To reap the most benefit from the retreat, participants are encouraged to take the 8 precepts. Phra Ajahn will formally give the 8 precepts to participant after the morning chanting.