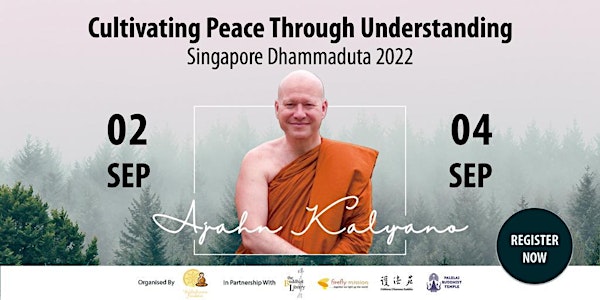 Ajahn Kalyano's Singapore Dhammaduta 2022
Ajahn Kalyano - Dhamma Tour in Singapore 2022 : "Cultivating Peace through Understanding"
When and where
Location
Multiple Venues Refer to Poster Singapore, 123 Singapore
About this event
Venerable Ajahn Kalyano, the abbot of Buddha Bodhivana Monastery, will be teaching "Cultivating Peace through Understanding" on his Dhammaduta Tour of Singapore. Please register early as seats are limited.
(A) 3-Days' Meditation Retreat @ Palalai Buddhist Monastery
2nd to 4th Sept 2022, 7.30am to 5pm
By registration please. Yogis must commit to full schedule of the retreat. Yogis shall have option to stay-in as 8-preceptor or attend as day retreatants, and be fully vaccinated participants. Places are limited, please select your option.
(B) Evening Dhamma Talks
7.30pm - Evening Chanting & Meditation
8.00pm - Dhamma Talk
2nd Sept 2022 @ Buddhist Library (2, Geylang Lorong 24A, Singapore 398526)
3rd Sept 2022 @ Nibanna Dhamma Rakkha (24, Geylang Lorong 29, #04-00 Leow Shih Building, Singapore 388073)
4th Sept 2022 @ Palelai Buddhist Temple (49 Bedok Walk, Singapore 469145)
All above are physical events. All attendees must be fully vaccinated or have fully recovered from COVID-19. Stay-in yogis must self-test and are permitted only with a negative ART test result. For the welfare of everyone, Organisers seek your understanding and your co-operation to adhere to any safe management measures prevailing at the point in time.
Anumodana. Sadhu. Sadhu. Sadhu.