Enjoy complete relaxation through an All-Quartz Crystal Sound Healing journey – a sonic massage to release tension from mind, body and soul.
About this event
Date: 12 October 2021 (Tuesday)
Time: 7pm – 8pm
Price:
$35 per pax for Crane members
$40 per pax for Non-Crane members
(*Eventbrite fees apply from August 2021 onwards)
Discover the powerful integration of divine Alchemy Crystal Singing Bowls and the magical Crystal Quartz Lyre also known as the Crystal Harp. The sound vibrations from these sacred crystal instruments align the crystalline properties of the human body facilitating one to experience a cascade of unusual sensations, rapidly losing track of the regular spatial-temporal framework to enter into a new vibratory universe, initiating a self-healing process.
Immerse in the pleasure of receiving these sounds to a feeling of flotation, lightness, fluidity, or great flexibility. Above all, it brings you joy! It awakens our inner child and brings great comfort and gentleness to the soul.
Come recharge, rejuvenate yourself into a state of absolute peace.
Join us with an open heart and mind! No meditation experience is required.
IMPORTANT COVID-19 SAFE MANAGEMENT REGULATIONS:
With the safe management measures in place, we are committed to create a safe and positive experience for everyone. Please read through the following guidelines carefully and you are required to observe them.
• Participants will be grouped into groups of 5 (5 people per group). Please remain strictly within your group area only and do not intermingle with the other group. Your facilitator will remain separate and distanced from all participants.
• PLEASE BRING YOUR OWN YOGA MAT OR TOWEL, AND ANYTHING YOU MIGHT NEED.
We are not permitted to provide shared-use equipment at this time. (If you forget to bring one, you may purchase a one time, disposable sheet from us.)
You are welcome to bring your own eye pillow, blanket, jacket, pillow and or cushion to enjoy the session thoroughly in total comfort.
• Log in and out of Trace Together upon entry and exit of the venue.
• Wash or sanitise your hands before entry. (Hand sanitiser is provided at the reception.)
• Temperature will be taken upon entry.
• Wear a mask properly at all times.
• Do not attend the session and stay at home if you are feeling unwell. If your temperature is 38
Degree Celsius and above or you display flu -like symptoms, you will be strictly denied entry into the space.
• Do arrive at least 15 mins earlier prior to the session to facilitate sufficient time for the check-in process and to settle in.
• You are also welcome to bring your own water bottle or bottled water to hydrate yourself.
The space will be sanitised before and after the event and sanitising spray and hand gel will be available.
IMPORTANT NOTE:
All Wenyogaheal Sound Bath / Sound Healing sessions at Crane will be MASK ON regardless of vaccination status.
There may also be constant changes to the Covid-19 safe management regulations depending on Government announcement and the Covid -19 situation then. We will adapt and change the safe management regulations accordingly and we seek your kind cooperation to adhere to them.
Minimum 5 to run.
By Sound Therapist Wendy Lum
(INSTAGRAM): www.instagram.com/wenyogaheal
(FACEBOOK): www.facebook.com/wenyogaheal
This event is held at Crane.
Crane members enjoy a special discounted ticket at $35.
Non-members may join us at $40 per ticket.
Please note this is NOT a soundproof enclosed studio. Some inevitable background noise will occur. Just relax and flow with the journey as it occurs.
For more awesome Crane content check out wearecrane.com.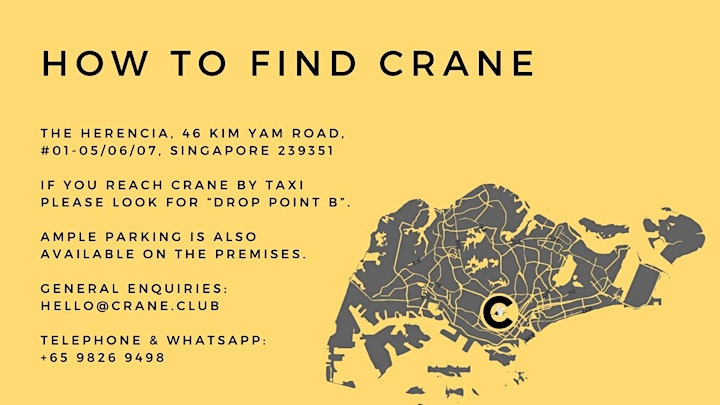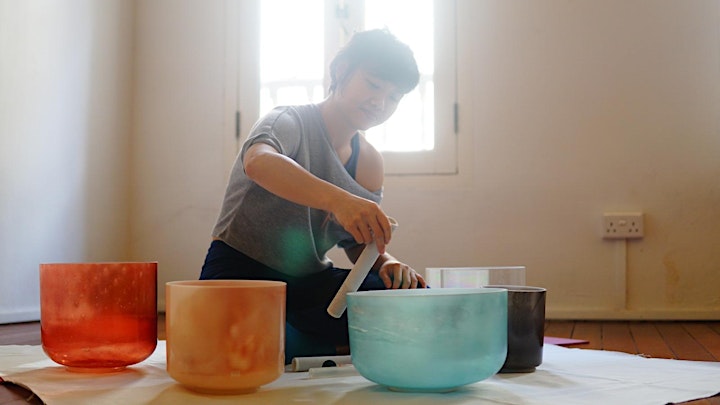 Organiser of Alchemy Crystals Bowls & Crystal Lyre Pure Crystal Divine Sound Healing