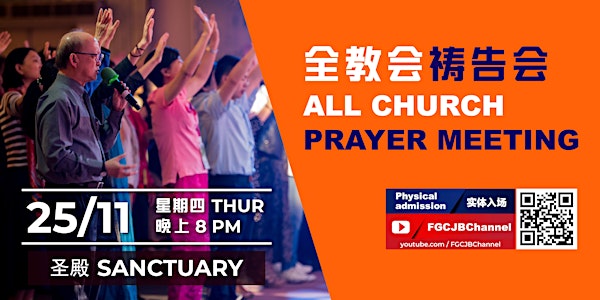 ALL CHURCH PRAYER MEETING 全教会祷告会
WELCOME HOME! "欢迎您回家! "
When and where
Location
Full Gospel Church Johor Bahru 1A Jalan Anggerik 21 Johor Bahru, Johor 81100 Malaysia
About this event
Welcome Home to church for the ALL CHURCH PRAYER MEETING (Bilingual) on 25th Nov 2021 (Thursday) @ FGCJB SANCTUARY @ 8PM.
For those who are interested to attend the meeting on 25th November on Saturday @ 8PM, we need your cooperation to register online. ADMISSION IS STRICTLY BASED ON E-TICKET ISSUED BY ONLINE RESERVATION. Registration will close when all seats are taken.
This meeting will be live on FGCJB YouTube concurrently. For those who are unable to attend this physical meeting, you can join us online at www.youtube.com/FGCJBChannel.
--------------
Things to note:
1. Admission is free but it will be based on e-ticket issued by online reservation.
2. Before coming for the physical meeting, please download or print the e-ticket.
3. Those who wish to attend the meeting need to adhere to this SOP:
A) Please put on a mask at ALL times.
B) Fully vaccinated individuals are allowed to attend the meeting. Individuals would be considered fully vaccinated* when he or she received:
i) Double-dose vaccines such as Pfizer-BioNTech, AstraZeneca, Sinovac: 14 days after second-dose vaccination.
ii) Single-dose vaccines such as Johnson & Johnson & CanSino: 28 days after vaccination.
*Digital vaccine certificate showed YELLOW in color.
C) Please register with the MySejahtera as well. FGCJB QR codes have been put up around the Eden Hall for your convenience.
D) At the entrance of the Sanctuary Hall, please show your downloaded/ printed e-ticket to the ushers stationed there.
E) The ushers will also measure your temperature and dispense hand sanitizer
F) If you are feeling unwell (e.g. if you have fever, cough, flu or respiratory symptoms), we will not be able to admit you. Do rest at home and join the online meeting.
4. Children age 12 and below are DISCOURAGED BUT ALLOWED to attend the meeting. They will need to be seated and supervised by their parents/ guardians and will need to comply with the SOP at all times as well.
5. You are required to show MySejahtera vaccination status and the downloaded/printed e-ticket to the ushers for admission.
6. The Sanctuary Hall will be opened for admission at 7:15pm.
7. To reduce movement and prevent disruptions to the onsite recording, we strongly encourage brothers and sisters to have your toilet breaks before entering the sanctuary.
For any doubts or enquiries, please feel free to approach your Cell Group or Ministry leaders for clarification. You may also contact the church office (07-3540548) during operating hours for further enquiries.
全教会祷告会(实体)将在星期四(25/11)晚上8点,圣殿进行。
语言:双语
我们需要您在线上的预订系统报名出席星期四的实体祷告会。没有预先报名的人无法进入会场。
教会也将在当天继续播放线上分享会,供无法出席分享会的弟兄姐妹。请锁定新山全备福音教会YouTube。
------------
注意事项:
1. 入场免费;凭票入场。
2. 分享会当天请预先下载电子入门票或打印入门票并带到现场以便扫描入场。
3. 凡是出席实体聚会的弟兄姐妹,请务必遵守标准作业程序(SOP)。
A) 任何时候请务必戴着口罩 。
B) 完成接种疫苗的弟兄姐妹可以出席分享会。已视为完成接种疫苗的情况如以下:
i)只有在接种第二剂辉瑞 Pfizer、阿斯利康AstraZeneca或科兴Sinovac疫苗的14天(2 周)后。
ii) 接种强生Johnson & Johnson或CanSino疫苗的民众只有在接受注射的28天后。
* 疫苗接种证书显示黄色。
C) 请扫描登记MySejahtera。我们已经张贴二维码在圣殿四周围。
D) 进入会所前,请显示您的入门票,同时也测量体温以及使用洗手液。(当天会有同工在圣殿外厅协助您)
E) 凡是身体有任何的不适(例如发烧,咳嗽,感冒或呼吸急促等症状者),请待在家休息。
4. 现阶段不鼓励, 但也不禁止12 岁及以下的儿童参加分享会。但若参加分享会,儿童必须能遵守 SOP,需要坐在座位上(不能坐在地上),由父母/监护人全程看管孩子。
5. 进入会所前,请显示您的MySejahtera疫苗接种证明及入门票给招待员。
6. 聚会入场开放时间:晚上7点15分
7. 鼓励弟兄姐妹入场之前上厕所,避免聚会录制进行中走动而影响录制过程。
如果您有任何疑问,请咨询组长或牧养同工。您也可以在教会办公室开放时间联络教会(07-3540548)以了解更多详情。