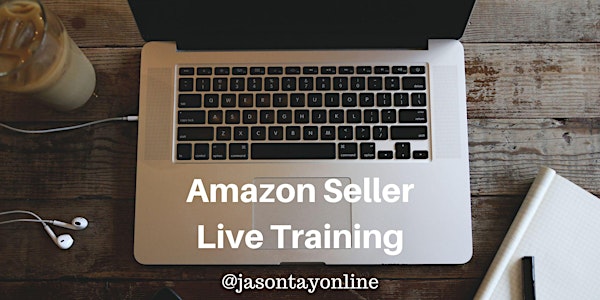 Amazon Seller Live Training, 6-8 Sep 2021
Practical, honest training by Singapore's most trusted Amazon selling expert. Lay a solid foundation to grow your Amazon sales.
Date and time
Sun, 5 Sep 2021 17:30 - Tue, 7 Sep 2021 21:30 PDT
About this event
About Amazon Seller Live Training
Seize this long awaited opportunity to spend 3 half days and four 1-to-1 sessions with Jason Tay of www.jasontayonline.com
No hype, no ridiculous attempts to sell you additional, unnecessary and expensive services. Equip yourself with honest, practical, down-to-earth training to help you start and scale your business by selling on Amazon.
Class size is capped at 12, so book your spot before it's sold out.
In addition to the 3 days of live training, all participants receive 4 one-to-one consultations personally with Jason Tay and a closed Facebook group for alumni.
The 3 day's Zoom sessions will also be recorded so that all registrants can watch the recordings at anytime after the live sessions.
Note: ticket price is $1297 Singapore dollars (approximately $960 USD)
Training Outline
Foundations of Ecommerce and Understanding Amazon
Identifying What to Sell - understand the criteria for winning products and avoid high risk products.
Sourcing for Products
Branding and Product Packaging
Creating an Optimized Product Listing
Shipping Inventory to Amazon
Product Launch and Promotions
Four 1-to-1 consultations to help you as you apply what was learnt. This can be used for any area you choose such as validating product analysis selection, keyword optimization, Amazon PPC Advertising, etc.. The 1-to-1 is invaluable and something you will rarely find included in any course.
This training will teach you to fish. This means you will be equipped with the understanding and skills to start and scale with as many products as you are willing to put effort into. Start with 1 product listing, then rinse and repeat!
FAQs
Q: Do you have a free preview?
A: I don't have previews for several reasons. Here are 3 of them:
Keeping the course affordable. If I did free previews, I would have to rent a venue for the previews. That would lead to higher course fees.
I'm not trying to hard sell preview attendees an expensive multi-thousand dollar course. Most "gurus" who run free previews use it as bait to get people to attend so they can be "trapped" in an environment where the guru can emotionally pressure and make them feel like they will lose out if they don't sign up on the spot. The fees are typically very expensive, which is why they never state it upfront (otherwise very few people would sign up), and only reveal it during the preview as a limited time offer. This tactic enables them to trap people in a high pressure environment where they can hardsell them to cough up thousands of dollars. I don't like to pressure people like that, and my course is much more affordable, so I don't need to bait people with a free preview in order to hard sell an expensive fee.
My website at www.jasontayonline.com is better than any free preview! I don't need to have free previews because the content I have been providing for free on my website and Facebook group speaks for itself. It provides far better proof than any free preview and more value than some paid courses! People who have read my blog and seen the FB discussions where I have shared, answered and helped others can easily see the value and experience I provide.
My personal advice regarding previews is go in with a high wall, and do not let them make you feel pressured to sign up if you have any doubts or find the fees uncomfortably high.
Q: What do I need to join the training?
A: A computer with Zoom installed. Make sure your audio is working so you can hear. It's optional, but highly recommended to also have a microphone so you can ask questions (you can also type in the chat), and a webcam so we can all see each other to make the training more interactive. You might also want to have a pen and paper notebook if you like to take written notes.
Q: How can I contact the organiser with any questions?
A: Email questions to jasontayonline@gmail.com
Q: What's the refund policy?
A: Unlike a pre-recorded training course, time and resources have to be specifically committed for this training session. Therefore we hope you will understand that no refunds are allowed. Only if the organiser cancels the training, will a full refund be issued.
About the Fees
The training is a total of over 15 hours (4 hours x 3 days in a small group, followed by 3 hours over 4 x 45 minute 1-to-1 Zoom consultations, plus countless hours of answering questions in a closed Facebook group for attendees only, private messaging, and email.
As a point of comparison, 'O' and 'A' (high school) level tuition rates by a qualified teacher are $90 to $120 per hour. For 15 hours, that would total $1,350 to $1,800.
To keep it affordable, the fee is only SGD1297 (~USD960), which is just SGD86 (~USD64) per hour! As a former teacher, I think it's extremely reasonable to charge these rates for something that is far more valuable than academic qualifications. What you will learn is definitely worth ALOT more! In fact, just the four 1-to-1 consultations are worth $1500, since I charge companies $500 per hour for consultation.
I sincerely believe this training can be far more valuable than any academic qualifications - this coming from a former teacher. It has the potential to be the best investment in education you have ever made, if you take action to apply what will be taught.
I always say the money I invested to learn how to sell on Amazon has had a far better ROI than the fees I paid for my Master's degree.
If the training helps you to create just 1 product listing that makes a profit of just USD6.30 per sale, and you sell just 5 units a day, that would result in USD945 per month in profit. You would fully cover the course fees with just 30 day's sales!
Here's some food for thought:
Think about it, the scammy gurus who run free previews get 100-200 people to sign up for each course. Do you think it's even possible for the "guru" to provide any kind of real help or support to individual attendees? Seriously, all they are trying to do is fill their own pockets. Compare that to my class size that is 15 people. I could easily earn 20x more by charging higher fees and having a huge class every month. But my objective is not to make big bucks at the expense of others. It's why I keep my classes so small and affordable - so that I can provide direct 1-to-1 support to every person after the class.
I've had several people tell me they attended training by a local "guru" (let's call him A) who advertises a lot on social media. The initial training is $2,000, during which he upsells his other services, which cost thousands more. One attendee spent thousands with A who "managed" her inventory, which ended up stuck in China for several months. She met me at a meetup I co-hosted with Amazon on 26 Jan 2018. I advised her for 5 minutes and spoke to her supplier in China for 1 minute. Less than 2 week later, on 8 Feb, she informed me that her shipment not only finally left China after being stuck with A for months, it made it to Amazon in the USA, and she made her first sale!
There are numerous online Amazon courses. These typically cost around USD997 to USD5,000 (SGD1,300 to SGD6,500) or more. What you get is a bunch of recorded videos that are generalised for thousands of people. It's no comparison to face-to-face training, 1-to-1 consultations, plus ongoing small group support, and the relationship building opportunity.
Amazon management recently called me to ask if I would consider providing Amazon consultancy services to businesses so they can refer them to me. They said that after checking all the Amazon sellers and trainers in Singapore, I was the only one they wanted to work with. One reason given is that "all the others are dodgy".
Do you need a course or training? It's not a must. You can self-learn. What this training offers is the opportunity to fast-track your learning with proven fundamentals. This can help shorten your learning curve and avoid costly mistakes. You are benefiting from my years of Amazon selling experience, deep understanding of how it works, and my contacts with various service providers such as Amazon, sourcing agents, etc..
Disclaimer: Your success is ultimately dependent on your decisions and actions, as well as many factors that affect the running of a business such as suppliers, logistics, changes in the the market, Amazon policies, etc.. While there is never a guarantee of success, you will be taught a practical, low-risk approach to selling on Amazon that has helped me to achieve 7 figure sales .