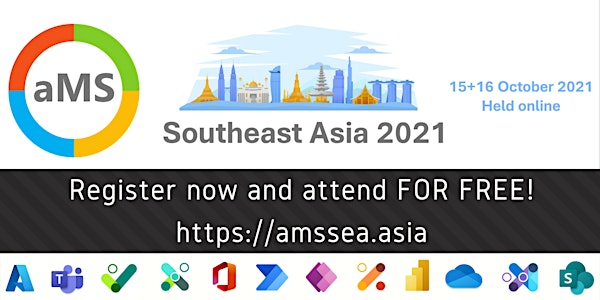 aMS Southeast Asia 2021
Southeast Asia's premier Microsoft 365 online conference
About this event
aMS Southeast Asia
Join us for a free two-day community event and learn more about the latest advancements and announcements in the Microsoft cloud world from various global experts!
aMS Southeast Asia is taking place online again this year. After 2 successful years with in-person events in Kuala Lumpur and Singapore, it was held online for the first time in 2020. Building on the success of last year's event, we are working on providing you with another great opportunity to learn from subject matter experts on Microsoft 365, Azure, and the Power Platform.
We will cover a range of topics, and session will include both foundation information about the tools discussed, as well as demos and best practices from the field.
We are looking forward to seeing you at our event in October, and we hope you'll have a fruitful time at aMS Southeast Asia!
Who is it for?
Sessions cover a range of topics and are suitable for people from different technical backgrounds (developers, administrators, power users) and roles (decision makers, CxOs, specialists, executives). No matter if you've got a decade of experience with Microsoft collaboration technologies, or if you just started working with Power Apps, there's something for everyone! Learn how others use the various technologies to maximise their potential, and get inspired to incorporate them into your own
organisations!
Business Decision Makers : what can it do and what kind of value does it provide?
IT Pro : how do I migrate or manage the service or app?
Developers : How can I create new valuable solutions with it?
Education : how can you leverage Microsoft's cloud services as part of your teaching environment?
Sessions
Please visit https://amssea.asia for more details on sessions and speakers.