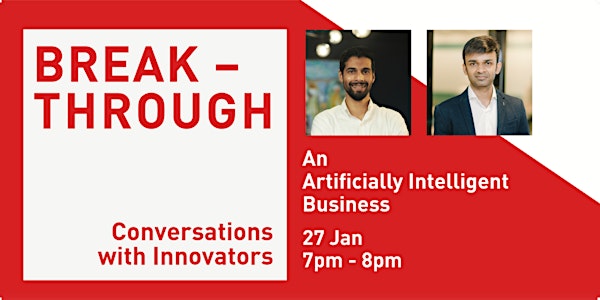 An Artificially Intelligent Business | Breakthrough
Join this talk to learn how you can start up in the AI industry
About this event

Important Notice
This programme/event is open to members of the National Library Board, Singapore. Please ensure you have your myLibrary username on hand before proceeding with the registration. If you do not have a myLibrary username, you can create one here: https://account.nlb.gov.sg/
About the Programme
Artificial Intelligence is all around us. Apart from self-driving cars and manufacturing robots, they exist in the algorithms that determine what we see in our Instagram feeds and our google search results. In this session of Breakthrough, we will be conversing with Sudhanshu Ahuja, CEO and Co-founder of impress.ai and Gaurav Bubna, Co-founder of NextBillion.ai as they share on their personal entrepreneurial journey in the booming AI industry. Join this talk to hear the tricks of the trade directly from these founders, the start-up challenges they faced, how they overcame them and learn what it takes to start up your very own AI business.
About the speakers
Sudhanshu Ahuja is the CEO and Co-Founder of impress.ai, an 'accurate hiring' platform that autonomously interviews candidates for any job and produces a fit-score. He spearheads all sales functions and fundraising initiatives, drives the business strategy and company vision, and leads the scaling of the company's enterprise customer base.
Gaurav Bubna heads product direction, innovation and execution at NextBillion.ai. His expertise lies in aligning product vision with unified customer experience. An IIT Bombay alumnus, Gaurav has spearheaded several zero-to-one initiatives across industries, including ride-hailing, food delivery, logistics, mobility, finance, and HR. Gaurav has led product teams at Grab, Ola, Zlemma and Morgan Stanley.

Organiser of An Artificially Intelligent Business | Breakthrough
The National Library Board (NLB) manages a network of 27 public libraries, the National Library and the National Archives of Singapore. NLB promotes reading, learning and information literacy by providing a trusted, accessible and globally-connected library and information service through the National Library and a comprehensive network of Public Libraries.