An Ayurvedic Meal Experience with Shy Kalra
About this event
An Ayurvedic Meal Experience with Shy Kalra, A Home Chef & A Student of Ayurvedic Nutrition.
About this event programme
12.00 pm - Guests to collect name cards and to be seated
12.20 pm – Introduction of the Speaker and the guests
12.30 pm – Building blocks of Ayurveda
12.40 pm – Ayurveda approach to Food (know your Dosha :Vata , Pitta, Kapha)
12.50 pm –How to choose your food to create a balanced meal & what are the common myths of combining food , portion sizes
01.00 pm –How to prepare an Ayurvedic meal ( Demo of a recipe ,
Discussion of Sample menu Plans according to your dosha)
01.15 pm – Lunch Service and tasting session for the guests to conclude the Ayurvedic meal experience
Menu
WELCOME DRINK - Coconut Water
NON - VEGETARIAN PLATE :Home made Chicken Curry in Himalayan Spice Or Pan Seared Fish in Turmeric ,Okra with Dried Masala,Cauliflower with Potatoes,Yellow Moong Dal with ginger,Indian Rice Pilau
VEGETARIAN PLATE : Chickpea in tomato & onion gravy, Okra with Dried Masala, Cauliflower with Potatoes,Yellow Moong Dal with ginger,Indian Rice Pilau
DESSERT -Semolina Halwa & Indian Chai with Spices
Profile : Shy Kalra
Shy Kalra is a Former Choreographer & A show Director & now is a celebrated Home Chef & A Student of Ayurvedic
Nutrition Foundation Certified Programme from The Ayurveda Association of Singapore www.aaos.org
She truly believes in the theory of "Food is Medicine".
She loves cooking and had Home Science as a subject at school in her A levels, where she learnt her basic cooking, food preparation and how to use spices.
As a kid she also assisted her Dad to cook weekend luncheons ,she says that brings back flavorful memories, as he was a passionate weekend cook and the best host for all the foodies .He shared old folk's tales and poetry along with his recipes. He used various Himalayan spices that were ordered on special requests and techniques that were like Ayurveda.
Her Dad taught her that 'Food is Blessed when Shared". She picked his personality trait and carries forward the tradition of curating meal experiences over weekend luncheons and dinners with great conversations of wellness . Her meals give an insight of ayurvedic practices and helps people to make right food choices & understand their own food personality type . She is also a Yoga enthusiast and truly believes that "You eat what you look'' .She has hosted some of the finest ladies from her museum enthusiast group .They have gone back home waiting for another invitation to suit their Ayurvedic clock.
PLEASE PURCHASE THE CORRECT TICKET OR YOU MANY NOT BE ABLE TO PARTICIPATE.
This event takes place at Crane. For more exciting events, check us out at wearecrane.com.
This event is restricted to vaccinated attendees only. Attendees will be placed in groups of 5 or less.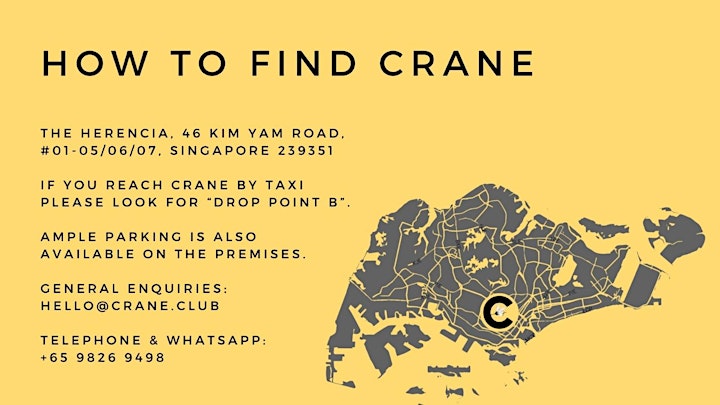 Organiser of An Ayurvedic Meal Experience