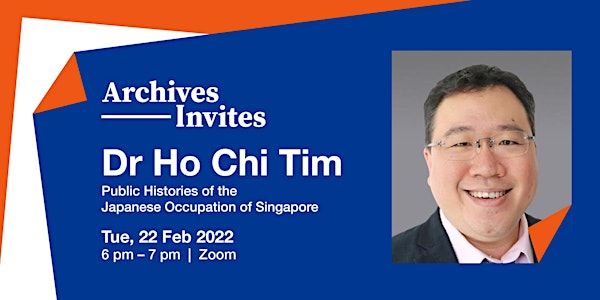 Archives Invites: Dr Ho Chi Tim – Public Histories of Japanese Occupation
-
About this event
Archives Invites: Dr Ho Chi Tim – Public Histories of the Japanese Occupation of Singapore
While the Japanese Occupation of Singapore took place more than seventy years ago, its impact still resonates today. The memories of survivors have been internalised by the public through various communicative forms. The State regularly commemorates the occupation and the preceding invasion as key milestones in the Singapore Story.
Over time, these public representations have created distinct impressions of the occupation period, some of which may not immediately be congruent with academic scholarship on the topic. Join Dr Ho Chi Tim as he delves into issues arising from public and academic representations of the Japanese Occupation, and how they are part of an understated public history discourse in Singapore.
About the Speaker
Dr Ho Chi Tim is a historian of Singapore and Southeast Asia, with research interests in the histories of social welfare, colonialism/imperialism and public history. He has published works on various aspects of Singapore's history including social services, nation-building and archival research, and was involved in several public history projects. Chi Tim is currently a lecturer at the Centre for University Core, Singapore University of Social Sciences.
About New Light on an Old Tale: 80th Anniversary of the Fall of Singapore
"New Light on an Old Tale" is an exhibition organised by the National Archives of Singapore to mark the 80th Anniversary of the Fall of Singapore (15 February 1942). Showing from 15 February to 30 June 2022, the exhibition showcases artefacts from private collections as well as archival records which hold intimate and little-known stories about World War II and continue to be witnesses to pivotal events that have shaped the history of Singapore.
Accompanying the exhibition is a series of related programmes that together present the events of World War II and the Japanese Occupation of Singapore in a new light.
Don't miss our online sessions with invited speakers who will explore the public and academic representations of the Japanese Occupation, British medals awarded to Singaporeans for their service in World War II, and music as protection and collaboration in Wartime Singapore.
Join us for a guided tour of the Former Ford Factory to discover its history and significance, and a talk to learn about the role of Oral History accounts in battlefield history.
Catch a P Ramlee Malay classic set during the Japanese Occupation and two rare 1946 post-war Chinese films, curated by the Asian Film Archive.
Register now: go.gov.sg/nlot_prog
Learn more: go.gov.sg/nlot
About Archives Invites
Community histories unfold in this series that traces Singapore's social past with help from the archives.