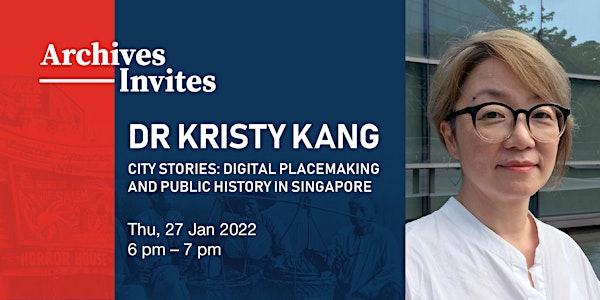 Archives Invites: Dr Kristy Kang – Digital Placemaking & Public History
Learn about "City Stories" community storytelling platform & online resource on the multicultural identity & evolution of Chinatown streets
About this event
Archives Invites: Dr Kristy H.A. Kang – City Stories: Digital Placemaking and Public History in Singapore
Developed by Nanyang Technological University's School of Art, Design and Media, and supported by the Urban Redevelopment Authority, "City Stories: Mapping the Narratives of Singapore's Landscapes" is a community storytelling platform and online resource on the multicultural identity and evolution of Telok Ayer and Amoy streets.
Both streets were the earliest to be developed in the 1820s and are today part of Chinatown, the largest conserved historic district in Singapore.
"City Stories" lets viewers discover the evolution of these streets, select individual shophouses to uncover their stories, and explore the transformation of the area from Singapore's shoreline to skyline through historic maps, videos and other related materials.
This project aims to show how Chinatown has historically been home to multiple ethnic communities whose everyday activities have created a more complex understanding of place and public history in the city.
About the Speaker
Dr Kristy H.A. Kang is a practice-based researcher whose work navigates the triangulation of place, geographies and cultural memory. She is an Assistant Professor at the School of Art, Design and Media at Nanyang Technological University, Singapore. Her research interests combine urban and ethnic studies, mapping, and emerging media arts to visualise cultural histories of cities and communities. Her works have been presented at the Gwangju Design Biennale, South Korea; Getty Research Institute, Los Angeles; the Center for Art and Media, Karlsruhe; and the Jewish Museum, Berlin, among others. She has also received the Jury Award for New Forms at the Sundance Online Festival.  
About Archives Invites
Community histories unfold in this series that traces Singapore's social past with help from the archives.