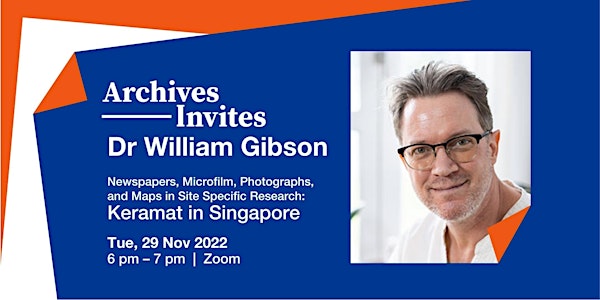 Archives Invites: Dr William Gibson – Keramat in Singapore
Newspapers, Microfilm, Photographs, and Maps in Site Specific Research: Keramat in Singapore
About this event
Drawing on his recent Lee Kong Chian Research Fellowship study of keramat (sacred shrines) in Singapore, Dr William L. Gibson discusses the site-specific methodology he deployed in his research. He will share how layering different resources such as archival texts, site visits, oral histories, property records, and digitally manipulated maps and photographs, create new insights into the history of keramat sites in Singapore. He will also highlight examples from both well-known and obscure keramat sites.
About The Speaker
Dr William L. Gibson is an author, researcher and educator based in Southeast Asia since 2005. He is the recipient of a 2021 Lee Kong Chian Research Fellowship, awarded by the National Library Board, where he conducted an in-depth study of keramat in Singapore. He has published both scholarly works and historical fiction with Routledge, NIAS Press and Monsoon Books, as well as articles and essays in Signal to Noise, PopMatters.com, The Mekong Review, Archipel, History and Anthropology, Bulletin de l'École française d'Extrême-Orient and BiblioAsia, among others.
About Archives Invites
Community histories unfold in this series that traces Singapore's social past with help from the archives.