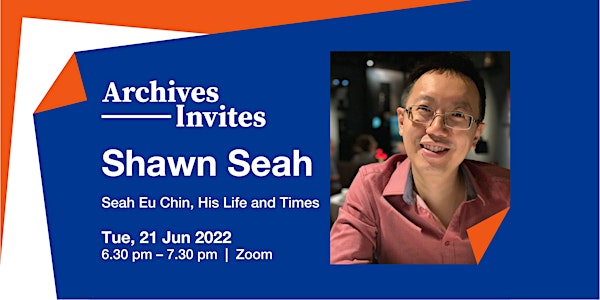 Archives Invites: Shawn Seah – Seah Eu Chin, His Life and Times
NOTE: This talk starts at 6.30 pm, instead of the usual 6 pm.
About this event
One of Singapore's prominent pioneers, Seah Eu Chin (1805–1883) was known as the king of gambier and pepper. He was also the founder of the Ngee Ann Kongsi. A Justice of the Peace, Seah brought order and stability in Singapore's tumultuous early days by mediating during riots. Join Shawn Seah as he explores the life and times of his ancestor and his illustrious sons, Seah Liang Seah (1850–1925) and Seah Peck Seah (1857–1939), whose legacies have been immortalised in Singapore's street names. Shawn will also share about relevant and useful NLB resources that have helped him in his research.
About the Speaker
Shawn Seah is the author of My Father's Kampung: A History of Aukang and Punggol, a finalist for Best Non-Fiction Title and a Top 10 Readers' Choice of the Singapore Book Awards 2021. He is also the author of books on Seah Eu Chin and Seah Liang Seah. He has shared stories at the Peranakan Museum; Blackbox at Fort Canning Centre during the Singapore Bicentennial; and the National University of Singapore. He has also been part of the Singapore Heritage Festival and the Baba-Nyonya Literary Festival. Shawn holds an MSc in Economic History from the London School of Economics.
About Archives Invites
Community histories unfold in this series that traces Singapore's social past with help from the archives.