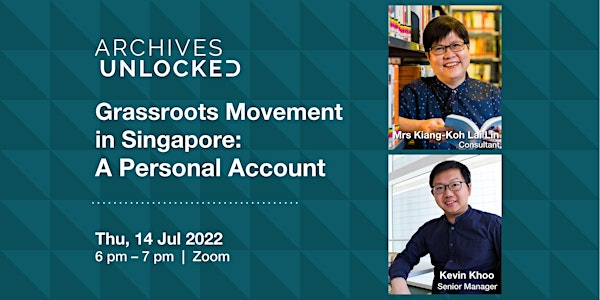 Archives Unlocked: Grassroots Movement in Singapore – A Personal Account
Gain first-hand accounts from grassroots leaders on why they joined the movement, and share their passion and experiences serving residents.
About this event
Grassroots organisations use collective action at the local level to effect changes at the local and national levels. They are associated with bottom-up decision making and encourage community members to contribute by taking responsibility and action for their communities.
While much has been written about the history and functions of the different types of grassroots organisations in Singapore, less is known about the personal experiences of those involved.
Started in the mid-2000s, this oral history project allows individual grassroots leaders to express how and why they joined the movement, share their passion, challenges and experiences in serving residents, and give first-hand accounts of how grassroots organisations work and developed over time. This project will also document the lessons learnt by grassroots leaders in Singapore's changing social, economic, political and cultural environment.
About the Speakers
Mrs Kiang-Koh Lai Lin is a consultant at the National Archives of Singapore (NAS). She was a former director at the National Library Board, heading its reading initiatives. Since joining the Oral History Centre at NAS, Mrs Kiang-Koh has covered extensively grassroots leaders' interviews. In the past two years, she has also been involved in the recruitment and training of community volunteer interviewers.
Kevin Khoo is a Senior Manager (Documentation) at the Oral History Centre. He is an experienced Archivist with a background in research, curation and corporate planning.
About Archives Unlocked
Curious about what goes on in the National Archives of Singapore? Join us for this monthly series of talks, as we unlock stories of our nation through the archives' collections.