Description
Does this sound like You?
~ Why am I not getting the success I want?
~ Why is my success not consistent?
~ Why does wealth come so easily to others but not me?
~ When am I getting the job promotion?
~ When can I find true love?
~ How can I get out of my debt?
The Ultimate Question
~ I want to start pursuing my dreams BUT is it possible?
The Secret is ...SELF-CONFIDENCE
Self- confidence gives you the license to have a positive attitude about your ability to become Competent in ANY area you desire (including any areas which you may presently know little about.)
I know how it feels to be Stuck…
And to make matter worse, I wasn't in a bad place.
I was doing OK.
I was Comfortable.
I was doing fairly well
BUT I wish it can be BETTER!
The Result?
Long story short. I made a DECISION and Took ACTION
~ I've gone from 2 income streams to 6.
~ 4 income streams no longer require my attention as it has moved from an Active to PASSIVE.
~ I've MORE time
~ I'm working LESSER
~ I'm travelling A LOT More.
Jim Rohn was right, SUCCESS LEAVES CLUES.
Are You Postponing Your Success?
AGENDA for weekend/weeknight:
10:45 AM - 11:00 AM / 7:15 PM - 7:30 PM : Registration
11:00 AM - 1:00 PM / 7:30 PM - 9:00 PM : Cover the above learning points
1:00 PM - 1:15 PM / 9:00 PM - 9:15 PM : Lucky Draw, Q&A
Feedback from the attendees.
Read more here on our Facebook page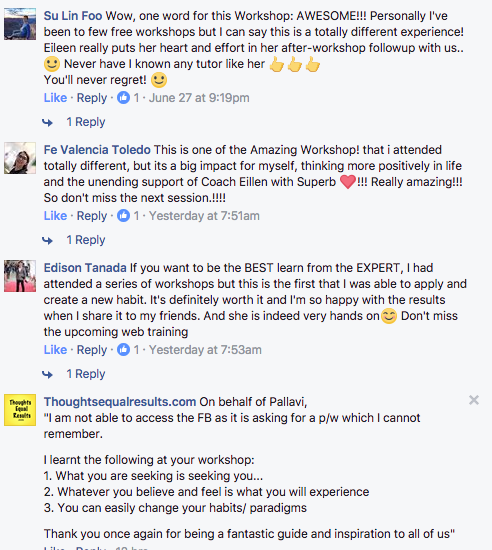 About the speaker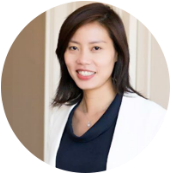 Eileen is the first Proctor Gallagher consultant in Singapore to be mentored by both; Bob Proctor and Sandy Gallagher to help individuals to finally get unstuck and achieve true forward momentum.
In 2015, while Eileen was working for a multinational company she enrolled for Bob Proctor Coaching 13-Months Program. Shortly after Eileen met Bob Proctor in person in Los Angeles, she decided to be a certified PGI consultant. As it allows her to work with individuals to set them up for instant and lasting success through a step-by-step program; 'Thinking into Results'.
Privacy Policy:
I confirm that by providing my personal data and contact details as above, I have agreed to receive messages (in sound, text, visual and other forms) including via the above Singapore telephone number in accordance with the Personal Data Protection Act.