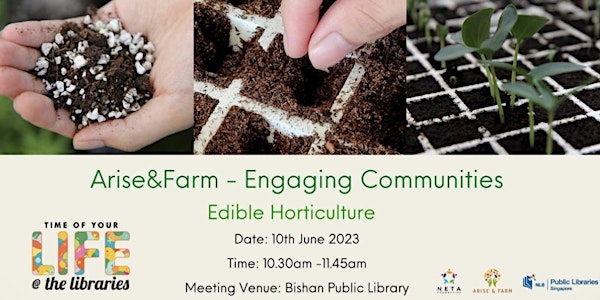 Arise & Farm – Engaging Communities: Edible Horticulture | TOYL
Discover the joy and convenience of growing your own edible plants!
By GoLibrary | National Library Board, Singapore
Date and time
Sat, 10 Jun 2023 10:30 - 11:45 +08
Location
Bishan Public Library Courtyard (at Level B1) 5 Bishan Place #01-01 Singapore, 579841 Singapore
About this event
Important Notice
This programme/event is open to members of the National Library Board, Singapore and those who are aged 50 years and above. Please ensure you have your myLibrary username on hand before proceeding with the registration. If you do not have a myLibrary username, you can create one here:  https://account.nlb.gov.sg/.
About the Programme
This workshop is suitable for participants aged 50 and above. 
As a nation that relies largely on food imports, Singapore must step up local production of food in order to avoid the repercussions of supply chain disruptions and climate change. Arise & Farm was thus created to teach the local community basic farming skills through different activities and learning journeys. This session will focus on the growing of edible plants from a hobbyist perspective, where you will learn how to grow and tend to a variety of edible herbs and shrubs. 
No prior experience with farming or gardening needed to join. All necessary materials will be provided. 
About Arise & FarmSupported by the Neta Foundation, Arise & Farm is an initiative started in 2001 that aims to spread the knowledge of farming to residents in Singapore and encourage them to explore farming as a hobby at home. Arise & Farm hopes to help Singapore achieve food security through galvanising the community to grow its own food.  
Unsure how to register for our programme? Refer to these guides for more information.
NLB Mobile App Users – go.gov.sg/toyl-evbm
Desktop Users – go.gov.sg/toyl-evbd
About Time of Your Life
Organised by the National Library Board, the Time of Your Life (TOYL) features informative talks, creative workshops, learning communities and resources for those aged 50 and above. Covering a wide range of topics such as Digital, Careers, Sustainability, Arts & Wellness, start your learning journey with us today. Visit https://go.gov.sg/toyl for the full programme listing and check out our dedicated publication at https://go.gov.sg/50plusmag.
Please note the following:
• All participants are required to register for a ticket. Each ticket admits 1 person only. Please present your ticket when you enter the library and the event venue.
• Arrive 10 mins before the session commences. Seats of late attendees may be given to those in the waitlist.
• NLB reserves the right to deny entry to participants who do not abide by the ground rules.
• Please note that photos and/or videos of this programme and its participants may be taken.
About the organiser
The National Library Board (NLB) manages a network of 28 libraries, the National Library and the National Archives of Singapore. NLB promotes reading, learning and information literacy by providing a trusted, accessible and globally-connected library and information service through the National Library and a comprehensive network of libraries.