Arm Tech Forum Singapore 2018
Description
Dear Partners,
In 2018, energy-efficient Arm processor designs enabled the intelligent computing in more than 130+ billion chips and over 70% of the world's population are using Arm-based technology, which is securely powering products from the sensor to the smartphone to the supercomputer. This success was building by together with our 1,000+ partners with Arm's IoT software and device management platform helps partners to driver significant business value on their connected devices.
Arm is going to hold its annual "Arm Tech Forum 2018" event on July 19th, Thursday, in Suntec Singapore Convention & Exhibition Centre. This year's Arm Tech Forum will introduce the latest hot topics ranging from IoT ecosystem to artificial intelligence(AI), machine learning(ML) and automotive. Sharing different prospects from platforms of software and hardware in IoT Industry.
We look forward to having your participation.
Date: July 19th, Thursday
Time: 08:50am-13:30pm (8:20am for reception)
Venue: Suntec Singapore Convention & Exhibition Centre, Level 3, Room335-336 (1 Raffles Boulevard, Suntec City, Singapore 039593)
Arm Event Desk
terry@advinno.com / +(65)6777-2240 / Terry Teh
david.kim@arm.com / David Kim
Reservation to this event is on a first-confirmed-first-served basis.
Please register and reserve your seat immediately!
NOTE: The venue only offers limited parking voucher, it will be provided on first come first served basis.
Agenda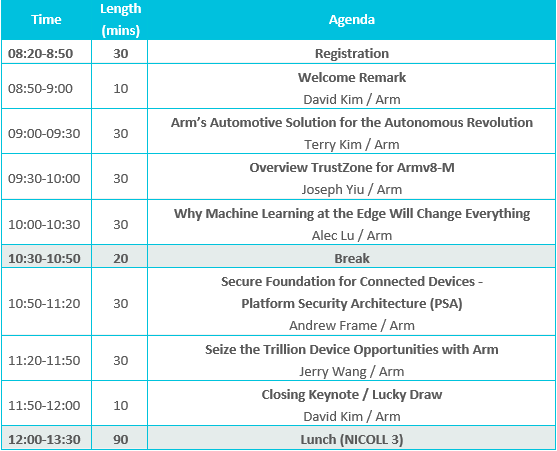 Arm is a registered trademark of Arm Limited (or its subsidiaries). All brands or product names are the property of their respective holders. © 1995-2018 Arm Group.