About this Event
Yoga Nidra is often referred to as "yogic sleep," a paradoxical state of being between sleep and consciousness that's conducive to deep emotional and physical healing, rewiring your brain, and self-exploration.Accelerate your health The benefits of using essential oils in yoga include accelerating and improving one's mental and physical experience throughout and beyond the conventional yoga method.Complete Relaxation
Yoga Nidra practice with Tibetan sound bowls induces complete relaxation in consciousness, thereby restoring wellness on all levels of being. Power charge for body, mind, soul in conscious nap.
Aroma Yoga Nidra with Tibetan Sound Bowls @ SGD88
3 Sessions Package Deal SGD185
Saturday, 4 April 20202.00pm – 4.00pm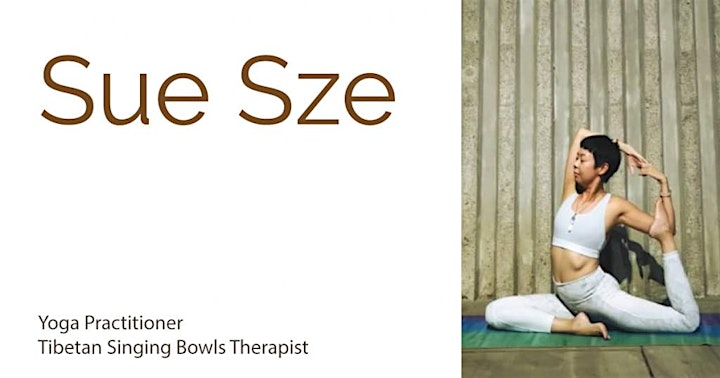 Sue is certified in YAI 200 & 300 Hrs Yoga Instructor in Transformational Yoga as well as trained as an Aromatherapy Yoga Instructor. She attended "Awaken ~ The Divine You"® & Instructor's Certification Course Level 1 by Master Umesh H. Nandwani since 2018. She also follows Linda Chandler's "Core Value Training" for leadership development since 2013. Sue is trained by Master Santa & Shree from Nepal on her Singing Bowls Healing program that enables her to customise her service for her students' & clients' needs. Sue holds a Bachelor (Hons) in Logistic & Supply Chain Management from the University Northumbria in her academic education.
Sue holds clarity with her commitment towards her life purpose – dedicating herself to serve humanity in the yoga path with love & gratitude; sharing her experiences unconditionally for greater harvest in her students' yoga practise.
She is inspired as a living role model of healthy lifestyle, becoming a greater human being who is constantly radiating love, peace, harmony and light, enjoying abundance of beautiful creation in her life experiences on this planet.
Find out more about Sue here.