Around the World in 68 Days by Koh Buck Song | Sing Lit Book Club
Join prolific author Koh Buck Song as we explore the history and culture of other countries and our shared humanity in his itinerant memoir.
About this event

Important Notice
This programme/event is open to members of the National Library Board, Singapore. Please ensure you have your myLibrary username on hand before proceeding with the registration. If you do not have a myLibrary username, you can create one here: https://account.nlb.gov.sg/.
About the Programme/Event
Join us at Singapore Literature Book Club as we discuss the recently published Around the World in 68 Days: Observations of Life from a Journey Across 13 Countries. This will be an interactive session, please come prepared to discuss the book and share your thoughts!
About the Book
Around The World In 68 Days is a travelogue with a big difference – not about how to get there, what to see or where to dine, but instead, seeking to glean insights into the meaning of life and the true nature of human societies, using the lens of the brand attributes of each territory to look more clearly into the kaleidoscope of humanity. In a time of a global pandemic, this is also a type of memoir, a tribute to travel, of a pre-Covid-19 world. This is like a 68-day extravaganza of ichigo ichie, the Japanese concept of cherishing every worthwhile moment.
Singaporean writer Koh Buck Song – author and editor of more than 30 books – distils the quintessential brand essence of very different cultures in 13 countries across four continents. He draws from his experience and perspectives as a country brand adviser, advocate of liveable and sustainable cities, and commentator on society and public policy. Koh, also a poet and artist, opens each chapter with his own haiga artwork of a haiku poem with an ink sketch. These artworks complement this book's effort to capture and interpret shared humanity across the globe – what makes each of us unique, what we share, and how, in the end, perhaps we're all really chasing ultimately similar dreams. 
(Taken from Penguin Random House SEA)
About the Author
Koh Buck Song (family name: Koh) is a Singaporean brand adviser and the author and editor of more than 30 books, including one on Singapore's country brand - Brand Singapore: Nation Branding In A World Disrupted By Covid-19 (third edition, 2021, with a Chinese translation published in China, 2012). He has advised foreign governments on building their nation brands, and has spoken extensively on country branding internationally, including in London, Oxford, Cambridge (Massachusetts), Chicago (Illinois), Phuentsholing (Bhutan), Tahiti, Tokyo, Shanghai and Melbourne.
An avid traveller, he has visited more than 80 countries and territories, from Antarctica to Zimbabwe. An artist of haiga, a modern interpretation of the 16thcentury Japanese art form of ink sketches combined with haiku poetry, he has held several exhibitions in Singapore and Laos. This book features a haiga artwork for each of the 13 countries visited. He read English at Cambridge University in the UK and has a master's in public administration from Harvard Kennedy School, USA. As an adjunct editor at Singapore's Centre for Liveable Cities, he has authored and edited reports on the annual World Cities Summit since 2014. Previously, he was a columnist and political and arts journalist with Singapore's main English daily The Straits Times, and head of global media relations and strategic planning at the Singapore Economic Development Board. As head of public affairs (Southeast Asia) with the communications consultancy Hill & Knowlton, he advised the Singapore government on many aspects of urban development, including the global launch of Gardens by the Bay and the National Gallery Singapore.
About Singapore Literature Book Club
From NLB's Singapore collection comes a book club with a unique local flavour. Discuss books by both well-known and emerging Singaporean authors touching on topics close to home. Get acquainted with local literature and discover national literary treasures right here at the libraries.
(The book cover image is the copyright of the publisher.)
Online Programme/Event Administrative Information
This programme is conducted entirely online. You may access Zoom via the app or using a web browser.
Please ensure that you enter a valid email address as you will receive an email with the link to the online programme/event near the day of the programme/event.
The link of the programme should not be shared with others.
Do ensure you have a strong internet connection. Using your mobile data is not recommended.
The National Library Board, Singapore (NLB) reserves the right in its absolute discretion to disqualify or refuse admission to any registrant without any reason and notice.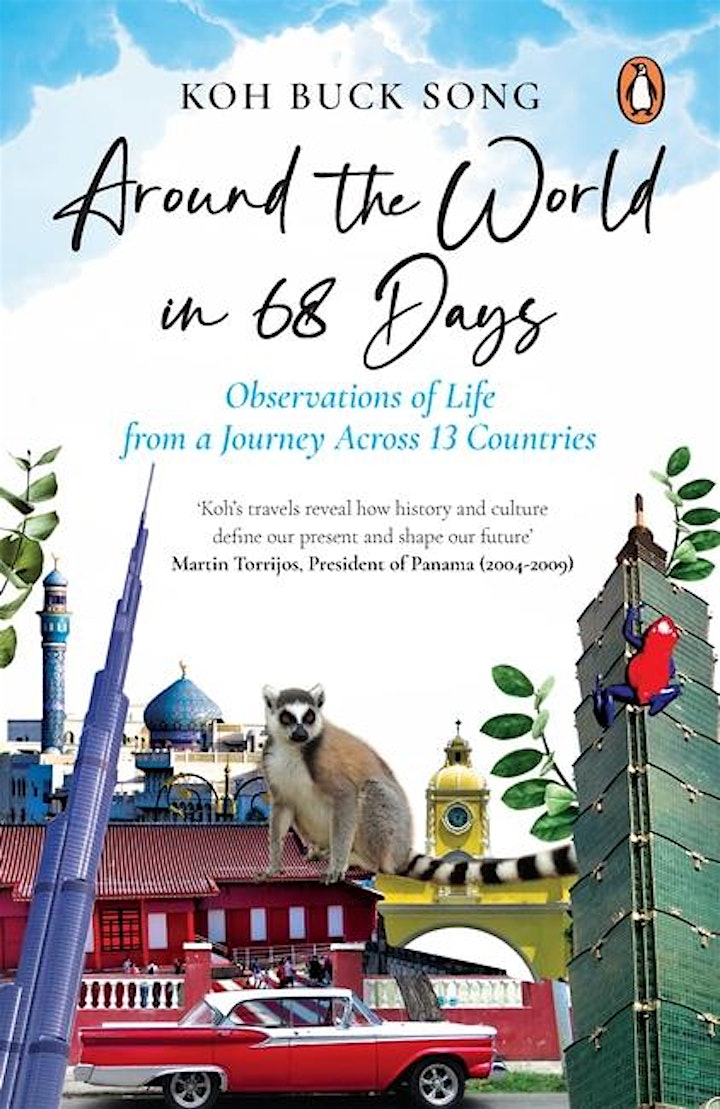 Organiser of Around the World in 68 Days by Koh Buck Song | Sing Lit Book Club
The National Library Board (NLB) manages a network of 27 public libraries, the National Library and the National Archives of Singapore. NLB promotes reading, learning and information literacy by providing a trusted, accessible and globally-connected library and information service through the National Library and a comprehensive network of Public Libraries.