Description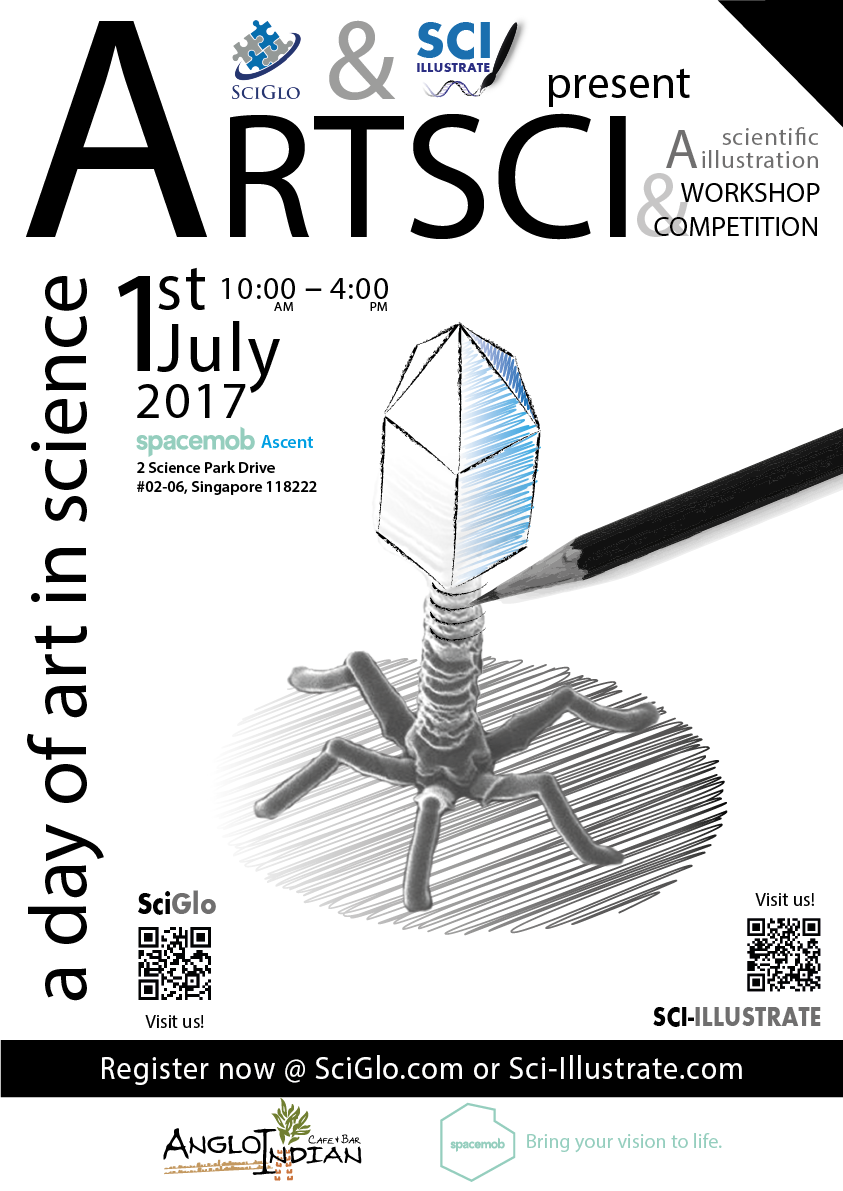 SciGlo & Sci-Illustrate present ARTSCI - A day of Art In Science
ARTSCI is a scientific illustration workshop and competition.
Date & Time: 1st July 2017 (10 am to 4 pm)
Venue: Singapore (Spacemob Ascent)

- Workshops on science illustrations, science-inspired art.
- Competition to display your science inspired art, illustrations & WIN PRIZES!
The workshop will be conducted by Dr Radhika Patnala and Dr Arne Fabritius. They are the founders of Sci-Illustrate and are passionate about scientific illustrations and science inspired art, and hold years of expertise in both.
Eligibility:
- 17 years old & above
- Interested in art and science and to learn more about visual communication
- Interested to have science art work/illustration showcased on print/online media and social media
Requirements for Workshop:
A laptop with a functional trial version of Adobe Illustrator installed. Please use the following link for downloading the trial http://www.adobe.com/in/products/illustrator.html
Competition:
Participants may submit their original artwork in print form during the event.
Each submission must bring the following:
Original artwork (if hand drawn/made) (this will be returned to you)

An A4 size print of the artwork for submission
Artwork will be judged on the following criterion
Originality

Creativity

Aesthetics

Effective portrayal of a scientific concept
Registration:
Individual: S$ 30/-
Group of 3 or more: S$ 28/- each
Registration fee includes workshop fee and lunch. Kindly note that your registration will not be confirmed unless payment is made.
Submit your registration here and transfer the registration fee to the following bank account, by internet banking or via ATM (please mention your name while paying):
DBS Digital account S$ - 0039449933
SciGlo Pte. Ltd.
Bank code: 7171
A confirmation email will be sent once we have your registration and payment.