Description
Artsy Avenue is a sketch walk where participants go on an immersive walk around Tanglin Halt and learn how to sketch and draw from visual artist, Tang Ling Nah. In this community tour, participants return to the basics and discover drawing techniques, and join fellow enthusiasts in creating collaborative artwork
You will be creating your own art booklet at this workshop and capture the rich cultural heritage of Tanglin Halt with your very own sketches and quotes.
Participants will be visiting iconic sites such as the Church of Blessed Sacrament, Sri Muneeswaran Temple and Tanglin Halt Neighborhood Centre.
Recommended materials
A4 sketch books
Pencils - 2B, 4B and 8B
Colour Pencils
Drawing pens or any ink pens
Kneadable erasers and pencil sharpeners (if you are bringing pencils)
About the Artist
Tang Ling Nah is a Singapore-based artist, independent curator and art educator. Her work is inspired by the city's transitory spaces, such as the void decks in Singapore public housing, alleys, shopping malls and Mass Rapid Transit (MRT) stations. Besides drawing with charcoal on paper, wood and concrete walls, Tang has also created on-site installations, book art, performances and videos to explore buildings, places and architectural spaces as communicators of stories about life. Her work expresses the paradox of architecture as possibly facilitative and inhibitive of relational development. Tang has participated in numerous local and overseas residencies and group exhibitions.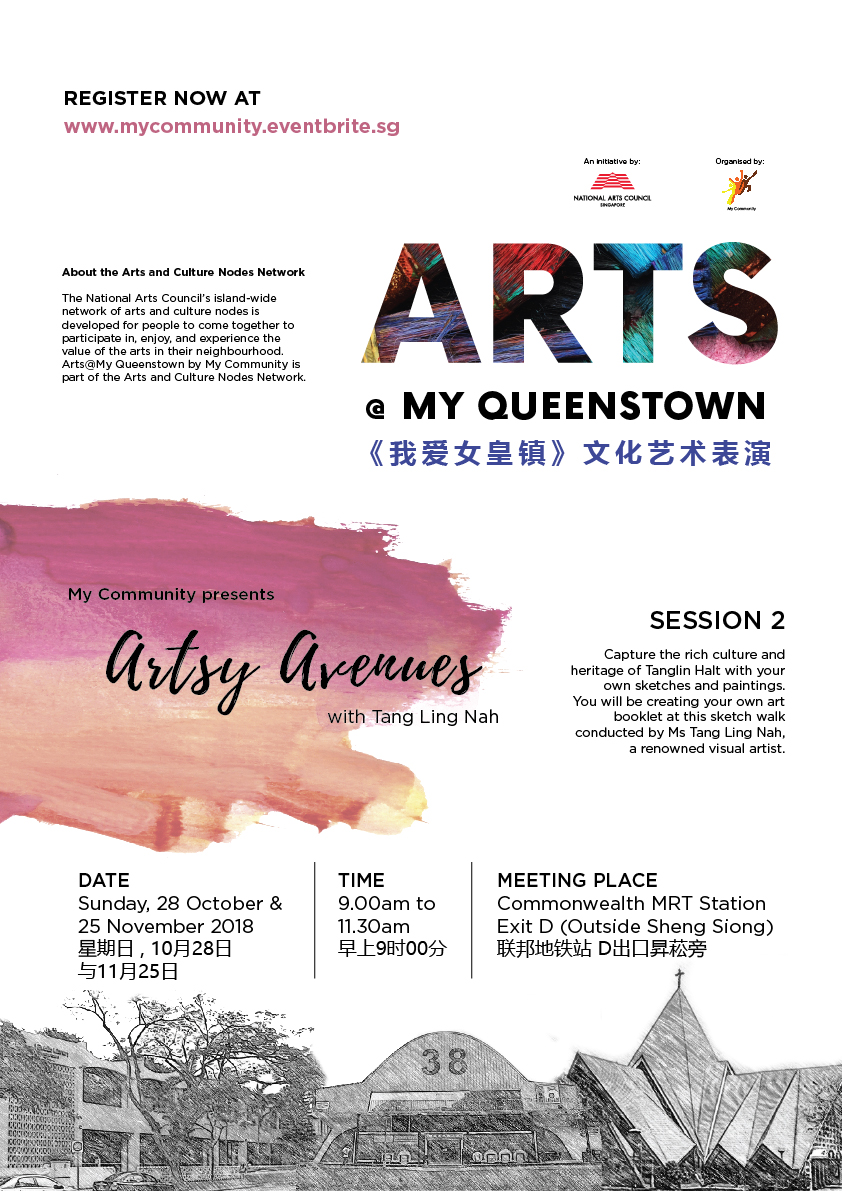 Duration
Date: Saturday, 26 January 2019

Approximate Duration: 3 hours (9:00am to 12.00pm)

Please arrive at Commonwealth MRT Station Exit D 15 minutes before 9.00am. The trail will end at Tanglin Halt Neighbourhood Centre.
What to bring?
Wear comfortable clothes (preferably long pants) and shoes suitable for thick vegetation.

Bring along insect repellent, EZ-Link card, a bottle of water, an umbrella and a cap

Asthmatic patients are encouraged to bring their inhaler