Description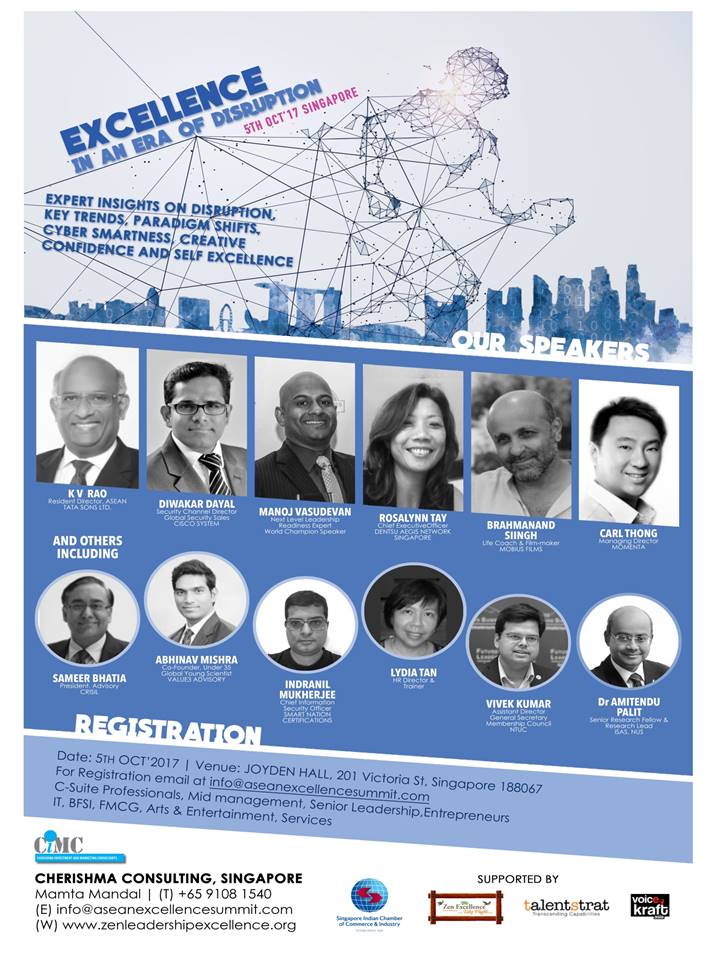 AGENDA
This is a one day Seminar on "Excellence in an Era of Disruption" in Singapore.
We've confirmed speakers from leading brands in Asia for a day of thought provoking, insights, knowledge on driving excellence from within the Organisation and within self.
Senior Leaders from Banking, IT, Art and Entertainment, Services industry will be part of the panel discussions and we have an exclusive panel on Cyber security which will benefit all who are attending the Summit .
9:00am
Welcome Note
9:05am
Lighting Of Lamp By GOH & Welcome Note by GOH
9:20am
Key Note Address By K. V RAO , Resident Director, ASEAN , TATA SONS LTD.
9.45am
Disruption – A global Perspective
10.00 am
PANEL 1 – Cybersecurity is the only common denominator for all
11:15 am
COFFEE BREAK
11:30am
Disruptive practices in ASEAN
11:30
PANEL 2 – Strategic leadership in Disruptive practices- Trends & Insights
12:45 pm
LUNCH BREAK
1:45 pm
Excellence & Disruption- New Millennium Game Changers
2:00 pm
PANEL 3 –The Journey from corporate excellence to self excellence
3:45pm
Closing Key Note Address – Manoj Vasudevan
4:00 pm
Closing Speech By GOH & Felicitation of Speakers & Partners by GOH
4:30 pm
Thank you Address by Cherishma Consulting
5:00 pm
Networking Evening Reception
The organsier reserve the right to change the date & venue of the event.
For group discounts, booth sponsorship opportunity contact:
Mamta Mandal
Director,Cherishma Consulting
T:+65-98877117
E: info@aseanexcellencesummit.com