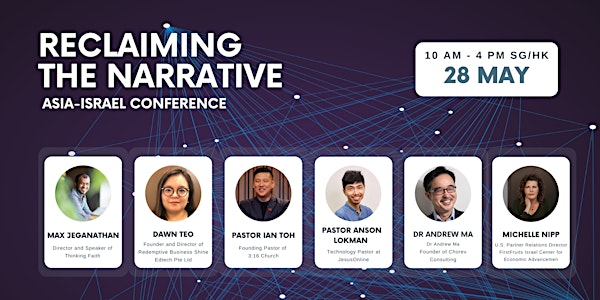 Asia-Israel Tech for God Conference 2022: Reclaiming the Narrative
Rewriting the story of Technology in the Kingdom
About this event
Reclaiming the Narrative
Far too long has the Church approached Technology with fear and apprehension. Due to rapid technological advancements for media and communication, some speculate that digital nomads may become the largest unreached people group.
"What opportunities lie within this black box? How can the Church be the light in new territories?"
The Lord is raising up a new frontier of His Kingdom within an exploitative and digitally-craved world– through surrender, power and love. Behold new methods of work built on discipleship and revelation. Join in His call over the nations!
If you're a tech founder, CEO, entrepreneur, engineer, or simply passionate about tech, lean in!
Because on the 28th of May, We Are Inviting Renowned Speakers Like:
Max Jeganathan - Director and Speaker of Thinking Faith
Dawn Teo - Founder and Director of Shine Edtech Pte Ltd
Pastor Ian Toh - Founding Pastor of 3:16 Church
Pastor Anson Lokman - Youth Pastor at Saddleback Church Hong Kong, Technology Pastor at JesusOnline
Dr Andrew Ma - Founder of Chorev Consulting
Michelle Nipp - U.S. Partner Relations Director FirstFruits Israel Center for Economic Advancement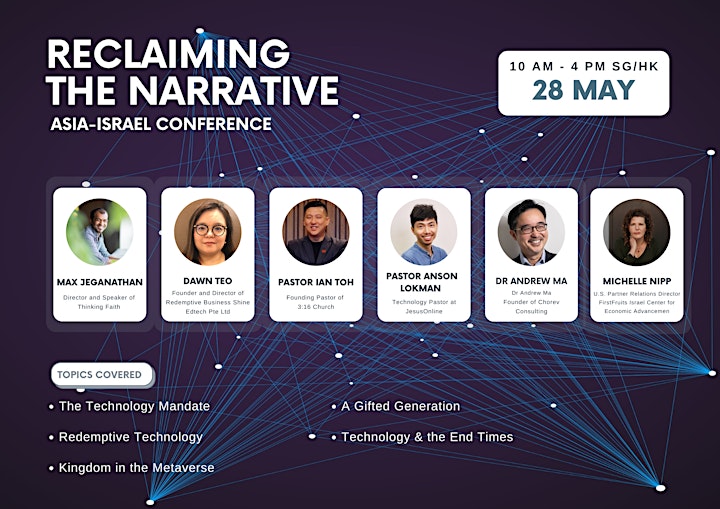 What Will Be Shared In The Conference
The Technology Mandate
Today, we see fragmentations between the Spiritual and Secular. However, the right application of technology begins with the right understanding. Learn about the necessary interdependency between Christ and Career in technology.
Redemptive Technology
In the 21st Century, big tech corporations are known for their vices– exploitation, high carbon emissions, employee mistreatment, privacy breaches, etc. How can we position our businesses to elevate rather than destroy? Find out how business models can be used for redemption through technology.
Kingdom in the Metaverse
The transition from 2D to 3D dominated media platforms brings new fears and challenges. What pitfalls and opportunities exist in this new world? Discover new ways the church can defend these spaces and harness the fullness of these new immersive and expansive worlds!
A Gifted Generation
We often think that inexperience is our downfall. However, the Lord is raising up this generation to walk in His boldness and power. How can we be 'David's and 'Joshua's in the 21st Century? Learn what it means to live out God's calling in technology as the next generation!
Technology & the End Times
The bible is filled with imagery of the things that are to be in the end of days. What is the role of technology amidst all the chaos? Learn about the importance of technology and the marketplace in the End Times.
So join us for this event to:
Understand God's design for Technology and the opportunities it presents
Be equipped with frameworks of technology for the Kingdom of God
Be inspired by existing companies and solutions that apply these concepts
Be connected to communities that serious about maximising technology for God
And much more!
Virtual seats are limited too so register your free spot now!
Priyan (Max) Jeganathan
is an international speaker and Director of Thinking Faith. He is passionate about helping people make sense of current issues and life's big questions through the lens of the Christian message. A former lawyer and political & policy adviser in the Australian National Parliament, Max is currently undertaking a PhD in Law. He lives in Singapore with his wife, Fiona, and their young children.
Dawn Teo
Dawn is the Founder & Director of tech startup group SHINE after 20 years in the Banking Industry. Having worked with brilliant minds in world class organizations, she believes that it is time that the world sees Christians arise to bring forth God's brilliance & heart through kingdom centred businesses.
Pastor Ian Toh
is the Founding Pastor of 3:16 church. His heart burns fiercely for the destiny of Singapore. He finds great delight in seeing the Holy Spirit bringing back God-design into families. God has also given Ian a love for the downcast and broken. With more than 20 years of ministry behind him, he has witnessed God's restorative hand in the lives of many couples and families. He finds great delight whenever he see the Holy Spirit bringing back God-design into families in Singapore.
Pastor Anson Lokman
is the Technology Pastor of Saddleback Hong Kong who has held many programs to teach on technology. He provides frameworks and rationale of how to look at technology, Web3.0, and God's Kingdom.
Dr Andrew Ma
is the founder and co-owner of Chorev with a strong desire to reconnect people in this age of technology. Coming from a high-tech background, he has extensive global management experience in diverse disciplines, including marketing, business development, strategic & product management, system engineering, and consultancy & training.
In addition to his solid practical leadership experience, he is also recognized for outstanding academic achievements, including a Ph.D. in Global Leadership, with a research focused on cross-cultural & cross generational leadership, EMBA; M.Sc. (Optical Communication); B.Sc. (Electrical Engineering); and BA (Economics)
Michelle Nipp
is the U.S. Partner Relations Director and U.S. Manager at Firstfruits. She has over 15 years administrative, organizational management and leadership development experience in a variety of industries, including multiple business and non-profit organizations. Michelle has worked internationally for over 15 years with various church planting, child welfare and community development projects. Passionate about connecting believers to the Land, she has coordinated and led study tours to Israel for over 15 years. She holds a B.A. in History and Music and an M.Div in Biblical Studies.
Organized By
This conference is organized by Shine! Next Gen Team & JesusOnline