actiFIT Asia together with Acro Polates present the second edition of Asia-Pacific Pole Challenge on 17 & 18 April 2020
About this event
actiFIT Asia together with Acro Polates present the second edition of Asia-Pacific Pole Challenge on 31st Jul & 1 Aug 2020, where some of the Fittest and Most Artistic Pole Athletes from round the globe meet and battle it out.
Calling all polers, locally or from around the world, there is a category for each and every one of you. You are also welcome to enter more than one category.
The inaugural 2019 competition set off to fantastic response with athletes from 13 countries in Asia-Pacific and Europe. International big names from 8 countries graced the event as our esteemed panel of judges.
Visitors will be treated to a spectacular showcase of jaw-dropping performances by the region's strongest athletes as well as creative choreographies.
The categories covering Pole Female Open, Pole Male Open, Exotic (opening to male and female and compete within same level), and Team(opening to mix male and female and compete within same level).
Three competing levels include: PROFESSIONAL, SEMI-PROFESSIONAL, AMATEUR
PROFESSIONAL: Participants who have won top place in an international/ regional pole competition in the category they are registering for, or have been a pole instructor with more than three years' experience.
SEMI-PROFESSIONAL: Participants who have been runner-up of an international/ regional pole competition in the category they are registering for, or have been a pole instructor with min one to max three years' experience.
AMATEUR: Participants who have never taught a pole-related course, nor won any international/ regional pole competition.
Athletes Registration:
US$25+ / category
Finalists Enrolment Fee (if selected):
PROFESSIONAL - US$120+/category
SEMI-PROFESSIONAL - US$60+/category
AMATEUR - US$30+/category
RULES & REGULATIONS:
Submit a video of between 2.5-4 mins unedited, uploaded onto a viewable portal such as YouTube with good lighting and capturing the entire body. The video can be taken at a studio, during a performance or a competition, without editing and must showcase both static and spinning pole. Please ensure that music is audible and not censored due to copyright violations.
Email video link to info@actiFITAsia.com, the email should accompany the registration form. Full Name, Stage name if any, Country of Origin, Country of Current Residence, Age, Contact email, Phone number, Indicate the level you are registering for and a registration fee of US$25+ for each category. The Categories are Exotic, Pole Open, Team. You can enter as many categories as you desire.
Exotic Category allows for heels /boots, up to 50% of floor work and use of props like hats, chair, feather boas, etc in the entry video. However, for the finals, all props used have to be pre-approved.
Pole Open Category strictly no heels nor boots. Bare feet, sports shoes, ballroom dance shoes with heels no higher than 2.5" are acceptable.
Team Category demonstrates teamwork and synergy of more than 2 people both on and off the pole (each pole on max. 2 people at one time).
Dress code for all videos: appropriate, any costume deemed obscene and showing too much may result in disqualification.
Closing Date for Video Submission 2359 Friday 31 January 2020. The announcement of finalists will be notified via email and on our website by 14 February 2020. The Finals is held on 17 and 18 April 2020 at the actiFIT Asia 2020 at Marina Bay Sands Expo Hall A from 10am to 8pm.
The Organisers of the challenge reserve the right to amend the regulations if deem fit to uphold this challenge to its highest honour, with or without prior notice. All decisions made are final.
The Organisers reserve the right to publish any photographs or videos pertaining to this event.
Participants are expected to accept interviews by media or publications and stay positive and cooperative throughout the process.
Participants in the finals should bear their own travel and accommodation cost and expenses, possess adequate and appropriate insurance coverage.
All registration and payment once submitted are non-refundable.
By submitting your entry, you agree that you are entering this challenge/event on your own free will and you shall not hold the Organisers or partners liable for any injuries, illness that may result in disability or even death sustained as a result directly or indirectly from your participation in this event.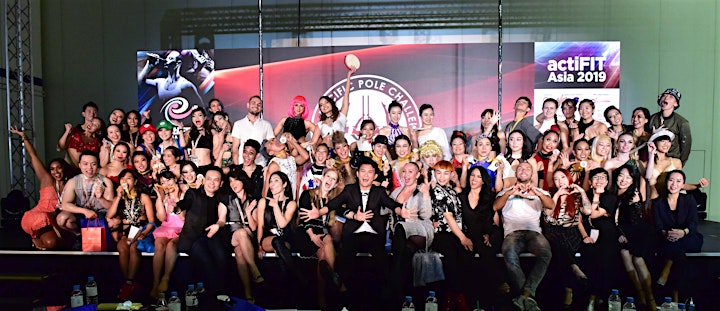 Organiser of ASIA-PACIFIC POLE CHALLENGE 2020
Uniting Fitness Community in One Place
Set to be Asia's signature fitness & wellness expo, actiFIT Asia strives to bring together anyone who have fitness and wellness close to their hearts.
We believe staying fit and keeping a healthy lifestyle come in multitude of ways, and everyone can have their own. No matter if it is intensive fitness regime, skill-based physical activity, energetic fun dance, or calming one for the mind & soul.
No one is too young or too old to get started and be involved in having fitness & wellness in their lives. actiFIT Asia aspires to contribute in making more people be healthy and lead an even better life.