Athena Executive Club - Wednesday (September 14th)

Wednesday, 14 September 2016 from 12:00 to 14:00 (Singapore Standard Time Singapore Time)
Event Details
 The Athena Executive Club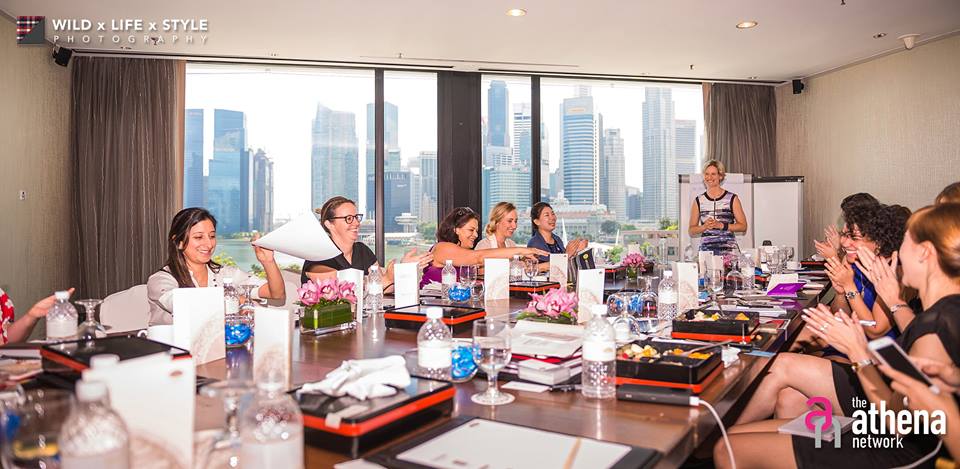 Athena Executive Club members meet for monthly facilitated networking sessions.
To foster a culture of strategic collaboration, the Executive Club operates on a professional exclusivity basis.

Membership is curated to provide a diverse mix of professions and industry sectors. Visitors and Visiting Athena members may attend, if their profession is not represented by an existing Club member.
Ladies considering Executive Club membership may request an invitation to attend. Please contact the event organiser to request an invitation.

Time: 12:00-14:00 + further optional networking after the main meeting
Visitor Fee: $76 including taxes and service and a delicious private lunch
Attendees: 20 female executives and entrepreneurs
Venue: Forlino - Serena Room, 1 Fullerton Rd, One Fullerton #02-06, Singapore 049213

Visitor places are extremely limited, please contact us to reserve your seat.

The Athena Executive Club
The Athena Executive Club holds monthly networking and business strategy meetings hosted within an elegant and relaxed boardroom setting.
We invite women from various professional backgrounds to participate in a structured and facilitated lunch-time meeting. We provide networking and business development training and a place to share professional objectives, make strategic connections and long-term relationships for greater success.
The Executive Club provides access to a host of expertise and is perfect for women who are serious about growing, scaling and expanding their businesses and careers in a supportive and focused environment.
We have a maximum of 20 ladies from different professions at each Executive Club meeting.
We have approximately five spaces for visitors at each meeting.

Networking Strategy Training
One of Athena's main aims is about developing our business skills, and these include our networking skills.
For those new to networking, these topics are designed to help you to network successfully and with confidence.
So whether we are Networking Novices or Nifty Networkers, there are always tips, ideas, and techniques that can be taken from these sessions to make our networking strategy even more effective.
Business Development Training

These short sessions are designed to share useful tips, facts and ideas covering a wide range of issues relevant to executives and entrepreneurs.
We invite an 'expert in the field' to present these topics and where possible we like to draw upon the considerable expertise of our members.
Our topics range from business planning to marketing to legal and financial aspects of running a business, and everything in between!
This month's BDT topic: Digital marketing strategy and the role of automation
Presented by: Swati Joshi
Swati Joshi is a digital technology evangelist and a passionate entrepreneur. She is the author of the bestselleing book on digital marketing: 'Untangling the Web'. She is also the founder and CEO of Influenshine, a digital marketing firm based in Singapore, which helps businesses enhance their digital presence.  
Swati is passionate about technology, and loves creating content. Her current industry is a happy marriage between the two, allowing her to leverage her strengths and passion. She is also a firm believer that women can excel in tech roles, and will continue to play a pivotal role in this new digital era. 
This Month's Menu 
Wild Rocket Salad, Balsamic Cream, Panettone
Wagyu Beef Ragout, Parmigiano Reggiano
Pan Fried Sword Fish 'Capri style'
Asari Clam, Aqua Pazza Sauce, Mixed Vegetable Couscous
Il Tiramisu di Chef Sasaki Chef Sasaki's Tiramisu,
Coffee Espuma, Mascarpone Mousse, Savoiardi, Crue di Cacao
Please let us know if you require a vegetarian option, or have any food allergies or intolerances. 

Executive Club Members
1. Amanda Blum - Project Unsung Heroes - Storyteller Writer - www.projectunsungheroes.com
2. Lise Chew - Natural Pharma Pte Ltd - Beauty & Wellness - www.thehealthyeverythingstore.com
3. Louisa Yue - DP Dental - Dental Practice - www.dpdental.com.sg
4. Manale Ganiere - Renascentia Pte Ltd - Legal Services
5. Olivia Chiong - The Unbusy Entrepreneur - Productivity Consultant www.unbusyentrepreneur.com
6. Pauliina Salmenhaara - R.A.W Inside Out - Well-being, Wellness, Mindful Living - www.rawinsideout.com
7. Rachel Ridgwell - Ohh Lah Lah - Ladies Pleasure Products - www.ohhlahlah.com
8. Raksha Sukhia - Southwestern Consulting - Sales Performance - www.southwesternconsulting.com
9. Renee Xavier - Alpha & Omega Law Corporation - Legal Services - www.alphaandomega.com.sg
10. Shiyun Lim - Manulife Financial Advisors - Dunn & Partners LLP - Financial and Estate Planning
11. Isabel Vadivu Govind - Joy Works - Organisational Development http://joyworks.sg
12. Valerie Marin - PureVitality Nutrition Concepts - Health & Wellness - Nutrition Coaching - www.purevitalitync.com
13. Vicki Lew - Brew Creative Pte Ltd - Branding and Design - Graphic Design - www.iheartbrew.com
14. Yana Fry - Yana Fry Pte Ltd - Coaching & Training - www.yanafry.com
 For this month's visitors, please see attendee listing below.
We are very much looking forward to welcoming you!
Attendee List
Sort by:

Date

|

First Name

|

Surname
When & Where

Forlino - Serena Room
1 Fullerton Rd, One Fullerton #02-06
Singapore, 049213
Singapore

Wednesday, 14 September 2016 from 12:00 to 14:00 (Singapore Standard Time Singapore Time)
Add to my calendar
Organiser
ASIA-PACIFIC'S LEADING NETWORKING, TRAINING AND DEVELOPMENT BUSINESS CLUB FOR FEMALE EXECUTIVES AND ENTREPRENEURS 
Focusing exclusively on female executives and entrepreneurs, The Athena Network provides a platform for members to share knowledge and experience across a diverse range of industry sectors, and to collaborate for mutual success.

BUSINESS NETWORKING THAT REALLY WORKS!
The Athena Network facilitates monthly business meetings for female executives and entrepreneurs to network strategically in an elegant yet relaxed atmosphere.
Attend an Athena Meeting!