Athena Executive Connections (March 24th)

Friday, 24 March 2017 from 19:00 to 21:00 (Singapore Standard Time Singapore Time)
Event Details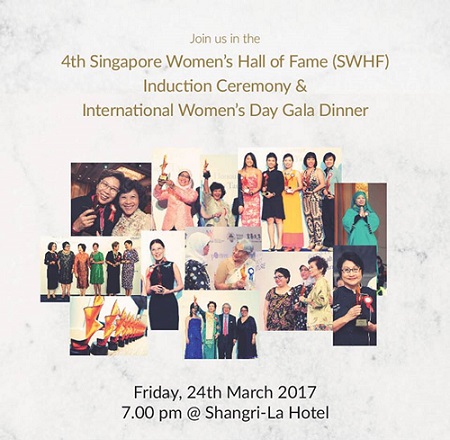 Athena Executive Connections 
We will be celebrating International Women's Day 2017
at Singapore Council of Women's Organisations Gala Dinner 
Date - Friday, March 24th 2017
Venue - Shangri-La Hotel, Island Ballroom 
Cost - $200 per seat
To reserve a seat mail: hq@theathenanetwork.com.sg 
Trailblazers of Yesterday, Leaders of Tomorrow
Join us in celebrating International Women's Day by honouring Singapore's most outstanding women
@ The 4th induction ceremony of the Singapore Women's Hall of Fame, Friday, 24th March 2017
The Singapore Women's Hall of Fame (SWHF) was launched by the Singapore Council of Women's Organisations (SCWO) in 2014 to identify and honour Singapore's most outstanding women across all fields of endeavour.
The SWHF is a celebration of the women who have made, or are making, an impact on our nation - the pioneers, the boundary breakers and record holders, the risk-takers and change makers, the role models and the standard setters.
By inducting these remarkable women to the Hall of Fame, and documenting and sharing their stories, we aim to inspire others, especially young Singaporeans, to dare to dream and to chart their own path.
Each year in March, the SCWO celebrates International Women's Day (IWD) which is designated by the United Nations as a special day to provide an opportunity to reflect on the advancements made by women, to consider the challenges faced today, and to assess our role in the future. In celebration of IWD, it is fitting that we honour the Trailblazers of Yesterday and Leaders of Tomorrow at the 2017 induction ceremony. Come March 24th, eight more trailblazing women will join the 133 women already inducted to the Hall of Fame since its launch in 2014. 
We invite you to join us in this celebration of the outstanding women of Singapore by becoming a SWHF corporate sponsor. It will be an opportunity for you to demonstrate your commitment to gender equality, the advancement of women, and women in leadership. 
To reserve a seat mail: hq@theathenanetwork.com.sg
Limited seats - book now to reserve yours!
Open to Executive members and first time Executive Connections visitors.
Not a member? Why not join online?
Book now for this unique Athena experience!
 For more information about Athena please visit our website and join our Facebook Community of over 25,600 members!
When & Where

Shangri-La Hotel, Island Ballroom

Singapore
Singapore

Friday, 24 March 2017 from 19:00 to 21:00 (Singapore Standard Time Singapore Time)
Add to my calendar
Organiser
ASIA-PACIFIC'S LEADING NETWORKING, TRAINING AND DEVELOPMENT BUSINESS CLUB FOR FEMALE EXECUTIVES AND ENTREPRENEURS 
Focusing exclusively on female executives and entrepreneurs, The Athena Network provides a platform for members to share knowledge and experience across a diverse range of industry sectors, and to collaborate for mutual success.

BUSINESS NETWORKING THAT REALLY WORKS!
The Athena Network facilitates monthly business meetings for female executives and entrepreneurs to network strategically in an elegant yet relaxed atmosphere.
Attend an Athena Meeting!