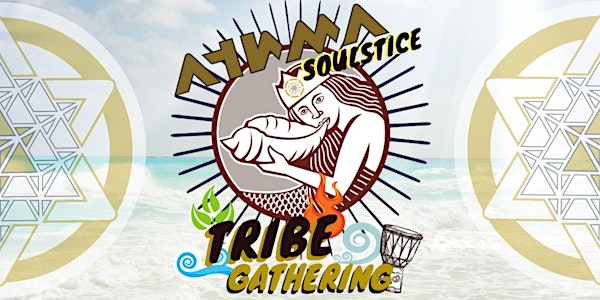 Athma Soulstice Tribe Gathering
Cacao Ceremony, Veggie Potluck, Gratitude Circle, Re-birthing in Sacred Sea, Sacred Waters Purification.
When and where
Location
Lazarus Island Lazarus Island Singapore, 098593 Singapore
Refund Policy
Contact the organiser to request a refund.
Eventbrite's fee is nonrefundable.
About this event

🙏🏼 Athma SOULstice ✨ Tribe Gathering 💖
Intimate Cacao Ceremony, nourishing Veggie Potluck, heart renewing Gratitude Circle, Re-birthing in Sacred Sea, revitalising Sacred Waters Purification.
Date: 22nd December 2022
Time: 09.30am – 6.30pm
Venue: Lazarus Island
Soulstice happens at 0547hrs
⭕ Celebrations, gatherings and sacred circles take place during equinoxes and solstices throughout the ages as a way to connect to this cosmic journey of the soul to feel and understand it in a more profound way. These sacred occasions stimulates one's soul, inspiring one to live with the wisdom of the heart and the oneness of all that surround us. For our relations. ⭕
It is the time of the year to give thanks for the beautiful connections planted this sun cycle, bringing them full cycle as we prepare to welcome 2023. We are celebrating the SOULstice with an entire day of re-ignited connections, celebrating the LIGHT-ness within and in each other!
The light of the Sun begins a new solar cycle at Winter Solstice. This is the energy of going within. It's the fruitful shadows and silence out of which our soul's yearnings and new inspirations can finally emerge and arrive. As we consciously link our awareness to nature's cycles, our understanding of our own personal growth cycles begin to deepen.
Express/Dress as your inner avatar in your own way..
Does the 🔥Fire ignite your Soul,
or are you the 🌊Water Priestess,
the 🌬Air Bender
or the ☘️Earth Guardian?
.: Departure Ferry Timings from Marina South Pier direct to Lazarus Island :.
0930am - Limited to twelve Cacao Ceremony participants ($60).
11.30am - For everyone else ($20).
*You can purchase your own ferry tickets to St. John Island, with 25min walk to Lazarus Island.
Return timings from St. John Island to Marina South Pier at 1600hrs or 1800hrs (for all).
1030-1230
💫Cacao Ceremony💫
This intimate ceremony for 12 participants in the earlier part of the day, is located on a secluded area in Lazarus Island with the morning sun near the waters, in a comfortable shaded area.
We will open up sacred space with guided meditation and heart songs. Leading into enjoying an intentional pineal-nourishing cacao drink, sourced reliably and ethically from Bali, Indonesia. We experience the medicine of cacao ceremonially to ground with earth and elate with sky.
We will connect with the energy of this solstice through our breath, moving Lifeforce within as the gateway to open the doors of one's luminous being, drumming to ground, and continuing a deep meditative state in the path of your soul purpose.
Your ticket is inclusive of ferry service from the city to Lazarus island.
1230-1400 Lunch break
☘️ Veggie Potluck ☘️
If you would like to share something with everyone, we appreciate vegetarian or vegan food. As a suggestion, whatever you bring, bring enough for 2-3 people. We can all share around, and avoid food waste.
And if your food items contain any other ingredients (diary, eggs or mushroom, etc), do help to label or indicate that your food item has those ingredients, we will provide labels for you to write on.
Do bring your own food containers, plates, cutlery, and water bottles. Let's try to reduce any excessive plastic/paper disposables.
*** Please LEAVE NO TRACE. Pack it in, pack it out. Inspect the space for trash or spilled foods. Thank you! ♥ ♥ ♥ ***
1400-1500
🔥Re-birthing in Sacred Sea🔥
We are supporting each other to go deeper into the vibration of our own Ancient lineage, to remember and remind of the sacred selves that we are.
Bring offerings(organic) to our beloved and sacred sea, blessings(solubles) for your sisters & brothers in sacred waters purification segment and annointments (sacred objects/crystals) for the self.
1500-1600
🌊Sacred Waters Purification🌊
A beautiful opportunity to purify the energetic self beside the sea. We are consolidating blessings for each other in a single bowl of deliciousness, where we put in our loving intentions; solubles like essential oils, blessed water and flower petals where each individual can have a moment for the self to receive with love and grace.
1600 - 1730
🌬Gratitude Drum Circle 🌬
2022 has been a year of great transitions for all of us. We are shedding the 'old' ways from the Age of Earth, bringing up several lessons for us to unify in grace, love and acceptance.
We welcome the time of truth and revelations in all of our relations.
In what way can 2023 continue to support the deeper understanding of ourselves and the new chapters that entails?
This Gratitude Circle is a space for us to share our lessons of 2022, to learn from each other, gain clarity and bring energy for our manifestations to welcome the the new sun cycle from a place of wholeness and abundance!
Bring your shamanic drums & voices and sing for all the four elements! Earth, Air, Fire, Water!
🌟Please whatsapp Omsira (message only) +65 96356353, for any questions, clarifications or payment options.
💞All of us at Athma SOULutions, thank you for a beautiful and co-creative 2022 and look forward to seeing you on 22nd December's tribe gathering! ..from the sacred spaces of our hearts to yours! ✨
Things to bring
-food, snacks & water (1litre)
-eating utensils you may need
-beach mat
-swimmers, sunscreen
-extra change of clothes, hat, small towel
-umbrella, natural insect repellent
-shamanic drums
-offerings (organic, eg. flowers) to the sea
-blessings (solubles, charged water, essential oils) for self/others/sacred ocean
-any personal sacred items or crystals for the altar
🙏🏼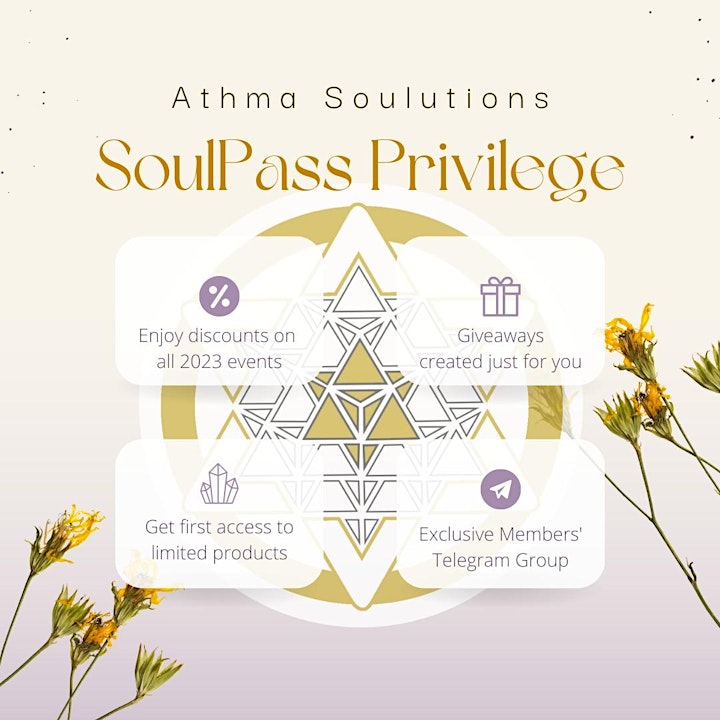 Athma Soulutions SoulPass Privilege 2023
We are launching our SoulPass Privilege for 2023! As Treasured Triber of Athma Soulutions, this SoulPass (S$88) gives you a 20% discount on all events soul-ly organised by Athma Soulutions, and a 10% discount on collaborative events with Athma Soulutions as a partner or co-organiser. This includes in-person, virtual and hybrid events. You will also be part of an exclusive telegram group, and receive giveaways created just for you! This pricing is only available for the participants of Athma Soulstice Tribe Gathering. (UP S$111)