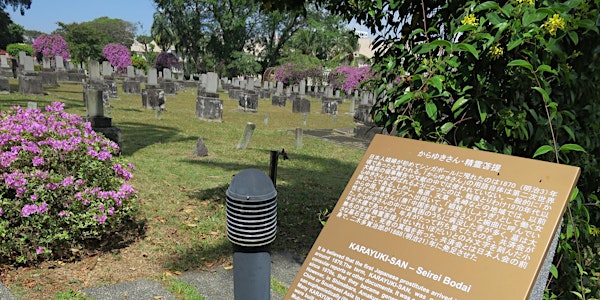 Au Kang and Japanese Cemetery Walking Tour
Au Kang (Hougang), is known as a Teochew enclave. On this tour, we will take a closer look at the Teochew community.
When and where
Location
Kovan MRT Station (NE13) 900 Upper Serangoon Road Singapore, 534799 Singapore
About this event
The Singapore Chinese population has 3 major dialects - Hokkien, Teochew and Cantonese. On this tour, we'll take a close look at the Teochew community in Singapore. Once known as one of "the more refine" of the lot, are they still the same today? Au Kang (Hougang), is known as a Teochew enclave. But in reality, it isn't the only one.
History tells us there were also many Teochews who landed elsewhere in Singapore. Stephen Lee Road (now defunct) was also another enclave right smack in the middle of Mandai – almost a jungle for its time! The story of how the Teochew community landed up at Stephen Lee Road is a poignant one. It is no secret that the Teochew community has contributed much to society. We'll take a look at the perks of being a Teochew, and also their quirks.
The side trip to the Japanese Cemetery at 22, Chuan Hoe Avenue is a bonus. Like Bukit Brown Cemetery, the Japanese Cemetery offers a rustic walk full of old-world charm… and full of happy and sad stories, dating back to the days of Karayuki-san.
We meet at Kovan MRT (Exit C in the direction of Heartland Mall), 9am and hope to be done by 12pm at the junction of Yio Chu Kang and Chuan Hoe Avenue.
Note:
We do the world wide practice of tipping at the end of the tour.
We also reserve the right to accept or reject habitual late cancellations and No Shows.