Description
Special KLCCRG Deal
RM55.00 - ALL TICKETS
GARNIER FREE FOR FIRST 800 TO REGISTER USING CODE - KLCCRGAM2017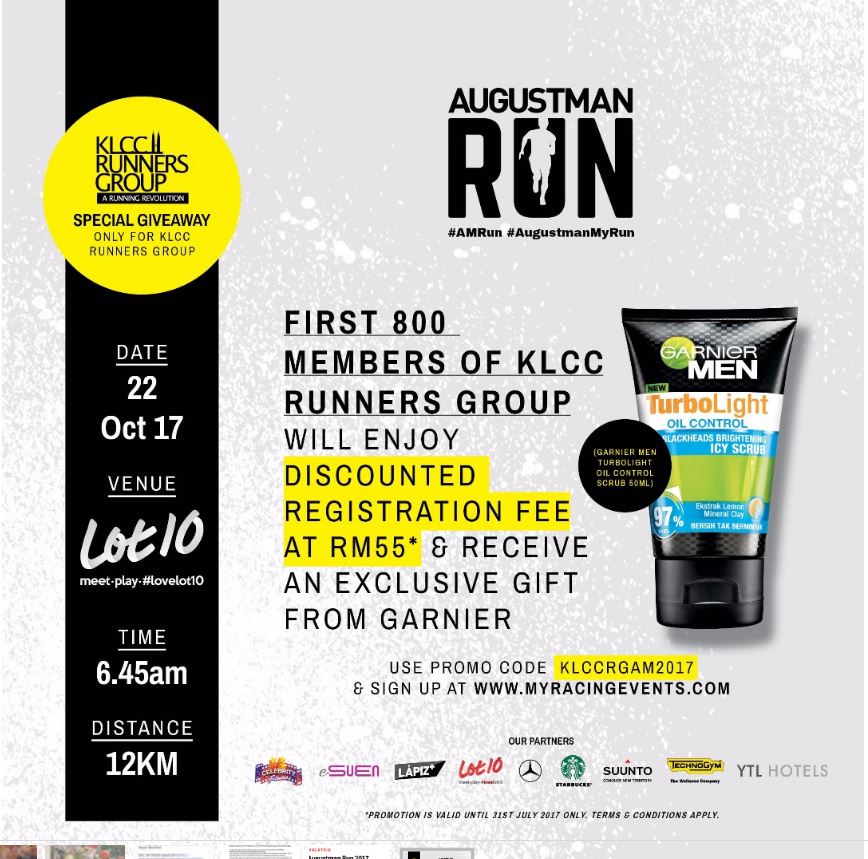 + ALL LADIES WILL RECEIVE FREE PENDANT BY SVEN!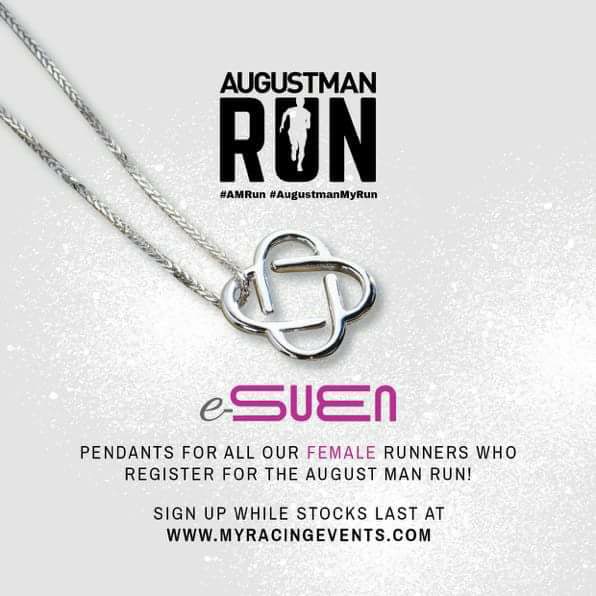 Description
Event Date
22nd October 2017
Registration Fees
Closing Date Registration 30 July 2017
Race Venue
Lot 10 Shopping Mall, Kuala Lumpur
Flag Off Time
6.45am
Categories
– 12km Men Open (18-39 Years Old)
– 12km Men Veteran (40 Years Old and above)
– 12km Women Open (18-34 Years Old)
– 12km Women Veteran (35 Years Old and above)
Prizes:
Prizes to be won by the Top 10 in each category worth up to RM66,800
Trophy, Suunto Watches & Hotel Vouchers worth up to RM4,000
Race Kit Collection
To be advice
T-shirt sizing:
Rules & Regulations:
Registration
Augustman Run 2017 is open to Malaysians, Malaysia PR Holders and Foreigners with valid working permit.
Once the registration form has been duly processed, there will be

no refund

of entry fees for those who, for whatever reason, eventually do not take part in the run.
Completion and submission of the registration form and payment of fees represents the participant's agreement to abide by the rules and regulations of AUGUSTMAN RUN.
General
The Organizer, will not be liable for any loss, damage, illness or injury whatsoever directly or indirectly occasioned by or resulting from the negligence, wrongful act or default of AUGUSTMAN RUN, its sponsors and suppliers or their respective servants or agents or from any other cause including any act of God or the physical condition of the participant.
The Organizer reserves the right to modify or substitute any of the Rules & Regulations and/or Terms & Conditions from time to time as they deem fit. If there's ambiguity in any of these provisions, the Organizer shall be the authority to interpret and in so doing they will take into account of the interests of all Participants. Any amendments to these Rules & Regulations and/or Terms & Conditions will be updated on the Official Facebook Page without any notice.
The Organizer reserves the right to amend AUGUSTMAN RUN race routes as they deem fit for the safety of the Participants and /or to prevent any potential hazards in the running of the event, at any time without prior notice of the Participants. In such cases, every effort will be made to inform the Participant prior to the date of the event. The Organizer shall not be liable for any loss or inconvenience caused due to such changes.
While reasonable precaution will be taken by the Organizer to ensure the participant's safety; participants take part in AUGUSTMAN RUN at their own risk and the Organizer will not be responsible or held liable for any injury or death arising from training or during participation in AUGUSTMAN RUN. Participants are strongly encouraged to consult their medical practitioner prior to registration and before the actual race day.
Changes in T-shirt size during collection of the event T-shirt is strictly NOT allowed. Participants must adhere to the event T-shirt size they have registered for.
The Organizer reserves the right to use any photographs (including those of the participants), motion pictures, recordings, or any other recorded form of this event for any legitimate purposes, including commercial advertising.
Participants are strictly not allowed to transfer their race entries to another party or to change race categories after their registration is confirmed.
Race Pack Collection
All participants must collect their race pack, which includes the race bib, bib belt and event T-shirt at the Race Pack Collection location during the collection period, of which details will be stated on the official Facebook page. If participants are unable to collect their race pack in person, they may empower a duly authorized representative in accordance with the procedures detailed on the official website.
Late collections will not be entertained and AUGUSTMAN RUN shall not be liable for any other loss or inconvenience caused, due the Participant's inability to collect their race pack. For avoidance of doubt, AUGUSTMAN RUN is not obligated to extend the collection period to ensure that a participant receives his or her race pack. At all times, it is the responsibility of the participant to collect his or her race pack during the Collection Period. Race packs not collected during the Collection Period will be deemed unwanted and AUGUSTMAN RUN shall be at liberty to dispose or re-distribute them accordingly.