Description
AVA's free pet health check is back, and this time it will be at Waterway Point, The Promenade (Basement 1 outdoor area, near Toast Box), on 10 and 11 Dec 2016!
The health check services are provided by licensed veterinarians. All pets (excluding birds and fishes) are welcome! Please note that the consultation is limited to only one pet per owner, and no medication would be administered.
Register now to avoid disappointment as there are limited slots available. Registration is on a first-come-first-serve basis, and will close once all the slots are filled up.
HOW TO SIGN UP?
Simply sign up online through the links below, and bring along your NRIC/FIN for verification and sterilisation certificate of your pet (if applicable) on the day of your visit.
10 Dec 2016 (Saturday), 12pm to 8pm: http://bit.ly/2fy4yfW
11 Dec 2016 (Sunday), 12pm to 6pm: http://bit.ly/2ffw8QC
Please note that pets are not allowed at the mall except at the Free Pet Health Check Area. Do take a look at our FAQs for more information.
* The organisers will not be held liable for claims, losses, demands, actions, suits, proceedings, costs and expenses whatsoever, with respect to any injury to any persons, animals, or in respect of any damage or loss to any property during the event.
FAQs
What are my transport/parking options getting to the event?
Get your directions here.
How long will the pet health check take?
Each consultation is estimated to be around 15 minutes.
Can I choose a specific time slot?
The registration is on a first-come-first serve basis. However, you can decide if you want the health check to be done on Saturday or Sunday (10 or 11 Dec 2016).
What if I'm not the registered owner of the pet?
It is alright if someone other than the owner is bringing the pet for the health check, so long as the person (e.g. relatives/domestic helpers) knows the pet's history. You would also need to provide the owner's NRIC/FIN number and authorisation letter for verification purposes.
What if I want to bring more than one pet?
Unfortunately, due to limited slots available, the vets can only examine one pet per owner.
Will there be any surgeries or procedures done?
Only free microchipping services will be provided.
I understand that pets are not allowed in the mall, how do I get to the FPHC area?
This is where the FPHC is held, located at B1 outdoor area (near Toast Box). Look out for directional signage to guide you!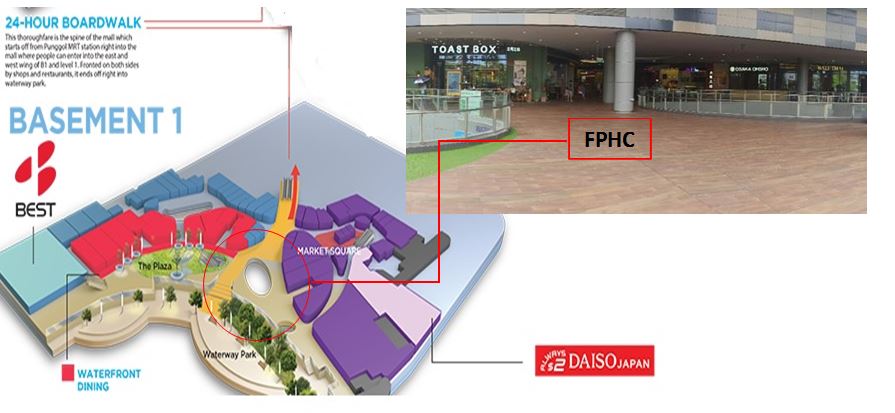 If you are coming by public transport, walk along the boardwalk, and it will lead you to the outdoor area.

If you are driving, go to B1 and look out for the following. When you exit through the door, turn left and you will arrive at the outdoor area.

Where can I contact the organiser with any questions?
Drop us an enquiry ava_engage@ava.gov.sg should you have any questions!