Learn to Make your Cake - Step by Step from Your Home
About this event
Come and have fun on how to do the Online Cake baking from your home place.
Have fun and do the decoration with you kids too.
Reserves your time first come first serves.
REGISTER NOW !!
Please take note of the dates for different cake making.
Each cake making is for each month.
FOR THE MONTH OF OCT,
ORANGE BAKED CHEESECAKE
𝗣𝗿𝗲𝗽𝗮𝗿𝗲 𝟮𝟬𝗰𝗺 - 𝟴 𝗜𝗻𝗰𝗵 𝗖𝗵𝗼𝗰𝗼𝗹𝗮𝘁𝗲 𝗖𝗮𝗸𝗲 𝗼𝗻𝗲 𝗱𝗮𝘆 𝗯𝗲𝗳𝗼𝗿𝗲.
🌌🎀 𝐼𝓃𝑔𝓇𝑒𝒹𝒾𝑒𝓃𝓉𝓈 🎀 🌌
🍪 250gm Cream Cheese
🍪 20gm Sugar
🍪 1 Orange Zest
🍪 3 eggs
🍪 30gm Orange Juice
🍪80gm sour cream
🍪25gm Plain Flour
🍪55gm Sugar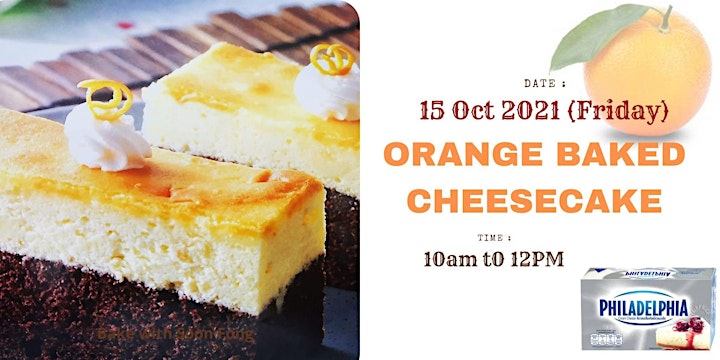 FOR THE MONTH OF NOV,
RASPBERRY YOGURT CHEESECAKE
𝐃𝐢𝐠𝐞𝐬𝐭𝐢𝐯𝐞 𝐁𝐢𝐬𝐜𝐮𝐢𝐭 𝐈𝐧𝐠𝐫𝐞𝐝𝐢𝐞𝐧𝐭𝐬
160gm Digestive Biscuits (finely crushed)
80gm melted butter
𝗖𝗮𝗸𝗲 𝗕𝗮𝘀𝗲
500gm Cream Cheese
140gm sugar
20gm Corn Flour
3 eggs
150gm whipping cream
𝗠𝗼𝘂𝘀𝘀𝗲 𝗙𝗶𝗹𝗹𝗶𝗻𝗴
1 tbsp Gelatine
40gm Water
50gm Raspberry Jam
40gm water
few drop pink colouring - replace with beet root/Mulberry or any natural coloring
150gm Whipped topping cream
100gm Yogurt
𝐓𝐨𝐩𝐩𝐢𝐧𝐠
150gm raspberry jam
20gm sugar
200gm water
few drop pink colouring - replace with beet root/Mulberry or any natural coloring
2tbsp gelatine
80gm water