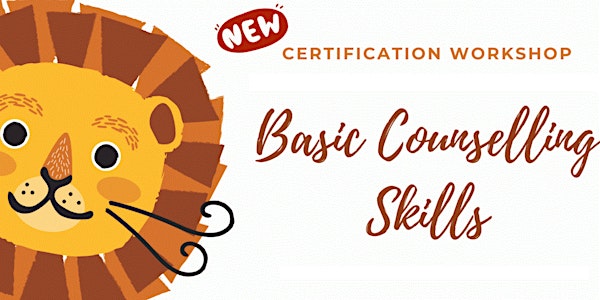 Basic Counselling Skills
Have you ever wondered what Counselling does?
Date and time
Sunday, November 19 · 9am - 1pm +08
Location
The Lion Mind 141 Cecil Street #03-02 Singapore, Singapore 069541 Singapore
Refund Policy
Contact the organizer to request a refund.
Eventbrite's fee is nonrefundable.
About this event
Counselling helps by giving people the time and opportunity to hear them out without judgement. It is the art of using talk therapy to guide them towards understanding their issues better and promoting positive change.
This skill is beneficial in our fast-paced society, where many people feel overwhelmed by their circumstances. You can make a difference in their life by enhancing your ability to listen and respond appropriately using basic counselling techniques, bringing them the comfort and relief they need.
You can also utilise these techniques in everyday situations, as an effective conversation is a sign of respect and a skill that will lead to deeper and better relationships.
Come learn how to improve your communication abilities and understand how you can help people around you.
Workshop Content:
This comprehensive workshop will provide you with a foundational understanding of the mental health field in Singapore, with a focus on counselling and psychotherapy. Through engaging lectures and interactive activities, you'll gain insight into the core principles and practices of these fields.
The workshop will cover a range of topics, including:
An introduction to counselling, clinical psychology, and psychotherapy, including their similarities and differences.
A review of the mental health professions in Singapore, including licensing and accreditation requirements.
An in-depth exploration of Person-centred Therapy, a widely used therapeutic approach that focuses on empowering clients to find their own solutions and create positive change in their lives.
Hands-on practice in a safe, supportive environment, where you'll have the opportunity to apply what you've learned and receive feedback from experienced instructors.
By the end of the workshop, you'll have a solid understanding of the mental health professions and the tools and techniques used to support individuals dealing with a range of emotional and psychological issues. You'll leave with a deeper appreciation for the power of counselling and psychotherapy to help people lead happier, healthier lives.
Workshop Requirements:
This course is designed for individuals who are interested in exploring the field of counselling, but have little or no prior experience. It is also open to undergraduate counselling / psychology / social work students who are curious about the application of psychological principles in counselling.
In addition, entry-level practitioners in the mental health field who have some basic counselling skills but wish to further develop their abilities in providing person-centred therapy are welcome to apply. The course will provide a solid foundation in counselling theory and practice, and will include opportunities for hands-on learning and skill-building.
Whether you're a student, a mental health professional, or simply someone who wants to learn more about counselling, this course will equip you with the knowledge and skills you need to make a positive impact in the lives of others.
Award:
Upon successful completion of the workshop, each participant would receive:
Certificate of Participation in Basic Counselling Skills
Frequently Asked Questions (FAQs)
1. Does this workshop qualifies me to be a counsellor?
This course is an introductory counselling workshop. Attending this course does not qualify you to work as a counsellor.
2. Will I get a certificate after attending this workshop?
Yes. You will receive a certificate of participation upon successful completion of the workshop.
About the organizer
The Lion Mind is a non-profit organisation (NPO). It's three aims are
(1) to strengthen an individual's positive mind and coping mechanism
(2) to provide the platform for practicing clinicians to gain the necessary competencies in providing clinical care
(3) and to outreach to the public on the importance of a healthy mind
The Lion Mind is a corporate member of the Association of Psychotherapists And Counsellors (Singapore) (APACS). This enables us to bring the highest standard of clinical care to our clients, and to provide quality community outreach and education to the general public.