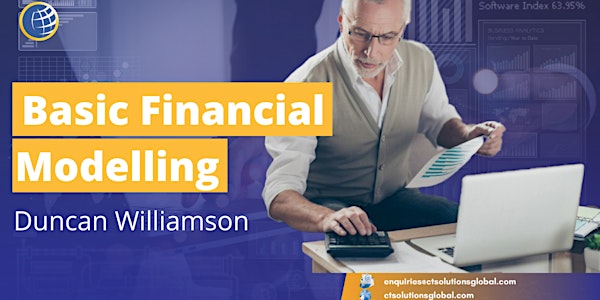 Basic Financial Modelling
Most Practical Financial Modelling Hands-On Workshop To Make Your Life Easier
Refund Policy
Contact the organiser to request a refund.
About this event
Training Schedule: 17, 19 & 21 October 2022 at 9:00 AM to 12:00 NN, SGT
Who Is This For?
C-Levels: This course will be valuable to leaders who is faced with quantitative decision making. Includes: CEO, COO, CHRO, CIO, CMO, CTO
Leaders, Managers & Department Heads: This training will be valuable to leaders who is faced with financial and non financial reporting, budgeting and planning. Includes: Directors/Heads/Managers of Strategic Planning, Directors/Heads/Managers of Business Development, Sales & Marketing; Project Managers, Risk Managers, Engineers, Scientists, Human Resources and other Department Heads or Managers
Accounting & Finance: This workshop will benefit business owners and individuals who is faced with quantitative decision making, model building, statistical, data analysis and more. Includes: Financial Analysts, Accountants, Auditors, Credit managers, Financial and management accountants, Financial project administrators, Profect finance professionals, Financial planners
Do you find it frustrating when you don't understand Do you find it frustrating when it takes you too long to complete a task?
Do you believe that you need simpler functions rather than using the applications that you have been using for years?
Do you feel stressed that even with a few training attended, you are not clear with the usage and step by step process to leverage on the right Excel functions?
Why This Program?
Producing and Publishing Model Output for EFFECTIVE COMMUNICATION and WORKABILITY In this first part we will take a specific look at the overall design of a financial model, providing insight into the usage of spreadsheet features, formatting and calculations. This section will provide a hands-on focal point for the designing of your own financial model using Excel.
SYSTEMATICALLY Analysing Financial Statements for Improved Model Performance In Part two we undertake a review of data that organisations provide for us: the data normally comes from the financial reporting process. We then undertake a systematic and interactive review of the data we have gathered.
Highlighting Key Financial Management Principles Underpinning EFFECTIVE MODEL DEVELOPMENT A comprehensive examination of the key components of financial statements and financial management will assist in developing effective models that will be vital as you create a world class financial model using Excel.
About the Expert
Duncan Williamson combines his extensive academic and training experience with significant manufacturing and commercial work. In addition to working as a teacher and trainer, Duncan has experience of working in a wide variety of settings, ranging from working as a management accountant in process industries in the UK to product cost consulting in several industries in Eastern Europe and the oil and gas industry in the Middle East. Duncan has worked in and around a number of oil and gas-based companies over recent years.
He has published books, articles and case studies. His latest books Introduction to Power Pivot and Introduction to Power BI for Desktop to be published by Bookboon and Amazon
Countries of Work Experience: Bosnia and Herzegovina, Kyrgyzstan, Kazakhstan, Uzbekistan, Romania, United Kingdom, Afghanistan, Dubai, Abu Dhabi, Kuwait, Oman, Saudi Arabia, Switzerland, Hungary, Thailand, Singapore, Vietnam, Philippines, Malaysia, Pakistan, Holland, Sudan, Albania, Qatar, Mexico, Angola
Significant Areas of Expertise: cost and management accounting, financial accounting and bookkeeping, financial reporting under IFRS, financial modelling, spread sheet modelling, and product cost modelling.
Learn More at https://www.ctsolutionsglobal.com/financial-modelling