Description
Using essential oils can be a safe, natural option to protect you and your family's health.
Discover and try essential oils that will
Improve immunity and energy
Ease pain
Restore calm and balance
Support digestive & respiratory health
JOIN US FOR A SESSION OF FUN, ENERGIZING & BEAUTIFULLY SCENTED MORNING!
Learn how essential oils can give you peace of mind and empower you & your family members the best care at home. Explore using only 100% pure, safe & potent yet affordable essential oils to boost immunity, improve digestive & respiratory health and some other common health challenges for you and your family members.
Symphony Scentsations will be sharing how using essential oils is the first choice in taking care of yourself & your family members' physical health!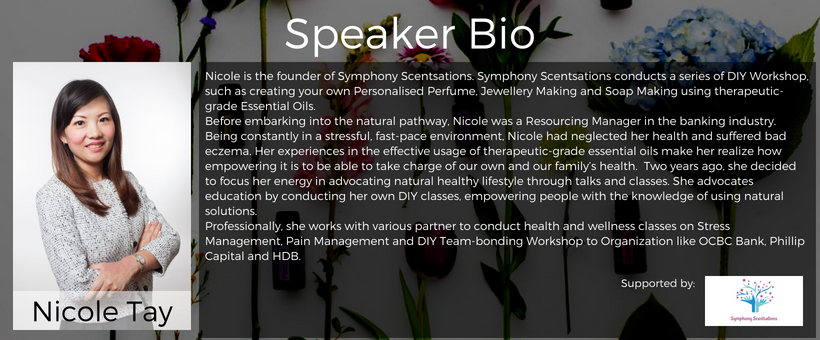 Speaker bio:
Nicole is the founder of Symphony Scentsations. Symphony Scentsations conducts a series of DIY Workshop, such as creating your own Personalised Perfume, Jewellery Making and Soap Making using therapeutic-grade Essential Oils.
Before embarking on the natural pathway, Nicole was a Resourcing Manager in the banking industry. Being constantly in a stressful, fast-paced environment, Nicole had neglected her health and suffered bad eczema. Her experiences in the effective usage of therapeutic-grade essential oils make her realize how empowering it is to be able to take charge of our own and our family's health. Two years ago, she decided to focus her energy in advocating natural healthy lifestyle through talks and classes. She advocates education by conducting her own DIY classes, empowering people with the knowledge of using natural solutions.
Professionally, she works with various partners to conduct health and wellness classes on Stress Management, Pain Management, and DIY Team-bonding Workshop to Organization like OCBC Bank, Phillip Capital, and HDB.
Refund Policy:
7 days: Attendees can receive refunds up to 7 days before your event start date.