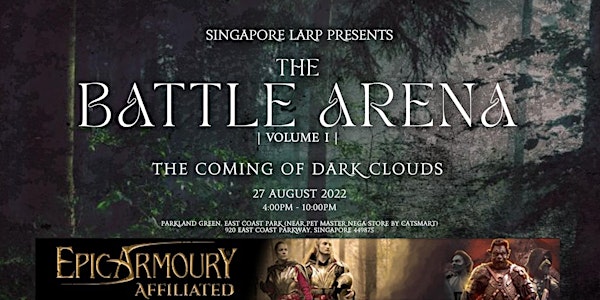 BATTLE ARENA: DARK CLOUDS
Battle Arena LARP is Singapore LARP's Live-Action Battle Game introducing players to LARP combat with medieval fantasy-themed characters.
When and where
Location
Parkland Green 920 East Coast Parkway Singapore, 449875 Singapore
Refund Policy
Contact the organizer to request a refund.
Eventbrite's fee is nonrefundable.
About this event
Watched The Witcher, Game of Thrones, or Lord of The Rings?
Pick your class and play as a swordsman, a shield-maiden, a mage, a healer, or an archer and join the battle of the war bands, by purchasing your tickets at our eventbrite link.
You begin your journey as a mercenary under the Adventurers' Guild, attend their guild meetings, combat training, and assist the warbands in their quests or missions, in which you may join one out of the many warbands as an official member when they're open for recruitment.
If you are a Warband member, you begin your journey under the Warband of your choosing.
You will be taught basic footwork and sword techniques, before the commencement of your missions.
Event Timeline:
04:00pm – New Players Registration
04:30pm – New Players Training
06:00pm – Regular Players Registration
06:30pm – Suit Up
07:00pm – Battle Scenario 1
07:30pm – Rest 2
07:45pm – Battle Scenario 2
08:15pm – Rest 3
08:30pm – Battle Scenario 3
09:00pm – Game End / Q&A / Pack Up
*First Time Players will get Free Rental of One-Handed Sword & Basic Tunic (Limited Supply; First Come First Serve Basis)
*Ticket refunds are based on case-by-case basis.
FAQS
- Is there a minimum age requirement?
Yes. For all Singapore Larp games, the minimum age requirement is 18 years old.
- What should I do upon my arrival?
Look for our Singapore Larp Banner by the field, where we will be stationed for the Game Registration. After Registration, you may then collect your rented equipment that you have indicated in the form, from the Warband Leaders at our Armoury station.
- Do I have to come in costumes?
It is a must to be in medieval fantasy-themed costumes. (eg. Tunics, Cloaks, Cape, Traditional Ethnic Costumes).
Please wear pants and covered shoes.
*We recommend Sports Spectacles For Players Using Spectacles to avoid breakage of glasses/eye injury.
- I don't have my own costumes and equipment
LARP Equipments and Basic Tunics are available for rent. It's free for First Time Players. However there are limited supplies, thus it is on a first-come, first-serve basis.
- Can I use my own foam weapon?
All purchased foam weapons have to be from a LARP Approved Brands such as Epic Armoury, Calimacil, and Mytholon, which sells LARP Safe Equipment.
Any crafted foam weapons will have to meet the LARP Safety Guidelines and go through an inspection by our Safety/Weapon Marshal for approval.
For archers, the bow has to be limited to a draw weight not exceeding 28 lbs, with IDV Round Head Arrows.
- What items do I have to Bring?
A change of clothes (if you sweat a lot), a bottle of water, and cash.
- Is it safe to play?
LARP-approved equipment is designed to be safe when used within the rules. As with most contact sports, occasional bruises are to be expected.
- What are the perks of becoming an official war band member?
Each war band has its own customs. From having weekly unofficial training meetups to providing/renting some armors or additional LARP equipment for their members during the game.
- FAQs not answered here?
Drop us a message on our Instagram , Facebook page messenger or email us at singaporelarp@gmail.com and our Admins or Game Masters will get back to you as soon as we can.