Description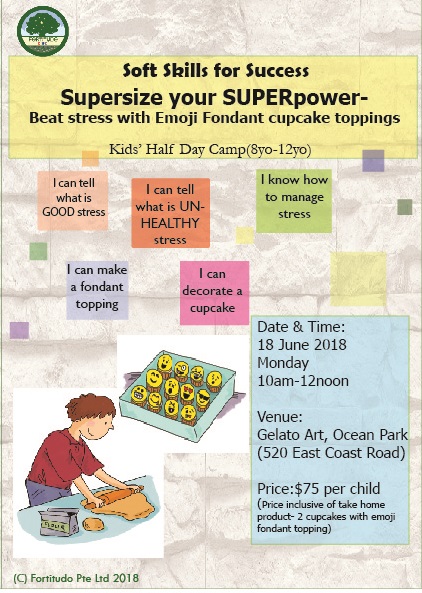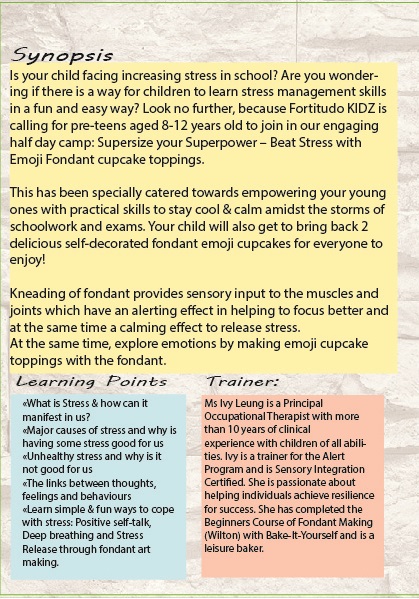 Is your child facing increasing stress in school? Are you wondering if there is a way for children to learn stress management skills in a fun and easy way? Look no further, because Fortitudo KIDZ is calling for pre-teens aged 8-12 years old to join in our engaging half day camp: Supersize your Superpower – Beat Stress with Emoji Fondant cupcake toppings.
This has been specially catered towards empowering your young ones with practical skills to stay cool & calm amidst the storms of schoolwork and exams. Your child will also get to bring back 2 delicious self-decorated fondant emoji cupcakes for everyone to enjoy!
Kneading of fondant provides sensory input to the muscles and joints which have an alerting effect in helping to focus better and at the same time a calming effect to release stress.
At the same time, explore emotions by making emoji cupcake toppings with the fondant.
Learning points:
«What is Stress & how can it manifest in us?
«Major causes of stress and why is having some stress good for us
«Unhealthy stress and why is it not good for us
«The links between thoughts, feelings and behaviours
«Learn simple & fun ways to cope with stress: Positive self-talk, Deep breathing and Stress Release through fondant art making.
Trainer Profile:
Ms Ivy Leung is a Principal Occupational Therapist with more than 10 years of clinical experience with children of all abilities. Ivy is a trainer for the Alert Program and is Sensory Integration
Certified. She is passionate about helping individuals achieve resilience for success. She has completed the Beginners Course of Fondant Making (Wilton) with Bake-It-Yourself and is a leisure baker.