BF 2014 Executive Happiness Retreat in Penang with Ajahn Brahm (**fee)

Saturday, 15 March 2014 at 14:00

-

Sunday, 23 March 2014 at 14:00 (Singapore Standard Time Singapore Time)
Event Details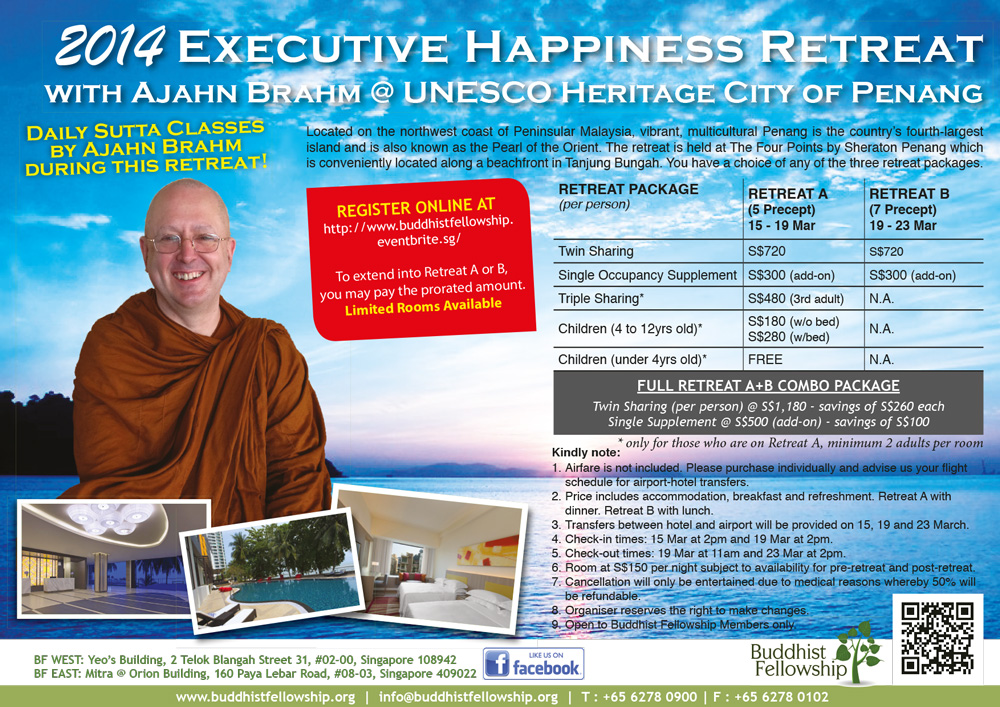 2014 EXECUTIVE HAPPINESS RETREAT WITH AJAHN BRAHM
Daily Sutta Classes by Ajahn Brahm during this retreat!
Venue: Four Points Hotel by Sheraton Penang
Retreat A (5 Precept): 15 to 19 March 2014
Retreat B (7 Precept): 19 to 23 March 2014
Retreat A + Retreat B Combo: 15 to 23 March 2014
Located on the northwest coast of Peninsular Malaysia, vibrant, multicultural Penang is the country's fourth-largest island and is also known as the Pearl of the Orient.  The retreat is held at The Four Points by Sheraton Penange which is conveniently located along a beachfront in Tanjung Bungah.  You have a choice of any of the three retreat packages. 
Dhamma Teacher
Ajahn Brahm is a graduate from the Cambridge University who spent 40 years of his life as a monk living in the forest.  He is the Abbot of Bodhinyana Monastery in Western Australia with 22 monks under his training.  He is also the Spiritual Patron of the Buddhist Fellowship.  Ajahn Brahm has a great insights and an exceptional sense of humour.
The Retreat
You have a few choices for your retreat. You may opt for Retreat A or Retreat B or do a combination of of both, ie the Combo Retreat A plus B.  You may even extend a day or two into Retreat B if you intend to take Retreat A or start Retreat B a day or two earlier by paying for prorated standard rate for the respective retreat.
Retreat A Schedule
6.15am   Morning Meditation
7.00am   Breakfast
9.00am   Morning Talk & Guided Meditation
11.30am  Lunch
2.30pm   Meditation
3.30pm   Tea Break
4.00pm   Sutta Class & Guided Meditation
6.30pm   Tea Break
8.00pm   Q&A Session
10.00pm Goodnight
Retreat B with NOBLE SILENCE Schedule
6.15am   Morning Meditation
7.00am   Breakfast
9.00am   Morning Talk & Guided Meditation
11.30am Lunch
2.30pm   Meditation
3.30pm   Sutta Class 
5.00pm   Tea Break
6.00pm   Meditation
7.00pm   Q&A Session
9.00pm   Meditation
10.00pm Goodnight
Retreat Package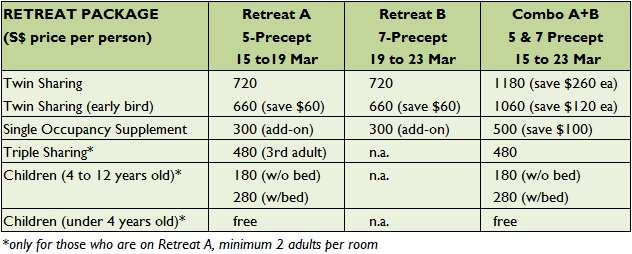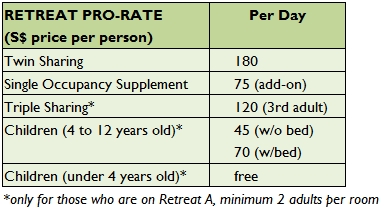 2nd Early bird price applies to those who pay in full by 19 December 2013.
Terms & Conditions: 
1. Airfare is not included. Please purchase individually and advise us of your flight schedule for airport-hotel transfers.
2. Price includes accommodation, breakfast and refreshment. Retreat A with dinner and Retreat B with lunch.
3. Transfers between hotel and airport will be provided on 15, 19 and 23 March.
4. Check-in times: 15 Mar at 2pm and 19 Mar at 2pm.
5. Check-out times: 19 Mar at 11am and 23 Mar at 2pm.
6. Room at S$150 per night subject to availability for pre-retreat and post-retreat.
7. Cancellation will only be entertained due to medical reasons whereby 50% will be refundable.
8. Organiser reserves the right to make changes.
9. Open to Buddhist Fellowship Members only.
FAQ
How do I book?
Please use the online registration form.
How do I make payment?
You are required to make payment in full within one week after making registration. Please send a cheque issued to Buddhist Fellowship and mail it to: 2 Telok Blangah Street 31, #02-00 Yeo's Building, Singapore 108942. Please state your name, email, address, hp number and code "EHR14". Alternatively, you can also make payment in person.
What else do I need to fill in other than the online registration?
You will be required to sign an Indeminity Form. [click here to download]
When do I make airticket reservation?
After you have fully paid for your registration, you must make airticket reservation. Please arrange for flights that arrive on 15th and 19th Mar between 12pm to 6pm local time and arrange for flight that depart on 19th and 23rd Mar between 12pm to 6pm local time.
Do I have to inform you of my flight details?
Yes, you need to inform us of your flight details. We will inform you later how to provide this information to us.  Please update it directly into Eventbrite online system.
When & Where

Four Points Hotel by Sheraton Penang
505 Jalan Tanjung Bungah
11200 Tanjung Bungah
Penang, Malaysia 11200
Malaysia

Saturday, 15 March 2014 at 14:00

-

Sunday, 23 March 2014 at 14:00 (Singapore Standard Time Singapore Time)
Add to my calendar
Organiser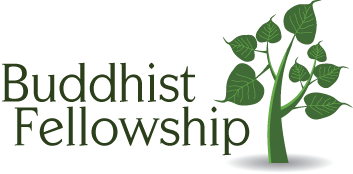 BUDDHIST FELLOWSHIP (BF) is a non-sectarian Buddhist organisation. Our membership consists of like-minded Buddhists from various traditions who share the Buddha Dhamma to promote the path of higher happiness and spiritual fellowship.
DHAMMA
Recognising how the world has changed and yet the Dhamma remains relevant, Buddhist Fellowship strives to ensure that the Dhamma is propagated in contemporary language and forms.
COMMUNITY
Buddhist Fellowship prides itself in being an organisation that dares to be different, embarking on new, revoluntionary projects and activities that benefit the community and constantly striving to meet the needs of its members.
LEADERSHIP
Recognising the need to start Dhamma education from young, Buddhist Fellowship has three programs to cater from pre-school to 25 years. The programs are led by Exco members and volunteers.
CONTACT US
1. Buddhist Fellowship West Centre (main centre)
2 Telok Blangah Street 31
#02-00 Yeo's Building
Singapore 108942
Email: info@buddhistfellowship.org | Tel: +65 6278 0900 | Fax: +65 6278 0102
Office Opening Hours:
Mon: closed
Tue-Fri: 10am to 8pm
Sat-Sun: 10 am to 5.00pm
2. Buddhist Fellowship East Centre @ Mitra
160 Paya Lebar Road
#08-03 Orion Building
Singapore 409022
BF East Centre is open whenever there is program in session.
IMPORTANT: Buddhist Fellowship uses Eventbrite portal to manage registrations. Whilst all events are listed as "free" in Eventbrite, please refer to program description to check whether a program/course/class is payable or free.